ESPN's Bobby Marks is offering his ideas to each of the NBA's 30 teams and he's starting with the Brooklyn Nets. For Marks, of course, the Nets are different from the 29 other teams he's looking at. He worked for the Nets, in New Jersey and Brooklyn, for 20 years. Marks' prescription for the Nets starts with a bitter pill for many Nets fans: "find a new home for Jeremy Lin....
Both teams are top ten in offensive pace, and the Dubs were nearly ran down in this last matchup of champions vs lottery denizens. One of my good friends from college, Ralf, is a proud Brooklyn native. He recently traveled across the United States, alone, on a bicycle, performing one-man Shakespeare shows in the streets. His insane artistic journey is now the subject of a play he...
Jeremy Lin's season came to an abrupt end after this year's season opener, but he's kept close tabs on his young & developing Brooklyn Nets team over the course of the season.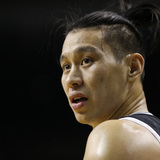 Many players say they won't change who they are or how they play after they suffer a serious injury, but Jeremy Lin does think he will make some adjustments.Lin spoke with the media for the first time since rupturing his patella tendon in the Brooklyn Nets' first game of the season. He says his rehab is going well and that he expects to be ready for training camp in the fall.And...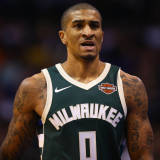 Jan. 15 is an important date on the NBA calendar. As we outlined earlier this morning, it's the day that several of the players who signed free agent deals in 2017 become trade-eligible for the first time on those new deals. In addition to being the first day that those players can be traded, Jan. 15 is also the last day for teams to complete certain roster moves. Here's a quick...
D'Angelo Russell underwent arthroscopic surgery on his left knee Friday, though there is no timetable for his return.The Brooklyn Nets guard got hurt in Saturday's game against the Utah Jazz and has not played since. He was expected to miss several games following the injury, and it looks like that will be the case. (@BrooklynNets) November 17, 2017 Spencer Dinwiddie is seeing extra...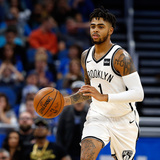 D'Angelo Russell is expected to miss several games due to a knee injury, according to a report.The Brooklyn Nets guard left Saturday's game at Utah with a knee injury and limped off the court. Now ESPN's Adrian Wojnarowski says Russell is likely to miss several games.Russell is in his first season with the Brooklyn Nets after being traded there by the Lakers during the offseason...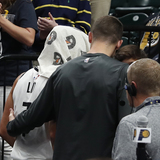 The Brooklyn Nets didn't just lose their season opener Wednesday against the Indiana Pacers, they lost one of the few players on the roster capable of scoring 30-plus points on a given night.Veteran guard Jeremy Lin will miss the remainder of the season after suffering a ruptured patella tendon late in the fourth quarter of the team's season opener.The Nets themselves announced the...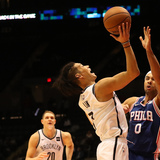 Jeremy Lin is set to have his knee evaluated on Thursday after injuring it in his season debut for the Brooklyn Nets on Wednesday night.Lin was driving to the basket and went up for a layup in the fourth quarter against the Indiana Pacers when he landed on his right leg. He went down immediately and was in pain. He even appeared to cry and say "I'm done." ESPN's Adrian Wojnarowski...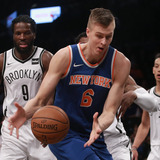 Kristaps Porzingis bulked up over the summer, and that's bad news for opposing guards, who will have to deal with him being an even more effective rim protector.Nets point guard Jeremy Lin found that out the hard way during Sunday's exhibition matchup, when he drove the lane and attempted to lay the ball up and in.Unfortunately for him, Porzingis was quick to recover, and as soon...
MORE STORIES >>
Nets News

Delivered to your inbox

You'll also receive Yardbarker's daily Top 10, featuring the best sports stories from around the web. Customize your newsletter to get articles on your favorite sports and teams. And the best part? It's free!