We've updated our Privacy Policy.
By continuing to use this site, you are agreeing to the new Privacy Policy.
Melo may have lost some of his youthful spryness, but he still possesses experience and ability to put his team with a chance to win during crunch time. Carmelo Anthony, contrary to popular belief, isn't dead yet. It is easy to get so caught up in arbitrary stats, ruminating about the three-point percentage shots of one Russell Westbrook, or if you're like myself, the disappearing...
The Celtics showed they can win without their biggest star on Tuesday night. Not only that, they pulled off the feat against one of the hottest teams in the NBA. Kyrie Irving sat out of Tuesday's game against the Thunder, as he's been dealing with a knee issue, but the Celtics showed a lot of heart fighting back from a first-quarter deficit to squeak out a 100-99 win. Carmelo Anthony...
(Full) CARMELO ANTHONY talks two missed free throws in the final minute SUPPORT CLNS MEDIA'S PROGRAMMING: Powered by... HIMS for Men's Health: http://forhims.com/report, promo code: REPORT for discount on first purchase. RXBar, go to http://RXBar.com/clns; enter the promo code CLNS for 25% off your first order + Free Shipping. eHarmony, go to http://eHarmony.com and use the...
LIKE WHAT YOU SEE?
GET THE DAILY NEWSLETTER: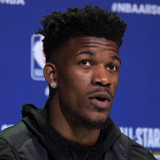 Jimmy Butler has some time on his hands now that he is rehabbing his knee injury, and he is putting it to good use.The Minnesota Timberwolves star zinged Carmelo Anthony on Instagram with a funny comment Wednesday night.Anthony, who led Syracuse to the 2003 national championship, congratulated his alma mater for beating Arizona State (James Harden's alma mater) in a play-in game...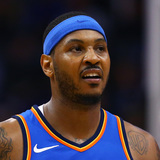 Carmelo Anthony on Tuesday night cracked the top 20 on the NBA's all-time scoring list during the Oklahoma City Thunder's 122-112 loss to the Houston Rockets.Anthony reached such rarefied air in league history with a three-pointer during the first quarter. With the basket, Anthony, 33, leapfrogged the iconic Jerry West. "It's an honor, I don't want to sit here and say that it's not...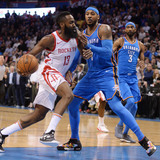 Carmelo Anthony isn't really known as a solid defender — in fact, he never was. Melo has always been more of an offensive weapon, which former head coach George Karl even stated in his book, "Furious George."Anthony didn't have any problem calling out one of his teammates for a defensive miscue during Tuesday's game, though, when James Harden blew by him with ease. Teammate Steven...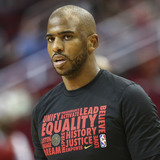 Diddy might fail in his effort to join Colin Kaepernick in purchasing the Carolina Panthers, but in no way does that mean the hip-hop legend is failing in life itself.With a net worth north of $800 million and a booming clothing line to call his own, Diddy is doing well for himself.Just ask the NBA's Isaiah Thomas, Carmelo Anthony and Chris Paul, who have their children modeling...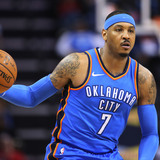 Carmelo Anthony got upset with Draymond Green following a foul late in the third quarter of Saturday night's Golden State Warriors-Oklahoma City Thunder game.Anthony was looking to drive to the basket on Green, who went for the block. Green hit Melo in the head after going for the block, which upset the Thunder forward. Melo spiked his headband in disgust and then had words for the...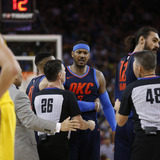 Carmelo Anthony hasn't been known to get into it with members of the opposing team, at least not during the last few seasons, but he and Kevin Durant found themselves in a heated altercation during Saturday's game.The Warriors and Thunder have become rivals since Durant took his talents to the Bay Area, which has led to some animosity during recent contests.Saturday's game was no...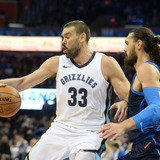 The Oklahoma City Thunder came out hot against the Memphis Grizzlies on Sunday, and that wasn't lost on the Grizzlies' Twitter account.Memphis' Twitter account sent the following tweets in response to the Thunder connecting on several long balls. The Thunder made seven 3-pointers during the first quarter, which helped them build a 35-18 lead.As of halftime, the Thunder had made 12...
MORE STORIES >>
Thunder News

Delivered to your inbox

You'll also receive Yardbarker's daily Top 10, featuring the best sports stories from around the web. Customize your newsletter to get articles on your favorite sports and teams. And the best part? It's free!