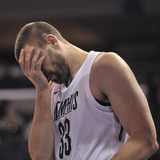 The Grizzlies are on a 10-game losing streak and Marc Gasol is admittedly highly frustrated, he tells Ronald Tillery of The Commercial Appeal. As he sees it, the NBA is about winning, not about getting more repetitions for younger players or player development, which, in Gasol's view, should be left to the G League. In a piece for Yahoo Sports, Chris Mannix adds that head coach J...
Dallas Mavericks forward Dwight Powell was one of the breakout stars of Summer League in Las Vegas, and he's following up that performance with some strong international play for his home country of Canada.The versatile 24-year-old forward, acquired in the Rajon Rondo trade last season, is expected to be a key contributor for Canada in the FIBA Americas Championships.It sounds like...
The Dallas Mavericks' trade for Rajon Rondo last season didn't work out as planned, but there's hope that some of the deal can be salvaged yet.  Dwight Powell, a second-round pick in the 2014 draft, was included as essentially a throw-in by the Boston Celtics in the Rondo trade. After a successful Summer League where he flashed real potential, however, Powell may end up playing a...
Dwight Powell was acquired by the Dallas Mavericks as a spare part in the now infamous Rajon Rondo Trade. Nobody expected much from the second-round draft pick, and Powell mostly lived up to those expectations.Here's Mavs.com's Bobby Karalla with a look back at an uneventful year one, but why Powell's sophomore season could be a rousing success:"The first-year player was assigned...
Every morning, we compile the links of the day and dump them here… highlighting the big storyline. Because there's nothing quite as satisfying as a good morning dump. Lost in Brad Stevens's media address following Sunday's confounding 111-89 Celtics loss to the San Antonio Spurs was his decision to insert two rookies with just more than four minutes left to perhaps spark a rally...
Emily Austen interviewed Dwight Powell prior to the Celtics game vs. the Suns Monday night. Powell said it felt good to implement what he had been learning in Boston in a game situation.
The pair of Celtics rookies scored 21 points apiece in their D-League debuts for the Maine Red Claws on Sunday night.  Powell pulled down 17 rebounds as well.  Here's a bit of analysis from Mass Live's Jay King:[Powell] dashed to the paint for a variety of finishes, including one lefty hook, threaded one perfect bounce pass to Young on a backdoor cut, and generally looked a lot quicker...
Rookie forward Dwight Powell, who has yet to see any playing time for the Celtics during the regular season, has been assigned to the Celtics' D-League affiliate to develop his skills.From Celtics.com:The Boston Celtics announced today that they have assigned forward Dwight Powell to the Maine Red Claws.Powell, a 6'11 forward, appeared in six contests for the Celtics during the...
Stanford University product Dwight Powell Photo: ESPNThough he hasn't played a single regular season NBA game, Dwight Powell is already with his third NBA team. CSNNE editor Jimmy Toscano reports that Powell will make the team, to Brad Stevens' pleasure:"I have a pretty good feel for Dwight," Stevens said. "Played him twice in college. Thought he was a pro prospect first time I watched...
Cleveland Cavaliers General Manager David Griffin announced today have signed Canadian forward Dwight Powell.
MORE STORIES >>
Mavericks News

Delivered to your inbox

You'll also receive Yardbarker's daily Top 10, featuring the best sports stories from around the web. Customize your newsletter to get articles on your favorite sports and teams. And the best part? It's free!