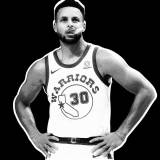 Happy belated 30th birthday to the greatest shooter in NBA history.On Wednesday, Steph Curry turned the big 3-0, and to celebrate three decades of Wardell the Warriors threw their captain a surprise party. Curry arrived to the event in style, only to see both Steve Kerr and Klay Thompson show off their best dad dance moves once he got there. The team may have actually gone a little...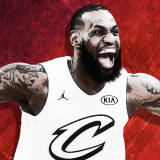 The 2018 NBA All-Star Game is in the books, and all indications point to the updated schoolyard-style draft format leading to new levels of competition for the midseason spectacle (also, next year's draft will likely be televised, which is the right call). Before the game even began, the two captains had a lot to say in terms of sneaker style with Steph Curry taking a subtle but...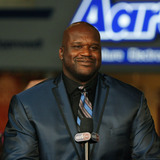 Charles Barkley's comments about LeBron James last week on TNT's "Inside the NBA" resulted in a week-long story in the basketball world full of responses from both men and many others. So it's no surprise that Chuck's criticism of James was again a focal point at the start of the show on Thursday.Prior to Thursday's Hawks-Rockets game on TNT, "Inside the NBA" talked about the Barkley...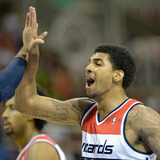 Glen Rice Jr., the son of former NBA All-Star Glen Rice, was reportedly shot in the leg Sunday at a restaurant in downtown Atlanta. According to WTOC in Atlanta, police say Rice was involved in a fight with four or five people at Scales 925 when an employee asked them to leave. The altercation continued in the parking lot, at which point Rice was shot in the leg and tried to flee...
Turning 33 can bring many unwanted realities. Sporadic shades of gray growing along the side of your head and you trying to convince yourself it's just a reflection of light. Feeling you're still young enough to make a concerted effort to stay in shape until you realize your body, and its rotting metabolism, requires double […] The post Like Senior, like Junior: Is Glen Rice's game...
2013-2014 Key Stats Games played, started: 11, 1 Total minutes, per game: 109, 9.9 Points per game: 2.9 Field goals: 11-37 (.297) Assists per game: 0.6 Steals per game 0.5 Two summers ago, the Wizards made a trade with the Philadelphia 76ers in the 2013 NBA draft to draft Glen Rice, Jr. – a player […] The post Wizards Player Previews 2014: Glen Rice, Jr. appeared first on Hoop District.
The Wizards announced their roster for the 2014 Summer League in Las Vegas. Headlining the roster are the the Wizards 2013 NBA draft picks Otto Porter and Glen Rice, Jr. Source: washingtonwizards.com *- Age at the start of Summer League play (July 12) **- NBA playing experience The post Wizards announce 2014 Summer League Roster appeared first on KCM SPORTS.
There are very few people who can find a way to excuse Rutgers men's basketball coach Mike Rice for the behavior we witnessed in the practice clips that were released to the public on Tuesday. ESPN's "Outside the Lines" showed footage of Rice blatantly abusing his players, both physically and verbally (watch the video here). However, ex-Rutgers guard Mike Coburn said it is not as...
The newly-renovated Crisler Center played host to a couple of Michigan's all-time greats on Friday night. During the dedication ceremony of the new-look home of Michigan basketball, Desmond Howard joined former Michigan basketball stars Cazzie Russell, Glen Rice and Diane Dietz for a conversation that touched on all sorts of subjects. After the ceremony, we caught up with Glen Rice...
MORE STORIES >>
NBA News

Delivered to your inbox

You'll also receive Yardbarker's daily Top 10, featuring the best sports stories from around the web. Customize your newsletter to get articles on your favorite sports and teams. And the best part? It's free!