We've updated our Privacy Policy.
By continuing to use this site, you are agreeing to the new Privacy Policy.
Donovan Mitchell and Jonas Jerebko are the latest Utah Jazz players to joust with one another via Twitter. Although the Utah Jazz are set to take on the Atlanta Hawks with the chance to extend their current win streak to 10 games, Monday...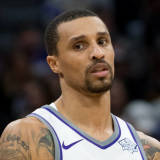 The Cleveland Cavaliers' stunning trade deadline makeover continued after trading Isaiah Thomas to the Lakers with a pair of deals. The big one was a three-team trade that saw Cleveland acquire George Hill and Rodney Hood. The Sacramento Kings acquired Joe Johnson and Iman Shumpert and the Utah Jazz rounded out the deal by coming away with Jae Crowder and Derrick Rose. Cleveland...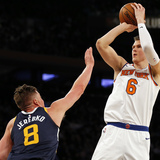 Knicks big man Kristaps Porzingis is an unstoppable force thanks to his ability to score in the paint and shoot from the perimeter, so opponents will do whatever they can to attempt to slow him down.For Jonas Jerebko, that entailed trying to draw a foul call with a flop that failed miserably.Jerebko was defending Porzingis near the elbow during Wednesday night's game when the seven...
LIKE WHAT YOU SEE?
GET THE DAILY NEWSLETTER: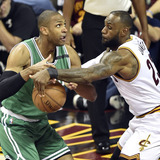 As if the Cleveland Cavaliers losing Game 3 of the Eastern Conference finals at home weren't already bad enough, their efforts to regain control in the series in Game 4 were harmed when LeBron James got in foul trouble early on Tuesday.James was called for four fouls in the first 18 minutes of Game 4. He was called for two shooting fouls on defensive, and two offensive fouls. One...
The Boston Celtics pulled off a stunner on Sunday night when they came back to beat the Cleveland Cavaliers 111-108 and turn the Eastern Conference Finals into a series.What made the win so stunning? The top-seeded Celtics were blown out at home in the first two games of the series, including a record halftime deficit in Game 2. They were playing without Isaiah Thomas, who's out...
Boston Celtics beat Houston Rockets 120-109. Visit http://www.ziprecruiter.com/sportsfan to post to more than 200 job sites for FREE. Visit http://www.blueapron.com/gardenreport and for 3 free meals + free shipping. Get the CLNS Radio App on your mobile device! Click Here: www.clnsradio.com/iosFREE www.clnsradio.com/Android Be sure to like The Garden Report on Facebook and like...
The Sweedish Larry Bird, Jonas Jerebko, started a game for the first time in five years. Excelled on both ends of the floor and helped the Celtics take Game 3 over the Atlanta Hawks 111-103. Grandstand App: clnsradio.com/grandstandAPP Get the CLNS Radio App on your mobile device! Click Here: www.clnsradio.com/iosFREE www.clnsradio.com/Android Be sure to like The Garden Report...
It is always intriguing to look back at single decisions in hindsight made by professional athletes that got them where they are now.Jonas Jerebko took the time to reminisce on one of his in the aftermath of Boston's 111-96 exhibition win over Real Madrid. Recalling his days as a teenager in Sweden, the C's forward revealed he passed up the opportunity to play for the revered basketball...
Several members of the Celtics organization spoke to the media this morning at the Shamrock Classic golf tournament.  Among the most entertaining was Jonas Jerebko: @celtics Jonas Jerebko about to speak to media prior to golf tournament at Old Sandwich Golf Club in Plymouth, Mass. pic.twitter.com/sfociZwQKF — A. Sherrod Blakely (@SherrodbCSN) September 22, 2015 Jonas Jerebko today...
Isaiah Thomas has not been the only man psyched to join the Boston Celtics at the trade deadline. Former Pistons forward Jonas Jerebko has also been vocal of his appreciation to wear green. Great team win tonight! Love playing at the TD garden. Keep working one game at a time #CelticNation @celtics— Jonas Jerebko (@JonasJerebko) February 28, 2015Thanks to the great fans that pushed...
MORE STORIES >>
Jazz News

Delivered to your inbox

You'll also receive Yardbarker's daily Top 10, featuring the best sports stories from around the web. Customize your newsletter to get articles on your favorite sports and teams. And the best part? It's free!