We've updated our Privacy Policy.
By continuing to use this site, you are agreeing to the new Privacy Policy.
"There are no candidates and there is no list," Bucks VP Alex Lasry tweeted in response to a rumored list of names to fill the vacancy.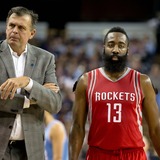 There is no love lost between James Harden and former Houston Rockets head coach Kevin McHale, and the two men have had no problem reminding us of that over the past week.The war of words began last week when McHale said Chris Paul is going to bring a level of leadership to the Rockets that Harden is not capable of providing. When asked by reporters about McHale's remarks, Harden...
The Sacramento Kings' quest to fill their head coaching vacancy has officially gone up and under. According to a report by Marc Stein of ESPN on Monday, former Rockets head coach Kevin McHale's interest in the Kings' coaching job has advanced from exploratory talks to his emergence on the list of known candidates for the position. McHale, 58, has a career record of 232-185 (.556...
LIKE WHAT YOU SEE?
GET THE DAILY NEWSLETTER: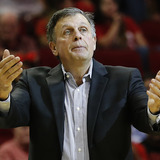 Kevin McHale was fired by the Houston Rockets on Wednesday, and it sounds like his own family didn't see it coming any more than we did. McHale's wife Lynn spent some time on Twitter Thursday mocking her husband's former employer. She quickly came to her senses and deactivated her account, but not before all of the grenades she lobbed were preserved in screenshot form. If...
Charles Barkley, not known to mince words when expressing his opinion, didn't hold back while blasting Daryl Morey over the sudden dismissal of Kevin McHale, suggesting the Houston Rockets general manager fired the head coach in an effort at "covering his own ass." Barkley, appearing on Colin Cowherd's radio program Wednesday, acknowledged he and Morey have had their beefs in...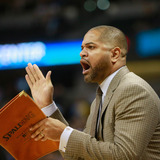 The Houston Rockets made the biggest early-season move when they fired head coach Kevin McHale, but the team plans to give J.B. Bickerstaff the reins for the rest of 2015-16 season. In an interview with ESPN's Calvin Watkins, Rockets owner Leslie Alexander confirmed Bickerstaff will be evaluated at the end of the year. ESPN: Can J.B. win this job? Alexander: Of course he can...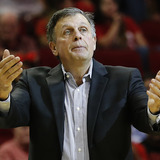 The Houston Rockets have fired head coach Kevin McHale, according to a report from Adrian Wojnarowski of Yahoo Sports. The news comes as a shock this early in the season, though the Rockets have struggled mightily as of late and lost their last four games. McHale had been the head coach in Houston since 2011. He went from winning 34 games in his first season — which was shortened...
By Jason Rowan Houston Rockets coach Kevin McHale wasn't content to only rip Matt Barnes on Thursday, as he delivered a snarky suggestion to  the Los Angeles Clippers over their bemoaning over the significant disparity between the amount of free throws the respective teams have attempted through the series' first two games: Stop fouling Rockets players. "I heard them saying, ...
MORE STORIES >>
NBA News

Delivered to your inbox

You'll also receive Yardbarker's daily Top 10, featuring the best sports stories from around the web. Customize your newsletter to get articles on your favorite sports and teams. And the best part? It's free!