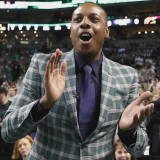 Sunday afternoon, the Boston Celtics would retire Paul Pierce's jersey. And even though the Celtics would get blown out, that moment lasts forever. When you ask a modern-day fan what they think of when they think of the Celtics, they're going to say Paul Pierce.But Robert Parish, who would spend 14 of his 20 NBA seasons in Boston, thinks Pierce is better offensively than Larry Bird...
Very short but worth the listen, from yesterday's NBA Radio Sirius XM interview with Justin Termine and Nancy Lieberman.  Robert Parish stopped by and discussed Len Bias, the difference between playing with Bird and Jordan and the Bird vs LeBron comparisons.Robert Parish exemplified Celtic Pride and I can't say I disagree with anything he says.  Bias would've made the difference...
GET PAID
Not a good look for all time great and former Celtic Robert Parish in this weekend's Boston Globe. Apparently Parish has sold all his championship rings and is low on cash. The Celtics hired him in 2004 for public relations work, but Parish found the $80,000 salary too low. "I want to make it clear, I'm not whining, and the Celtics owe me nothing. But having said that, you would...
NBA Hall of Famer Robert Parish will take part in a public autograph signing on Saturday January 26th at the South Shore Plaza in Braintree. Parish was voted one of the "50 Greatest Players in NBA History". The event is being held from 12:00PM to 2:00PM. Tickets are available in advance at Sureshotpromotions.com. Autographs range from $35 to $45 depending on the item to be signed...
Back in June we posted that Robert Parish was auctioning off his 1981 championship ring. Well the Chief has just added his 1986 championship ring to the auction block. If you click on the first link you'll see that the two pictures of Parish were taken at the same time, so it's not like he sold the one ring and then 6 months later decided he wanted/needed to sell the other. I'm not...
CELTIC PRIDE
The Chief is selling his 1986 championship ring. The current high-bid is $18K. This size 13, 14k gold player's ring weighs 39 grams. The top panel reads "BOSTON CELTICS WORLD CHAMPIONS" surrounding a green enameled shamrock logo and a diamond encrusted Larry O'Brien Championship Trophy. Fifteen smaller round-cut diamonds make up the base and a .33-carat round-cut diamond sits at...
Earlier I posted the 1981 World Champion Celtics Locker Room Celebration video that I found earlier this week. Where did I find it? I was tipped off that Robert Parish was auctioning off his 1981 championship ring and the video was on the auction page. The auction has now ended and the ring has sold for $45,478. The ring came with a letter of authenticity signed by Robert Parish...
Robert Parish, one of the greatest centers in Boston Celtics history and one of the 50 greatest players in NBA history, will be honored by the TD Garden on June 27 at The Tradition – the annual summer celebration honoring distinguished New England athletes and industry leads at the home of the Bruins and Celtics. [...]
In Jackie MacMullan's latest column, Robert Parish shares a story about one of his first encounters with Michael Jordan during his time as a member of the Bulls: "What set Larry apart from Magic and Jordan was he wasn't an in-your-face leader like they were," Parish said. "He had too much respect for us. If you weren't having a good night, he was more inclined to encourage you...
MORE STORIES >>
NBA News

Delivered to your inbox

You'll also receive Yardbarker's daily Top 10, featuring the best sports stories from around the web. Customize your newsletter to get articles on your favorite sports and teams. And the best part? It's free!