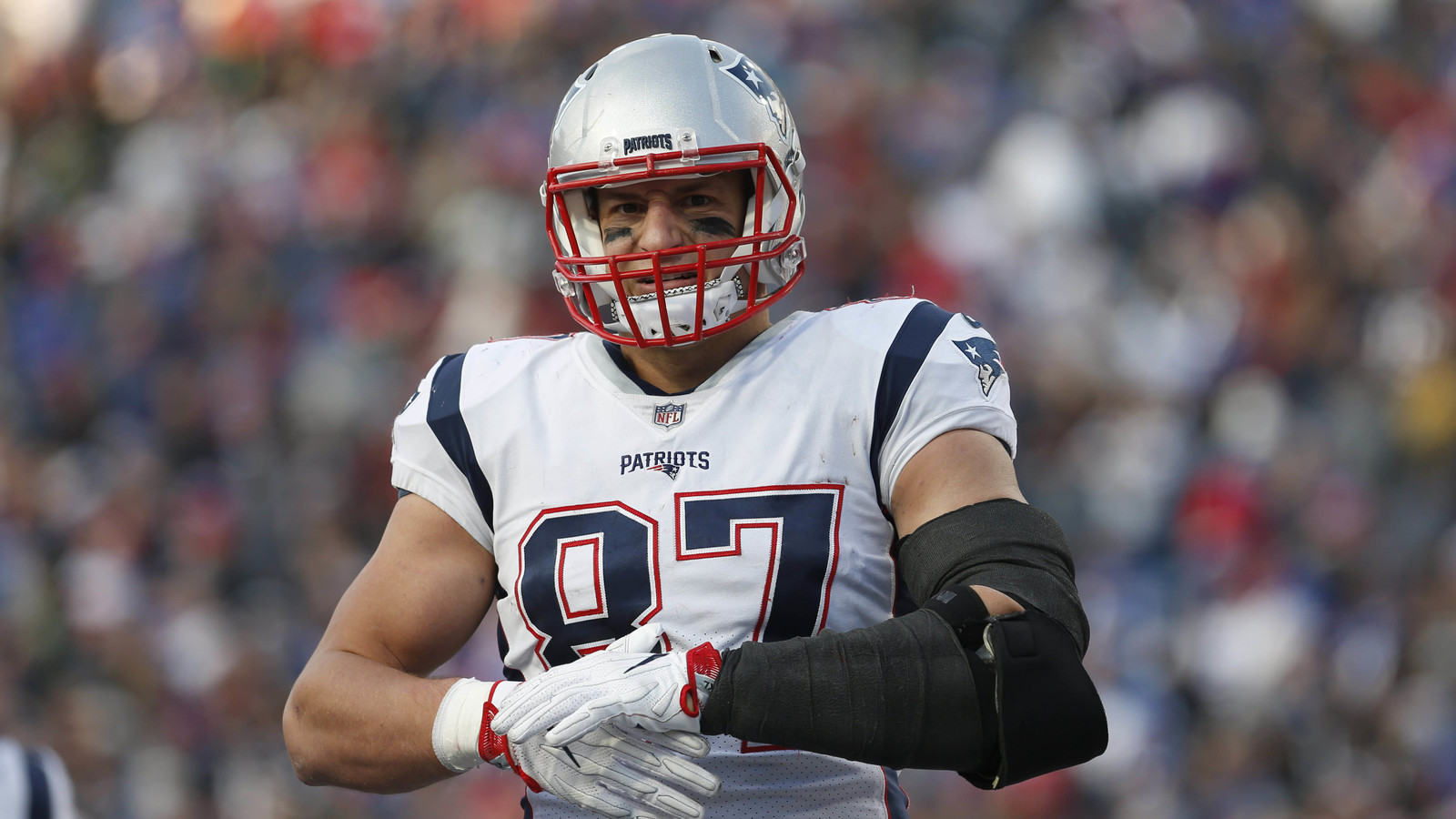 Timothy T. Ludwig-USA TODAY Sports
Week 13 saw a huge winning streak snapped and a new team take over the lead in the NFC. Some teams stayed alive in the playoff race, others pulled ahead, and some were eliminated. It was a good week for several contenders, but less impressive for several defenses and a rather large handful of wide receivers.
Here's a look at 15 big disappointments from Week 13 that were unable to deliver.
Rob Gronkowski, TE, Patriots
Gronkowski surely knows better than to do what he did late Sunday against the Buffalo Bills. His cheap shot against Tre'Davious White makes no sense and will likely result in some sort of discipline. It was stupid, dangerous, and it was reckless. Frankly, a one-game suspension wouldn't be out of order. He's going to get a lot of criticism for that inexplicable action, and it's fair to say that he has it coming.
Julio Jones, WR, Falcons
Jones fell victim to Xavier Rhodes on Sunday, and credit should go to the Minnesota Vikings' star cornerback. Jones was shut out of the first quarter and much of the second half. He ended his day with just two catches for 24 yards. Julio was always going to be facing a tough time with Rhodes on him, but Jones' Sunday was about as bad as one could imagine. It's fair to say that his inability to get things going was a big reason the Atlanta offense was so lackluster.
Kansas City Chiefs' defense
Alex Smith went off on Sunday, so you can't blame him or the offense for the team's loss. Instead, the latest culprit in the ongoing collapse of the Kansas City Chiefs is a defense that gave up 38 points and nearly 500 yards to a New York Jets offense quarterbacked by Josh McCown. The big issue? The Jets were an astonishing 13-of-20 on third downs. Kansas City simply couldn't get themselves off the field, thanks in part to eight penalties that continued to give the Jets opportunities. Their defensive performance was a huge disappointment.
Corey Coleman, WR, Browns
Coleman returned from injury two weeks ago and quickly became one of DeShone Kizer's favorite targets. For whatever reason, that came to a grinding halt on Sunday. Coleman didn't catch a single pass, which perhaps was a side effect of the return of Josh Gordon. After 144 yards over his last two games, Coleman was shutout on the stat sheet. He also was targeted just four times. Gordon appears to be Cleveland's primary receivers, as he was targeted 11 times.
Buffalo's passing game
Returning to Tyrod Taylor did nothing for the Buffalo Bills. He racked up only 65 yards with an interception before leaving due to injury. His replacement, Nathan Peterman, was even worse. Peterman was 6 of 15 for 50 yards. As a whole, the Bills went 15 of 34 for just 85 passing yards. Things were going well for Buffalo early in the season, but benching Taylor may have rattled him a little, and Peterman has shown that he's not up to the task. The Bills need a quarterback, because they've somewhat messed up the position in 2017.
Arizona Cardinals WRs not named Larry Fitzgerald
Larry Fitzgerald had a huge ten-catch day in the Cardinals' loss to the Los Angeles Rams on Sunday. He was great, and quarterback Blaine Gabbert was great throwing to him; every time Gabbert targeted Fitzgerald, he got a completion, going 10-for-10. The problem was everyone else. Gabbert was a lowly 8-for-22 when not targeting Fitzgerald and threw two interceptions. Aside from Fitzgerald, no Cardinals player had more than two catches. It is a remarkable dichotomy and one of the crazier stats of the week.
Detroit Lions' defense
The Lions have had their fair share of hit-or-miss games defensively in 2017, but they had to be encouraged going up against Joe Flacco and a Baltimore offense that has had its own problems with consistency. Detroit's defense instead allowed 370 total yards, 24 first downs, surrendered four touchdowns, and didn't force any turnovers. Flacco's 269 yards were a season-best, and it was only the third game of the season in which he threw for multiple touchdowns. The low point? On a key third down, the Lions were caught off-guard and had only nine men on the field. That cannot happen at this level.
Leonard Fournette, RB, Jaguars
This wasn't Fournette's worst performance, but he probably was expecting to do more against an Indianapolis run defense that isn't exactlys a stone wall. His 57 yards on 20 carries was decent, but the performance marked his second straight underwhelming week against a defense that can be beaten. With three sub-standard performances in his last four games, one has to wonder whether Fournette is hitting the dreaded rookie wall.
Trevor Siemian, QB, Broncos
At this point we should just reserve a permanent spot on the list for whoever happens to play quarterback for Denver each week. This week, it was Siemian who was a disaster, completing just 19 of his 40 passes and turning the ball over three times on interceptions. He missed receivers by yards, not inches, and looks totally bereft of confidence. Unbelievable as it is, Brock Osweiler is probably Denver's superior option at this point.
Jeff Allen, OT, Texans
Not one. Not two. But three! Allen committed three straight false starts on the Houston Texans' final drive against the Tennessee Titans on Sunday. Down 17-13, the Texans had a legitimate chance to win the game. They had a 4th-and-4 at the Tennessee 36 and a decent opportunity to convert. But then Allen was flagged three straight times for a false start, turning it into a 4th-and-19 they couldn't manage. Allen was playing out of position, but there's still no excuse for that.
Philadelphia Eagles' offense
Missed opportunities was the story of the game for the Philadelphia Eagles' offense. After scoring at least 31 points in a game for their past five contests, the Eagles were held to a season-low 10 points by Seattle on Sunday night. A lot of that was due to their mistakes. Carson Wentz lost a fumble at the 1-yard line, taking away a big scoring opportunity. He also threw an interception late in the game. The Eagles went for it on fourth down twice in the second half when down by 14 points, and they failed to convert either one. All the magic they had during their 9-game winning streak seemed to run out.
Ted Ginn Jr., WR, Saints
Ginn can typically be relied upon as a significant part of Drew Brees's gameplan, but it just didn't happen for him on Sunday against the Carolina Panthers. Ginn only had two catches for 27 yards, and he wasn't targeted all that much either. The Saints won, so it wasn't a huge issue in the grand scheme of thing, but the Panthers limited his involvement and forced Brees and the Saints to look elsewhere to move the offense.
Jordan Howard, RB, Bears
A matchup against the San Francisco 49ers should have had Howard salivating, but he was instead left licking his wounds. He was given only 13 carries, got only 38 yards out of them, and he was more or less a non-factor in a San Francisco victory. That's two bad games in a row for him. He was not at all helped by the fact that Chicago simply did not have the chance to get too many plays off. This will go down as a missed opportunity for Howard.
Marcus Mariota, QB, Titans
Even as the Titans keep winning, Mariota has become somewhat of an underwhelming presence stat-wise. He only attempted 23 passes on Sunday against the Houston Texans, completing 15 of them for a modest 150 yards and one touchdown. His rushing ability was good for 23 yards and a touchdown, but it was the first time since Week 10 he'd managed a double-digit yardage tally. Mariota has the ability to be more explosive than this, and we're simply not seeing it right now.
The NFL's attempts to stop the kneeling — from their perspective, anyway
It's clear that the NFL — likely in an effort to appease frustrated sponsors — still wants to find a way to discourage or stop players from kneeling during the national anthem. Perhaps they thought they were close to a breakthrough with their social justice fund. If they did, they were disappointed Sunday when numerous players, including seven Philadelphia Eagles, continued to kneel during the national anthem. It's an open question whether there's anything the NFL can do at this point.
NFL News

Delivered to your inbox

You'll also receive Yardbarker's daily Top 10, featuring the best sports stories from around the web. Customize your newsletter to get articles on your favorite sports and teams. And the best part? It's free!
PLAYERS:
Rob Gronkowski
,
Julio Jones
,
Xavier Rhodes
,
Josh McCown
,
Corey Coleman
,
DeShone Kizer
,
Josh Gordon
,
Leonard Fournette
,
Trevor Siemian
,
Brock Osweiler
,
Ted Ginn Jr
,
Drew Brees
,
Jordan Howard
TEAMS:
New England Patriots
,
Atlanta Falcons
,
Minnesota Vikings
,
New York Jets
,
Cleveland Browns
,
Jacksonville Jaguars
,
Denver Broncos
,
Carolina Panthers
,
New Orleans Saints
,
Chicago Bears
,
Buffalo Bills
,
Arizona Cardinals
,
Detroit Lions
,
Houston Texans
,
Tennessee Titans
,
Philadelphia Eagles
,
Kansas City Chiefs
,
Los Angeles Rams
MORE FROM YARDBARKER
NFL News

Delivered to your inbox

You'll also receive Yardbarker's daily Top 10, featuring the best sports stories from around the web. Customize your newsletter to get articles on your favorite sports and teams. And the best part? It's free!