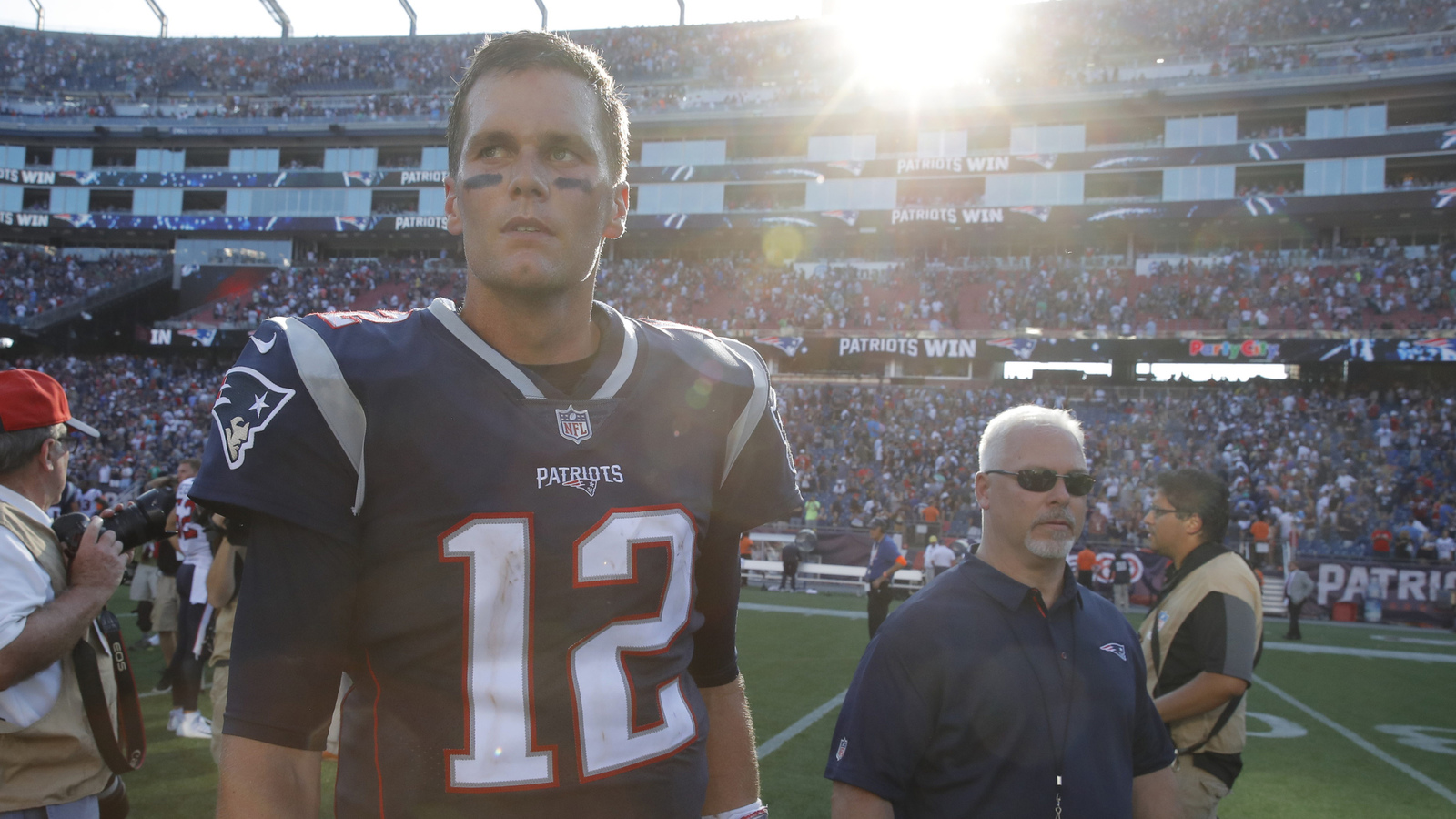 Sep 24, 2017; Foxborough, MA, USA; New England Patriots quarterback Tom Brady (12) exits the field after defeating the Houston Texans at Gillette Stadium. 
David Butler II-USA TODAY Sports
It was a big day for star performers across the NFL, with several quarterbacks and wide receivers in particular putting up very big days. We also witnessed a rookie nailing a game-winning 61-yard field goal and a few big defensive performances, even in losing efforts.
Here's a list of 15 standout performers in Week 3 of the NFL season.
Atlanta's running backs
In a contest where quarterback Matt Ryan threw three interceptions in one game for the first time in two years, it was the Atlanta running game that stepped up and drove the offense forward. The Falcons picked up 151 rushing yards as a team, with Devonta Freeman contributing 106 of them, plus a touchdown. Tevin Coleman was no slouch either, racking up 46 yards on just six carries, good for an average of 7.7 yards per carry. Their contributions opened up the passing game and allowed Ryan to get the job done despite his three picks.
Odell Beckham Jr., WR, Giants
OBJ is back, and so is the drama — but when he's playing like this, the Giants will be happy to tolerate it. The Giants' star receiver reeled in nine catches for 79 yards and two touchdowns, including an excellent one-handed grab in the back corner of the end zone for his second touchdown catch. He also had a rather controversial celebration on his first grab. He deservedly got flagged, but New York will deal with the consequences if he's putting up stat lines like this one.
Blake Bortles, QB, Jaguars
Maybe it's a bit too late for Bortles to reel anyone back into believing in him, but the much-maligned quarterback is certainly trying. It's not unfair to say that another bad performance or two could cost him his starting job, but that won't be happening this week — not after the quarterback went 20-for-31 for 244 yards and four touchdowns. Bortles was once a top-ten pick for a reason. He may never be what the Jaguars hoped he could be, but every so often, you might get a performance like this.
Tom Brady, QB, Patriots
When the chips are down, Touchdown Tom does it again. Brady bailed out the struggling Patriots once more, completing 5-of-8 passes for 93 yards on the game-winning drive that culminated in a 25-yard touchdown pass to Brandin Cooks. That was the cap on a brilliant day that saw him throw for 378 yards and five touchdowns despite repeated pressure and five sacks as his offensive line struggled to protect him. Even at 40, he is about as good as it gets.
Jacoby Brissett, QB, Colts
Yes, it was against the Cleveland Browns, but at least for one day, Brissett served as a capable stand-in for the injured Andrew Luck. He completed 17 of his 24 pass attempts, threw for 259 yards and a touchdown, and generally controlled the offense capably. Brissett still has no real long-term future with Indianapolis as long as Luck returns fully healthy, and it's debatable if he's even a starter-quality quarterback in the NFL, but he deserves some plaudits for his play on Sunday.
Antonio Brown, WR, Steelers
Brown set a record on Sunday, becoming the fastest player in NFL history to 650 catches — a mark previously held by Marvin Harrison. It was the highlight of a typically big day for the Pittsburgh star, as he pulled in ten catches for 110 yards and a touchdown. His touchdown reception, the 51st of his career, tied him with Lynn Swann for third-most in Steelers history. It's only a matter of time before he moves past him — and there are likely many more touchdowns on the way.
Jadeveon Clowney, DE, Texans
Clowney caused the New England Patriots all sorts of trouble on Sunday, and was a constant thorn in Tom Brady's side. His two sacks would have been noteworthy on any day, but Clowney found himself in the right place at the right time to scoop up a New England fumble and take it to the house, punctuating the score with a mighty Gronk spike. He had six tackles overall, and played a big part in the constant pressure that Brady found himself under.
Brandin Cooks, WR, Patriots
As mentioned, Cooks was the recipient of Brady's game-winning touchdown pass, a 25-yard strike with 23 seconds left to give New England a big comeback win. It was hardly the only contribution Cooks made on Sunday, however — it was his second touchdown catch of the day to cap off an afternoon that saw him reel in 131 yards on five catches. In his first year with the Patriots, Cooks had a fairly quiet start to the season. His Week 3 showing was just the sort of breakout performance that he needed and will endear him to Brady.
Jake Elliott, K, Eagles
It's hard to make a 61-yard field goal in the NFL. It's even harder to do it when you're a rookie. It's harder still to accomplish when the kick is for the win. That, however, is exactly what Philadelphia's Jake Elliott did, setting an Eagles franchise record and an NFL rookie record in the process. Even better, it was against a division rival in the New York Giants. It's probably the fastest possible way to endear yourself to Philly fans, and Elliott did it.
T.Y. Hilton, WR, Colts
Hilton has been poor in 2017 as the Colts' quarterback situation has been deeply unsettled. At least for Sunday, he managed to find a connection with Jacoby Brissett, and the numbers he put up were much more reminiscent of his heyday. Hilton pulled in nine catches for 153 yards and a touchdown, including a 61-yard catch. His presence was a big help for Brissett, and if the connection they forged can continue to work, perhaps the Colts won't be in dire shape until Andrew Luck returns.
Jordan Howard, RB, Bears
Things did not look good for Howard a week ago. He only had seven rushing yards, his arm was in a sling, and rookie Tarik Cohen looked like a very real threat to steal his job. Howard put a lot of those questions to rest on Sunday, though, running all over the Steelers to the tune of 138 yards and two touchdowns, including a walk-off winner in overtime to give Chicago the upset win. It was much more reminiscent of the performances he put together as a rookie, and it will make the Bears feel optimistic that he wasn't just a flash in the pan.
Melvin Ingram, DE, Chargers
Kansas City Chiefs quarterback Alex Smith saw far more of Ingram on Sunday than he would have liked. The Chargers linebacker got to Smith for three sacks, bringing his total to 5.5 on the season. He's up to 13 total tackles as well, and certainly has little to do with the team's slow start after moving to Los Angeles. If anything, he's proving himself to be a legitimate Defensive Player of the Year candidate as he continues to disrupt opposing backfields.
Case Keenum, QB, Vikings
Who saw this coming? With Sam Bradford still sidelined due to a knee issue, Keenum turned in an elite quarterback performance. After an underwhelming Week 2 performance, Keenum went 25-for-33 for 369 yards and three touchdowns. The Vikings were looking for a game manager, but they got a career performance as he picked apart the Tampa Bay defense. It remains to be seen how long Bradford will be out, but Keenum has certainly given the team something to think about.
Darius Slay, CB, Lions
Slay was constantly in the right place at the right time on Sunday, sniffing out two tipped balls and turning them into two interceptions — a scenario that his opponent, Falcons quarterback Matt Ryan, certainly is not accustomed to. It wasn't the Lions' best day defensively, but with Slay up against Julio Jones, he did about as well as he reasonably could have expected to with five tackles and three passes defended — plus two huge plays to force turnovers.
Kirk Cousins, QB, Redskins
Oohhhh weeee! Now this is the Kirk Cousins Washington was expecting to see when they franchise-tagged him. Cousins looked fantastic as Washington hammered Oakland on Sunday Night Football. He was sharp, going 25 of 30 for 365 yards, three touchdowns and no interceptions. He played turnover-free football and got some help from his receivers, who came up with big catches in single coverage, like Josh Doctson's TD. The 83.3 completion percentage marked the second-highest mark of Cousins' career.
PLAYERS:
Odell Beckham
,
Tom Brady
,
Marvin Harrison
,
Lynn Swann
,
Jadeveon Clowney
,
Tarik Cohen
,
Alex Smith
,
Kirk Cousins
,
Josh Doctson
TEAMS:
New York Giants
,
New England Patriots
,
Houston Texans
,
Chicago Bears
,
Kansas City Chiefs
,
Washington Redskins
,
Cleveland Browns
,
Los Angeles Chargers
MORE FROM YARDBARKER:
QUIZ: Name every 'Madden' cover athlete
Some of the greatest - and not-so-great- players in the NFL have graced the cover of the "Madden". How many of these players can you name in five minutes?
Good luck!
CLUE: TITLE / POSITION
Note: Both Madden 10 and Madden 25 had two cover athletes.
MORE FROM YARDBARKER
NFL News

Delivered to your inbox

You'll also receive Yardbarker's daily Top 10, featuring the best sports stories from around the web. Customize your newsletter to get articles on your favorite sports and teams. And the best part? It's free!