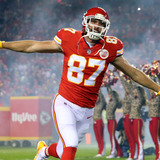 The trade that will send Alex Smith to the Washington Redskins cannot be finalized until the new NFL league year begins in March, but Travis Kelce is wasting no time turning things over to first-round pick Patrick Mahomes.On Thursday, Kelce stopped by the EA Sports Super Bowl party in Minneapolis to follow through after he challenged New Orleans Saints running back Alvin Kamara to...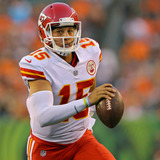 The Kansas City Chiefs just traded away their longtime franchise quarterback — but at least one of their star offensive players is still very confident in the team's future.Tight end Travis Kelce had no second thoughts when asked if he believed Patrick Mahomes — who he already has a nickname for — could replace Alex Smith and lead the Chiefs to the promised land."Yeah, without a...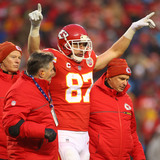 The Kansas City Chiefs lost one of their best players late in the first half when Travis Kelce took a nasty hit to the head. He had to leave the game and was later ruled out for the remainder of the contest with a concussion. This is the second concussion Kelce has suffered this season. He was an impossible matchup against Tennessee in this game before his exit, catching four passes...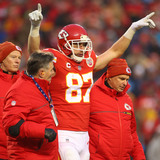 Chiefs tight end Travis Kelce played a major role in his team jumping out to a big lead in the first half of Saturday's wild-card game against the Titans, but he was forced to leave the game late in the second quarter after taking a hit to his helmet.It happened when Kelce caught a pass after running a shallow crossing route, and was the unfortunate recipient of a helmet-to-helmet...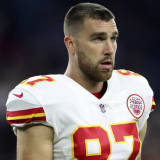 The Kansas City Chiefs looked like the team to beat in the AFC about a month ago, but a stretch of poor play has resulted in some tempered expectations. After an embarrassing loss on Sunday, star tight end Travis Kelce thinks it's time for he and his teammates to start showing some accountability.Kelce, who had a game-high eight receptions for 109 yards, vented some of his frustrations...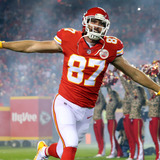 Chiefs tight end Travis Kelce continued to do what he does when matched up against the Broncos on Monday night — he dominated the opposition.Kelce, who caught 19 passes combined when he squared off against the Broncos in 2016, picked up where he left off on Monday.The Chiefs used him to pick up a first down on a screen pass that went for 16 yards in the first quarter, but didn't...
Travis Kelce appeared to break out his troll game while celebrating a touchdown against the Philadelphia Eagles on Sunday.Kelce scored a 15-yard touchdown on a shovel pass in the fourth quarter to break a 13-all tie and give Kansas City the lead. In his celebration, the Chiefs tight end flapped his arms like he was mocking the Eagles flapping their wings: It's not hard to think that...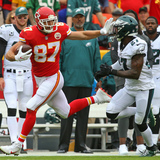 Chiefs tight end Travis Kelce is known for attempting to get in his opponent's head during games, but sometimes he takes things a bit too far, which has resulted in penalties.Kelce was flagged for unsportsmanlike conduct in Week 1 against the Patriots, and that happened again in Sunday's game against the Eagles.Later in the game, Kelce caught a 15-yard touchdown pass from Alex Smith...
Kansas City Chiefs tight end Travis Kelce is developing quite the reputation as a hothead, and as a result he's becoming accustomed to dropping some cash into the NFL's swear jar.Following a couple of incidents that occurred during and after the Chiefs' devastating loss to the Pittsburgh Steelers last Sunday night, Kelce has been fined a total $21,615, per ESPN's Adam Teicher.The...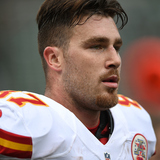 Given his first career Pro Bowl invite and gaudy statistics for the Kansas City Chiefs this past season, it was clear tight end Travis Kelce's star was on the rise. But who knew his star appeal would cross over to pop culture? Apparently, it has. The E! network "has ordered eight episodes of Catching Kelce, a dating competition series starring Kansas City Chiefs' tight end Travis...
MORE STORIES >>
Chiefs News

Delivered to your inbox

You'll also receive Yardbarker's daily Top 10, featuring the best sports stories from around the web. Customize your newsletter to get articles on your favorite sports and teams. And the best part? It's free!