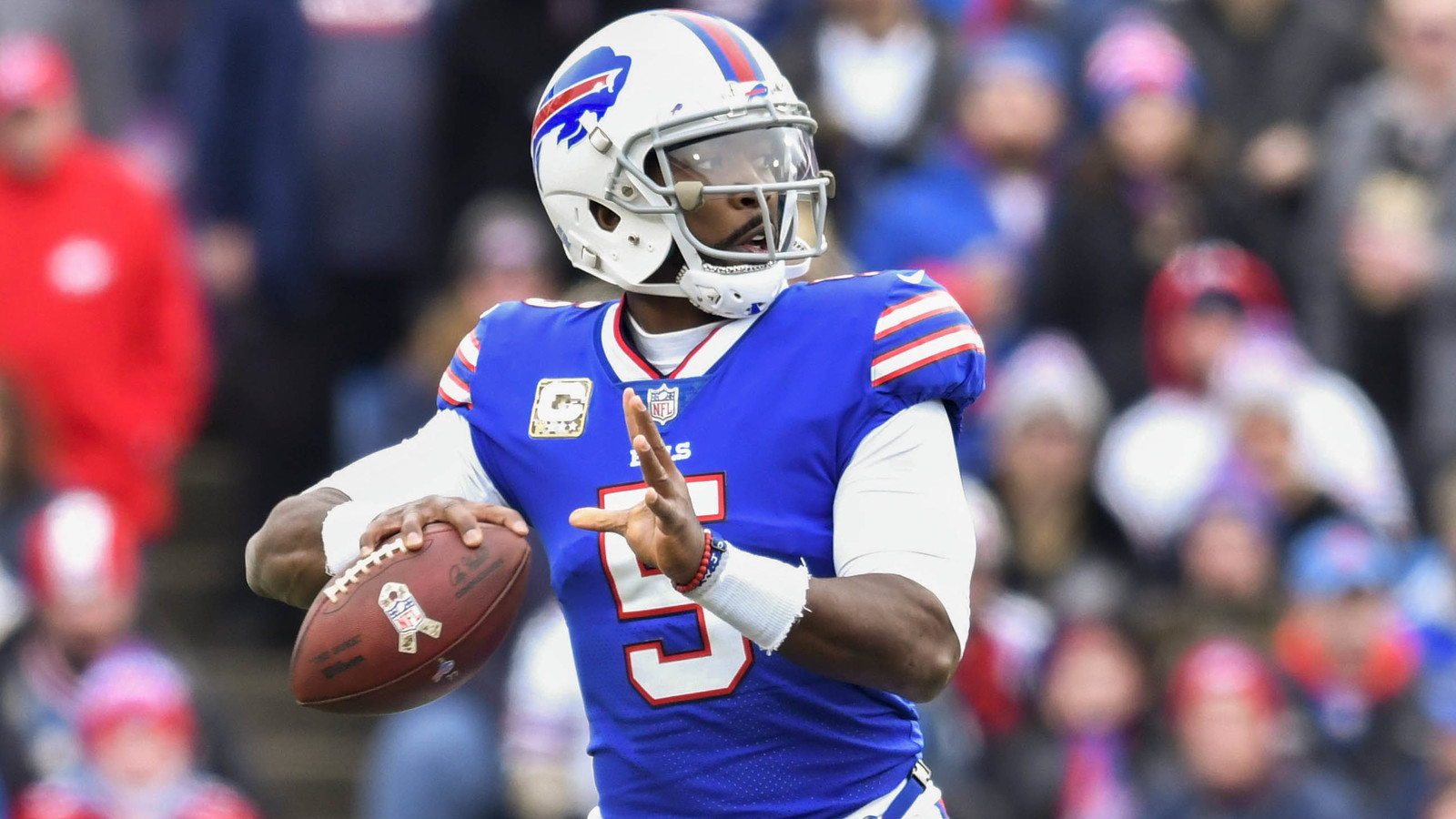 Benching Tyrod Taylor was one of the most controversial moves of the season. The Bills better hope it works in their favor.
Mark Konezny-USA TODAY Sports
The Steelers got the NFL week started with a bang when they blew the doors off the Titans in the second half of Thursday night's game, sending a message to the rest of the AFC that their close call against the Colts last week was a fluke. Ben Roethlisberger completed 30-of-45 passes for 299 yards, four touchdowns and no interceptions. His performance put a lot of concerns about Pittsburgh's offense to rest, but many more questions exist around the league heading into Week 11. Here are some of them.
1. How short of a leash do the Vikings have Case Keenum on?
The Vikings have won five straight games with Case Keenum playing quarterback, so they had no choice but to stick with him for Sunday's game against the Los Angeles Rams. Despite how well Keenum has played, he must be feeling some pressure knowing that Teddy Bridgewater is healthy and ready to go for the first time since 2015. The Vikings were reportedly tempted to turn things over to Bridgewater this week, but you can't possibly bench Keenum with the way the team has been playing. If Keenum turns the ball over, that may be all it takes for Bridgewater to get his chance.
2. Are the Saints suddenly the team to beat in the NFC?
The Saints began the year 0-2 and looked like they were heading for yet another disappointing season, but they have won seven straight since. They have the best running game in the NFL with Mark Ingram and Alvin Kamara, which makes this Sean Payton team even more dangerous than the pass-heavy ones we have seen in recent years. While the Eagles have to be considered the favorite to represent the NFC in the Super Bowl, it's certainly time to take New Orleans seriously.
Payton's teams have always scored points at the Superdome, but last week's offensive explosion in a 47-10 at Buffalo was a big statement: The Saints are for real.
3. Can DeShone Kizer survive a full game against Jacksonville's defense?
Kizer has been benched in multiple games this season. He also left more than one game with an injury, including last week when he hurt his ribs against the Lions. With how ferocious the Jaguars' defense has been, it's fair to wonder if Kizer can make it through a full game.
The Browns are still searching for their first win, and a home game vs. the Jaguars looked like a great spot for them before the season began. That's because no one expected Jacksonville to be a legitimate playoff team with an elite defense. Kizer could have another long day.
4. Do the Giants have any fight left in them?
The 1-8 Giants held a clear-the-air meeting this week after an embarrassing loss to the previously-winless 49ers. Head coach Ben McAdoo said the players and coaches were "brutally honest" with one another, so we'll see if that makes a difference in Sunday's game against the Chiefs. Our guess is it won't, especially since Andy Reid is virtually unstoppable coming out of a bye.
Giants co-owners Steve Tisch and John Mara released a statement earlier in the week saying McAdoo won't be fired during the season. Still, it would be a shock if the coach were still with the team in 2018. Players have quit on McAdoo, and closed-door meetings probably aren't going to change that.
5. What makes Andy Reid so unstoppable after the bye week?
As we just mentioned, Reid's teams are incredible coming out of the bye. Reid is 16-2 in his NFL head coaching career after a bye week, and there's no way that's a coincidence. No one is better at taking advantage of having an extra week to prepare. So what is Reid's successful bye week formula? He gives his team the entire week off to step away from football. Then his coaching staff uses the extra week to do self-scouting rather than focus on scouting an opponent. Examining his own team so closely allows Reid to shore up his squad's weaknesses.
The impeccable record is almost wasted this season against the 1-8 Giants, but the Chiefs can't afford to slip up if they want to keep within striking distance of a first-round bye in the AFC.
6. Will benching Tyrod Taylor come back to haunt the Bills?
The Bills made one of the most puzzling decisions of the season when they announced they are benching Taylor in favor of rookie Nathan Peterman. Buffalo is currently the No. 6 seed in the AFC, which means the playoffs are well within reach. Taylor had a rough game against the Saints last weekend, but the Bills allowed nearly 300 yards rushing. There's no way he could have overcome that type of horrendous defense, yet he seems to be taking the fall for it.
If the Bills were 2-7, going with a rookie quarterback would make sense. By making a change while his team is in the postseason hunt, first-year head coach Sean McDermott is opening himself up to a ton of criticism. He had better hope Peterman is ready for the big stage.
7. Is the Cowboys' offense doomed without Ezekiel Elliott?
In their first game this season without Elliott, the Cowboys managed to score only seven points in a 27-7 loss to the Falcons. Was that a coincidence, or are Dak Prescott and company going to be lost without their star running back? We should get our answer on Sunday.
Dallas has its toughest task of the year to date in Week 11. The 8-1 Eagles are coming to town, and they have looked like the best team in the NFC through the first half of the season. If Alfred Morris, Rod Smith or Darren McFadden can't find a way to fill the void left by Elliott's six-game suspension, the Cowboys are in serious trouble.
8. Are the Eagles going to wrap up the NFC East with six games to go?
At 5-4, the Cowboys are in second place in the NFC East and currently three games behind the Eagles. The Redskins trail both at 4-5. With the Eagles traveling to Dallas on Sunday night, an excellent opportunity awaits. If Philadelphia can pull out the win, they will have a full four-game lead over Dallas (and possibly five over Washington) with only six games to play. Overcoming that type of deficit would be nearly impossible, especially with the way Carson Wentz has played.
The Eagles are in a great position, so Sunday's game is hardly a must-win. Still, they have to love knowing that they can basically cruise to an NFC East title with a victory in Week 11. Don't expect any type of letdown from the Birds.
9. Should the Dolphins bench Jay Cutler?
Cutler was awful in a loss to the Panthers on Monday night. He threw a crucial interception at the end of the first half and missed more than one wide-open receiver. Aside from his Week 9 performance against the Raiders (34-of-42 for 311 yards, three touchdowns and no picks), Cutler has looked lost all season. Matt Moore isn't exactly Aaron Rodgers, but it's time to start wondering again if he would give Miami a better chance to win games.
With a wide receiver corps that features a talented duo of Jarvis Landry and DeVante Parker, there's no reason for the Dolphins to be this bad on offense. If Cutler can't get anything going in a home game against the Buccaneers this weekend, it may be time for Adam Gase to show him the bench.
10. Will an extra week in high altitude help the Patriots?
The mile-high altitude clearly didn't bother the Patriots in their 41-16 win over the Broncos last week. Believe it or not, their game on Sunday will be played at an even higher altitude, as Estadio Azteca in Mexico City sits at approximately 7,200 feet above sea level. In order to prepare, Bill Belichick chose to practice this week at the Air Force Academy in Colorado Springs, which also sits at around 7,200 feet above sea level.
Will all of that matter? The Raiders have been practicing in Oakland (43 feet above sea level) and are coming off a bye. They're more rested, but if you believe in this altitude stuff, the Patriots should have an edge. Oh yeah, they also have Tom Brady and appear to be hitting their stride on both sides of the ball. Good luck, Derek Carr.
11. Can the Vikings stop the Rams' high-flying offense?
The born-again Rams rank third in the NFL with 388.9 yards of total offense per game. The Vikings rank fifth with only 294.6 allowed per game. Something has to give, right?
Sean McVay's team travels to Minnesota this week having won four games in a row and sporting a perfect 4-0 record on the road. The Vikings have a five-game win streak of their own going. If someone said before the season that Rams-Vikings in Week 11 had the potential to be one of the most important games of the year, we all would have laughed until we passed out. That's what makes the NFL so great.
12. Can the Lions put pressure on the Vikings in the NFC North?
Speaking of Minnesota being red-hot, the Lions may be the only hope to de-throne the Vikings in the NFC North. Detroit enters its game against the Bears on Sunday at 5-4 and two games behind the 7-2 Vikings. The Packers are also 5-4, but it would be a surprise if Brett Hundley keeps them in the playoff race. If the Lions beat the Bears, they can then focus on their quick turnaround with a Thursday night game against Minnesota. It will be challenging for Jim Caldwell's team to not look ahead, but Week 12 looms large if the Lions take care of business on Sunday.
13. Is this as good as it gets for Joe Flacco?
The Ravens have lost three of their last four games to drop below .500, and Flacco is playing the worst football of his career. Heading into Sunday's game against the Green Bay Packers, Flacco has thrown just eight touchdown passes compared to 10 interceptions. Fans in Baltimore can't help but feel like their team is going nowhere when they watch Flacco play this year, but the Ravens are not totally out of the hunt.
With the way the Steelers looked on Thursday night, Baltimore is likely playing for a wild card spot. Fortunately for Flacco, the Packers have allowed 242.6 passing yards per game. They're not all that imposing of a matchup, so this would be a good time for Flacco to show he still has a pulse.
14. Can the Broncos find a way to stay in the playoff hunt?
Denver is 3-6 and tied for last place in the AFC West. A home game against the Bengals does not sound like a huge challenge, but Brock Osweiler is capable of losing games against any team in the NFL. The Broncos are coming off an embarrassing home loss to the Patriots. They really can only afford one more loss if they want to have a shot at reaching the postseason. In his second go-around with Denver, Osweiler has compiled a passer rating of 62.5 and has just two touchdown passes to go along with three interceptions in two-plus games. However, he has led the offense on several field goal drives! Things are not looking good for a team that showed promise early in the season after a dominating win over Dallas.
15. How will the Seahawks fare without Richard Sherman?
The Seahawks had extra time to prepare after they played on Thursday night in Week 10, and they will need every bit of it now that Sherman is out for the season. Sherman, who suffered a torn Achilles' tendon in a win over the Cardinals, has appeared in every game for Seattle since 2011. He's a key member of the Legion of Boom as he regularly shuts down half of the field in the secondary. The team brought back Byron Maxwell, who will likely see a big role as a cover corner.
As if Sherman's absence weren't bad enough, there is a possibility that Kam Chancellor will not be able to play on Monday night. At least Earl Thomas should be back. The Seahawks are in great shape for a playoff spot at 6-3, but time will tell if their defense can hold together without Sherman and potentially Chancellor.
NFL News

Delivered to your inbox

You'll also receive Yardbarker's daily Top 10, featuring the best sports stories from around the web. Customize your newsletter to get articles on your favorite sports and teams. And the best part? It's free!
PLAYERS:
Ben Roethlisberger
,
Sean Payton
,
DeShone Kizer
,
Andy Reid
,
Steve Tisch
,
John Mara
,
Alfred Morris
,
Jay Cutler
,
Aaron Rodgers
,
Bill Belichick
,
Tom Brady
,
Jim Caldwell
TEAMS:
Pittsburgh Steelers
,
New Orleans Saints
,
Cleveland Browns
,
Kansas City Chiefs
,
New York Giants
,
Dallas Cowboys
,
Miami Dolphins
,
Green Bay Packers
,
New England Patriots
,
Detroit Lions
,
Washington Redskins
,
Baltimore Ravens
,
Seattle Seahawks
,
Los Angeles Rams
MORE FROM YARDBARKER
NFL News

Delivered to your inbox

You'll also receive Yardbarker's daily Top 10, featuring the best sports stories from around the web. Customize your newsletter to get articles on your favorite sports and teams. And the best part? It's free!