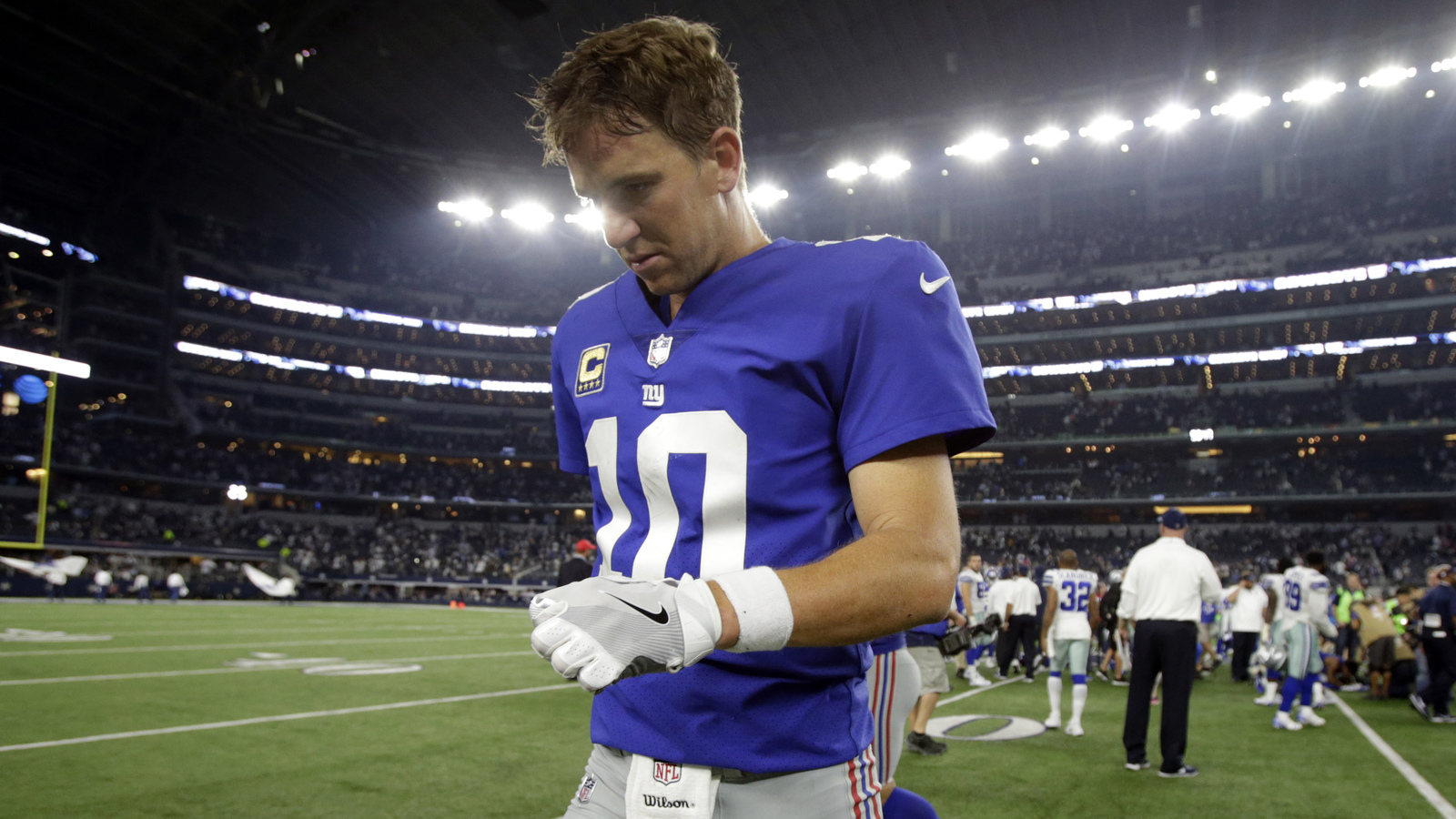 Are Eli Manning and the Giants really as awful as they've looked?
Tim Heitman-USA TODAY Sports
Week 3 of the NFL season already got off to a huge surprise with the 49ers and Rams shockingly combining to total the most points in Thursday Night Football history. Also, the game gave us our first 41-39 final in NFL history.
You never know what will happen from week to week in the NFL. Some teams may turn things around after poor weeks, while others could deliver duds.
As we enter the full slate of games this weekend, here's a look at 15 key questions for Week 3 of the NFL season.
1. How will Ezekiel Elliott respond to all the criticism?
The Cowboys were pounded by the Broncos in Week 2, and Elliott faced a great deal of criticism for seemingly sulking on the bench. On Thursday, Elliott admitted that he wasn't giving 100 percent and made no excuses for himself. After a career-worst performance in which he rushed for eight yards on nine carries, you can bet Zeke will be looking for a bounce-back week on Monday night against the Cardinals. Arizona's defense has been known to step up at home, so putting Week 2 in the rearview could be easier said than done for Elliott.
2. Are the Giants really this bad?
The Giants got Odell Beckham Jr. back on the field in Week 2, but the results weren't much different from the previous week. The G-Men were embarrassed in a 24-10 loss to the Lions at home, and they have scored just one touchdown in two games. The offensive line is a mess and Eli Manning has been seeing ghosts. Teams that begin the season 0-2 are already facing long odds to reach the playoffs, but 0-3 is essentially a death sentence.
Head coach Ben McAdoo is exploring the idea of giving up his play-calling duties, but it's unclear whether that would even help. If ever there were a must-win game in Week 3 of the season, the Giants are facing it. Knocking off the Eagles on the road will be no easy task.
3. Can the Bengals' offense finally find the end zone?
Speaking of teams that are a mess offensively, the Bengals have yet to score a touchdown during their 0-2 start to the season. They already made a major change by firing their offensive coordinator, but tight end Tyler Eifert is going to miss the game as he battles back and knee injuries. Star wide receiver A.J. Green has already publicly voiced his displeasure with his lack of targets, so he's likely going to get the squeaky wheel treatment against the Packers this week.
If the Bengals look horrendous once again, more heads are going to roll. There have even been rumblings that players want the team to explore options outside of Andy Dalton. With the way things are heading, this could finally be the year Marvin Lewis loses his job. The Bengals are staring 0-3 in the face traveling to Green Bay to face a Packers team coming off a tough loss to the Falcons.
4. Can the Vikings get decent play from Case Keenum?
Sam Bradford lit it up for the Vikings in Week 1, and Minnesota's offense looked like a force to be reckoned with. Unfortunately, a knee injury forced the quarterback to miss last week's game and has him out for Week 3 as well. That means Case Keenum will get the start for the second straight week.
Keenum passed for just 167 yards in a Week 2 loss to Pittsburgh. This week he gets the Buccaneers at home. Tampa Bay is an emerging team with a high-powered offense. Keenum needs to step up and direct a few touchdown drives to give his team a chance to win.
5. Is Cam Newton in pain or just rusty?
Newton struggled in a 23-3 win over the 49ers in Week 1, but he wasn't asked to do all that much. In last week's 9-3 victory against the Bills, something didn't look right. Newton was off-target on several throws, including one to a wide open receiver in the end zone on 3rd-and-goal that would have put the game away late. Some rust was expected after Newton underwent offseason shoulder surgery, but he also tweaked his ankle in Week 2. Cam missed some time during the preseason with shoulder soreness, though the Panthers downplayed it as a normal part of the recovery process.
If Newton can't find success throwing the ball against a Saints defense that has been torched through the air in back-to-back games, it will be fair to wonder if he's simply not healthy.
6. Can Christian McCaffrey run effectively between the tackles?
McCaffrey has turned 30 total touches into 129 yards in Carolina's first two games, which is nothing to scoff at for a player who is adjusting to the speed of the NFL game. However, there have already been some concerns — including those raised by Rotoworld's Evan Silva — that the former Stanford star has not looked all that great running between the tackles.
McCaffrey, the No. 8 overall pick in the draft, is a tremendous athlete. He's also a bit undersized for an NFL back, and that could be part of the reason he has averaged just 2.7 yards per carry. The Panthers need to find creative ways to incorporate McCaffrey into their offense. Draw plays from the shotgun are never going to be his bread and butter.
7. Will Trevor Siemian stay hot on the road?
Most people expect Siemian to be a game manager who keeps the Broncos in games and lets his defense carry him, but he has been much more than that through the first two games this season. After completing 17-of-28 passes for 219 yards, two touchdowns and an interception in a Week 1 win over the Chargers, Siemian was downright impressive against the Cowboys last weekend. He connected on 22-of-32 passes for 231 yards, four touchdowns and an interception, leading Denver to a 42-17 victory.
If fans are expecting Siemian to be Peyton Manning or even maintain his passer rating of 106.9, they're going to be disappointed. That said, he beat out Paxton Lynch in an open competition this offseason and gained a lot of experience playing in 14 games last season. Siemian will face a tougher test this week on the road in Buffalo, but another solid performance would surely make John Elway a happy man.
8. Is Eddie Lacy on his way out in Seattle?
After he carried the ball five times for a whopping three yards in the Seahawks' season opener, Lacy was a healthy scratch in Week 2. With Thomas Rawls returning from injury, Lacy is probably being kept strictly as injury insurance at this point. The former Green Bay Packer met some of his weight goals throughout the offseason, but he obviously hasn't done much to impress Pete Carroll.
In fairness to Fat Eddie, Seattle's offensive line has been a disaster. Still, a player with his pedigree not even being active on game day is a troubling sign. Carroll insists Lacy will still have a role with the Seahawks, but it will be a good sign that his days in Seattle are numbered if he is scratched again.
9. How many players will the Patriots be missing?
The Saints' defense was just what the doctor ordered for the Patriots after a shocking loss to the Chiefs to start the season, but their 36-20 victory in New Orleans did not come without a cost. With Julian Edelman already out for the season, Bill Belichick watched Rob Gronkowski, Chris Hogan, Rex Burkhead and newly-acquired Phillip Dorsett all take trips to the trainers table and/or locker room. Gronkowski tweaked his groin and appears to be fine, and Hogan reportedly suffered a minor knee injury. Burkhead has not practiced this week.
The Patriots were arguably the deepest team in football at the receiver position over the summer, but losing Edelman hurt. Danny Amendola also missed Week 2 with a concussion. If anything can slow New England down, it's the injury bug. It will be interesting to see how many of the aforementioned players are active against the Texans on Sunday.
10. Without Andrew Luck, are the Colts worse than the Browns?
It wasn't that long ago that Luck was expected to make the Colts the biggest threat to the Patriots in the AFC, but the star quarterback has battled injuries and still has not returned to practice after undergoing offseason shoulder surgery. Indianapolis will host the Browns on Sunday. Three months ago, Week 3 looked like a cupcake game for the Colts. But they've turned their offense over to Jacoby Brissett after Scott Tolzien was an absolute disaster in Week 1. Brissett was better than Tolzien in an OT loss to the Cardinals last week, but he wasn't great. Colts fans may end up having to face a harsh reality — that their team is worse than the Browns when Luck isn't on the field.
11. Are Malcolm Butler's days in New England numbered?
Butler was one of the best shutdown cornerbacks in football in 2016, which made it so surprising that the Patriots signed Stephon Gilmore to a massive contract during the offseason. Butler, who will be an unrestricted free agent next winter, appeared to be on his way out as soon as the Patriots brought in Gilmore. In Week 2, Butler played just 75 percent of New England's defensive snaps. Gilmore played every single one. Butler was also on the bench for a play to start the game, which seemed unusual. With the Super Bowl XLIX hero not playing his best ball, it's possible Bill Belichick could ship him out the way he did with linebacker Jamie Collins a year ago.
12. Can the Jaguars defend their second home field?
The Jaguars have basically become London's honorary NFL team, having played at Wembley Stadium every year since 2013. Despite having some horrible teams, they defeated the Indianapolis Colts last year and the Buffalo Bills the previous year when playing across the pond. This year, the competition will be much tougher. The Jags "host" a Ravens team that has looked mighty good to start the season. Unless Blake Bortles can magically rediscover his form from 2015, the Jags seem likely to disappoint their "home" fans.
13. Are the Lions a playoff team?
This question obviously isn't going to be answered in Week 3, but the Lions have been arguably the NFL's biggest surprise through two games. They kicked off the season with a comeback win at home against the Cardinals, and they proved it wasn't a fluke when they dominated the Giants in New York on Monday night.
Matthew Stafford and his massive new contract extension have looked mighty comfortable since Jim Bob Cooter took over as offensive coordinator. If nothing else, it looks like this year's Detroit team is not going to embarrass itself. A true test will come at home against the defending NFC champion Falcons in Week 3.
14. Can Mike Glennon keep his job another week?
The Bears committed to Glennon as their starting quarterback even after trading up to draft Mitchell Trubisky. They've made it no secret that they want Trubisky to spend a full season on the bench. But if Glennon continues to play the way he has through the first two weeks, John Fox may have to turn to the rookie.
Chicago was hammered 29-7 in a loss to the Bucs last weekend, and Glennon threw two interceptions and lost a fumble. Though he was able to move the team down the field, some first-half turnovers were atrocious. If Glennon can't prove he can keep the Bears in games, Fox's hand may be forced. On the other side, if Glennon can eliminate some of the turnovers, he might be able to hang onto the job for longer.
15. Will Carson Wentz rebound after a tough week?
The Philadelphia Eagles' offense has decided to open up the passing game after limiting things in Carson Wentz's rookie year. The former No. 2 pick has consecutive 300-yard, two touchdown games, though he has a pick in each.
In a 27-20 loss to the Chiefs last week, Wentz completed just 54 percent of his passes and could not get it done when Philly needed him to. The good news is after consecutive tough road games to open the season, Wentz and the Eagles will be at home against the Giants in Week 3. If Wentz plays turnover-free football this time, you have to like Philly's chances of winning.
NFL News

Delivered to your inbox

You'll also receive Yardbarker's daily Top 10, featuring the best sports stories from around the web. Customize your newsletter to get articles on your favorite sports and teams. And the best part? It's free!
MORE FROM YARDBARKER:
MORE FROM YARDBARKER
NFL News

Delivered to your inbox

You'll also receive Yardbarker's daily Top 10, featuring the best sports stories from around the web. Customize your newsletter to get articles on your favorite sports and teams. And the best part? It's free!