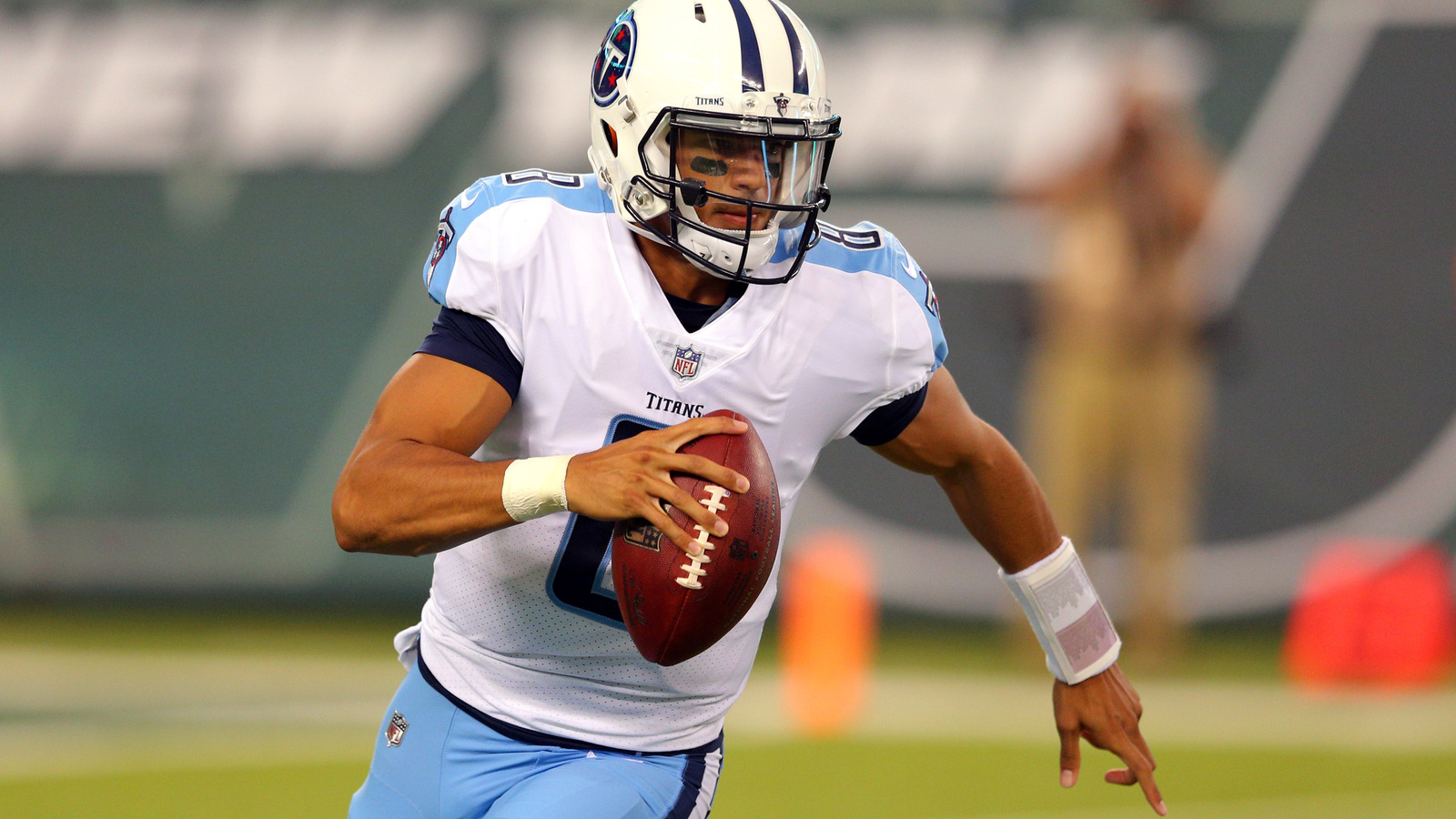 The Titans hope to keep quarterback Marcus Mariota healthy in 2017.
Brad Penner-USA TODAY Sports
Over the next few weeks as part of our NFL preview series, we'll be taking a good look at each division in the league. We started with the AFC East, then moved on to the AFC North. Now? Here's a look at the AFC South.
The AFC South has been one of the weaker divisions in football this decade. The Texans have taken the division title each of the past two seasons despite going only 9-7 each time. In fact, Houston and Indianapolis are the only teams to win it in the past eight seasons. Now they've both been very successful in the first round of the playoffs, but only the 2014 Colts reached the AFC title game.
The AFC South has also had just seven wild card qualifiers since 2002. None of them have won a playoff game.
This season, there's an argument for any of the four teams in the division to come away on top. How will things play out?
1. Tennessee Titans
There's a lot of hype behind the Titans as a sleeper team this year. Their potential to be a dominant grind-it-out team is through the roof. DeMarco Murray and Derrick Henry will once again head a rushing attack that averaged 136.7 yards per game last year, third-most in the league behind Buffalo and Dallas. Tennessee also has every starter returning on the offensive line, which is ranked No. 1 in the NFL heading into the season—according to Pro Football Focus.
With Marcus Mariota under center, the Titans have a perfect ball-control quarterback to fit within their offense. In two pro seasons, the 2014 second overall pick has been incredible in the red zone, completing 64 percent of his passes while throwing 33 touchdowns and zero interceptions. Now with the additions of Corey Davis and Eric Decker at receiver, he'll have even more big targets to throw to. Rishard Matthews and Delanie Walker provide great insurance in case injury concerns for Davis or Decker emerge.
If the defense can continue to build on what it did in 2016, watch out. The Titans allowed the second-fewest rushing yards per game thanks to a talented front seven. Edge rushers Derrick Morgan and Brian Orakpo set the edge. Jurrell Casey clogs the middle. And Avery Williamson ranked first out of all linebackers in the league last year in run-stop percentage. The Titans also went on to add PFF's top-rated run-stopping safety (Johnathan Cyprien) and a completely new cornerback unit featuring former Patriot Logan Ryan as well as first-round draft pick Adoree' Jackson.
The talent from top to bottom on the Titans roster is undeniable. We should expect them to make plenty of noise this season.
2. Houston Texans
If Houston somehow made the playoffs with Brock Osweiler at quarterback and JJ Watt on injured reserve, they should be expected to be even better this season. Watt is fully healthy and still has enough skill to be the best defensive player in the league. Rookie Deshaun Watson should be a big upgrade for the offense. The only concern, however, is whether he'll get a chance to start. Coach Bill O'Brien has said Tom Savage is his starting quarterback throughout the summer. That said, Watson certainly has the ability to rise up the depth chart before Week 1.
Still, there are enough concerns offensively to temper expectations. Lamar Miller had the eighth most touches among running backs in his first season with the Texans and averaged 4.0 yards per carry. But he struggled to put the ball in the end zone, scoring only six times. Houston will need to depend on rookie D'Onta Foreman and Alfred Blue to provide the power needed at running back to finish drives with six points instead of three.
Defensive coordinator Mike Vrabel should be ecstatic to potentially have Watt, Jadeveon Clowney and Whitney Mercilus on the field together for an entire season. They'll make things easier on the back end of the defense, which leans on a pair of aging linchpins. Linebacker Brian Cushing (30 years old) has played all 16 games in only three of his nine pro seasons. Meanwhile Jonathan Joseph (33 years old) will look to remain one of the league's top corners. But it's not going to be easy.
Still, if Houston can keep Watt healthy and get a big year from whoever is at quarterback, they have a good chance to win the division once again.
3. Indianapolis Colts
Analysts have strongly criticized the way former GM Ryan Grigson built the Colts roster around Andrew Luck. Too much money and too many draft picks were spent on offensive skill players, many of which didn't pan out. The good news is things are looking better already under Chris Ballard. Six of their eight 2017 draft picks were defensive players, an area Indianapolis has been dreadful in over the past few seasons.
No matter how bad the defense is, Luck has the ability to carry the team along with a high-powered offense. The Colts ranked top-five in passing yards per game and top 10 in points per game last year on their way to an 8-8 record despite having an abysmal defense. Moving forward, what should be a healthier Luck can continue to keep Indianapolis on par with some of the best offenses in the league.
There's still an undeniably worrisome amount of injury risk across the roster, though. First-round pick Malik Hooker is starting the season on the PUP list. Starting center Ryan Kelly is likely out for the season. The rest of the offensive line is susceptible to injury as well. And it's a unit that was already heavily depleted by the end of last season. Additionally, Frank Gore has been one of the most durable backs in league history. But, the risk of major regression gets larger every year.
The Colts will always be a threat to outscore anyone, anywhere. The defense just isn't up to par quite yet.
4. Jacksonville Jaguars
Jacksonville could easily outperform expectations. Rookie running back Leonard Fournette has long been touted to be a potential dominant NFL bell cow since high school. Truthfully, his presence alone should give the Jaguars offense a new feel. Along with a well-built defense, Jacksonville looks to become a completely different team under new head coach Doug Marrone.
If they were to make a huge leap up the standings, the defense has to put up elite numbers. That will depend on the continued progression of young talents like Jalen Ramsey, Telvin Smith and Myles Jack. Multiple veterans will need to maintain their level of production as well and not let big contracts get them too comfortable. Calais Campbell, Malik Jackson, Tashaun Gipson and Barry Church combine to make $31 million this season. The talent is certainly there. Staying healthy and building chemistry as teammates are top priorities.
All that said, the Jaguars' ceiling will be limited as long as Blake Bortles remains the franchise quarterback. In the past three years, he's thrown the most interceptions of any quarterback in the NFL. Jacksonville hasn't won more than five games since 2010. And unless Bortles gets better, don't expect that streak to end.
MORE FROM YARDBARKER:
QUIZ: Name every head coach in the history of the Tennessee Titans
Dating back to their 1960 founding as the Houston Oilers, the Tennessee Titans have had 18 coaches in NFL franchise history (with one repeat). These coaches include two Hall of Fame players and one Hall of Fame coaches, but none of them have lead the team to a Super Bowl championship and their last playoff win was in 2003. How many of the leaders of the Titans can you name?
Clue: Years Active
MORE FROM YARDBARKER
NFL News

Delivered to your inbox

You'll also receive Yardbarker's daily Top 10, featuring the best sports stories from around the web. Customize your newsletter to get articles on your favorite sports and teams. And the best part? It's free!