There's no question the 2018 NFL Draft is critical for the Pittsburgh Steelers. A Super Bowl window that is closing; a team that is unlikely to have Le'Veon Bell beyond this year, Ben Roethlisberger for only a couple more. With some obvious holes on defense, the draft is how the...
Steelers quarterback Ben Roethlisberger just turned 36, but it looks like he'll be around for a while. I'm still thankful for all he's done over the past 14 seasons, and I'm excited about where he might lead Pittsburgh over the next few. Steelers quarterback Ben Roethlisberger turned 36 on March 2, a birthday that didn't involve as much anxiety for fans as when he turned 35 one...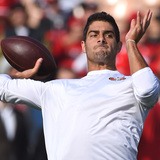 With NFL free agency in full swing, it is hard to ignore the quarterback pay scale. As it stands, the top four highest-paid quarterbacks in the league are now Kirk Cousins, Jimmy Garoppolo, Matthew Stafford and Derek Carr.Do we see a Super Bowl champion quarterback among these names? Of course not. But it gets worse. Happy new year indeed. The Minnesota Vikings just made Cousins...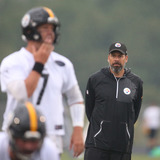 The end of Todd Haley's tenure as offensive coordinator of the Pittsburgh Steelers did not go smoothly. On Wednesday, Haley, now the offensive coordinator of the Cleveland Browns, spoke on his relationship with Ben Roethlisberger and the Steelers.Haley generally took the high road when talking about his former team. Haley was Pittsburgh's offensive coordinator from 2012-2017. During...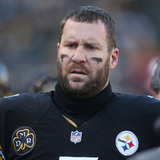 Ben Roethlisberger says he wants to play for at least three more seasons and the Steelers are on board with that. On Wednesday, team president Art Rooney II told a small group of reporters that he will eventually have a conversation with Big Ben about extending his deal beyond 2019.  "We haven't had a long conversation about that other than him saying he is interested in playing...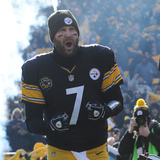 Pittsburgh Steelers president Art Rooney addressed many issues with the media on Wednesday, including quarterback Ben Roethlisberger's future with the team.He said Roethlisberger wants to play beyond his current contract that takes him through two more seasons. This is great news for a Steelers team that's coming off its best regular season since Roethlisberger's rookie year in 2004...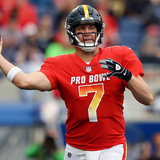 Injured Pittsburgh Steelers linebacker Ryan Shazier was not at Sunday's Pro Bowl. But thanks to quarterback Ben Roethlisberger his presence was felt on the field.Prior to the game, Big Ben unveiled shoes that honored both Shazier and the Steelers late owner, Dan Rooney. #SteelersNation pic.twitter.com/Hh6z25azbA— BigBen7.com (@_BigBen7) January 26, 2018 Roethlisberger also gave Shazier...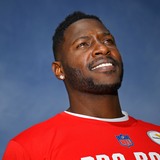 Pittsburgh Steelers receiver Antonio Brown and quarterback Ben Roethlisberger are in Orlando for the 2018 Pro Bowl. In addition to preparing for the most boring exhibition game known to mankind, they're hamming it up for their fans.Brown posted this funny Step Brothers pic of himself and Big Ben on Friday. "Did we just become best friends?""Yep!" Even though the Steelers were eliminated...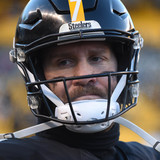 In a well-publicized spat, the partnership between ESPN and Barstool Sports came to a sudden, premature halt in October. But that's not stopping the kids at Barstool from making merry as the NFL's conference championship games draw near.Barstool's Twitter network is currently awash in a self-described "mean" wager involving the on-air team, three tickets to the Super Bowl, and one...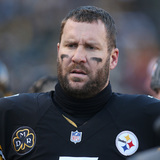 The Jacksonville Jaguars stormed into Heinz Field Sunday and pulled off a divisional-round upset for the ages, upending the Pittsburgh Steelers in a 45-42 shootout. And a Jags-backing bakery in Jacksonville is having some fun with it.Ben Roethlisberger did all he could do lead the Steelers to victory. Big Ben completed 37-of-58 passes for an incredible 469 yards and amazing five...
MORE STORIES >>
Steelers News

Delivered to your inbox

You'll also receive Yardbarker's daily Top 10, featuring the best sports stories from around the web. Customize your newsletter to get articles on your favorite sports and teams. And the best part? It's free!