We've updated our Privacy Policy.
By continuing to use this site, you are agreeing to the new Privacy Policy.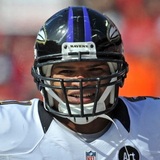 Former Baltimore Ravens linebacker Brendon Ayanbadejo is one of the most outspoken supporters of same-sex equality in all of professional sports. He used the Super Bowl as a platform for expressing his views on gay rights and anti-bullying and continues to work with the LGBT community to create a safe environment for gay players in the NFL. Last week, a report from CBSSports.com...
Baltimore Ravens linebacker/special teams ace Brendon Ayanbadejo already has his plans prepared for Super Bowl week. No, he's not going to be visiting the finest restaurants and nightclubs in New Orleans. Ayanbadejo is planning to use the media blitz at the Super Bowl as an opportunity to express his views on gay rights and anti-bullying. Ayanbadejo is biracial and grew up in a liberal...
On Sunday night, Baltimore Ravens linebacker Brendon Ayanbadejo ripped the New England Patriots for running a "gimmick" offense against the Houston Texans and basically called them cheaters. He even referenced Spygate and ended his rant with a simple "18-1″ callout after a number of Patriots fans began blasting him on Twitter. Either Ayanbadejo woke up with a clear head on Monday...
LIKE WHAT YOU SEE?
GET THE DAILY NEWSLETTER:
Baltimore Ravens linebacker Brendon Ayanbadejo has forged a 10-year NFL career as one of the league's best special-teams players. Ultimately, this isn't what he will be remembered for most. Ayanbadejo has drawn mainstream attention with his championing of homosexual rights, which has long been a taboo topic among his peers. Ayanbadejo's support of a gay marriage referendum which...
MORE STORIES >>
NFL News

Delivered to your inbox

You'll also receive Yardbarker's daily Top 10, featuring the best sports stories from around the web. Customize your newsletter to get articles on your favorite sports and teams. And the best part? It's free!