We've updated our Privacy Policy.
By continuing to use this site, you are agreeing to the new Privacy Policy.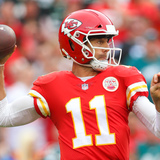 It was widely rumored that the Chiefs would trade Alex Smith this offseason, but few expected him to be moved in January and almost no one saw him going to the Redskins. But, on Tuesday night, Kansas City and Washington agreed to a blockbuster deal which will have far-reaching implications around the NFL. Here's a look at some of the reactions following the mega-trade: Cornerback...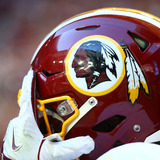 NFL commissioner Roger Goodell on Tuesday indicated he cannot envision a scenario where Washington Redskins owner Dan Snyder will change the team's nickname.The Redskins' controversial team name has once again became a matter of great interest in light of the announcement Monday that MLB's Cleveland Indians would cease using Chief Wahoo as a symbol in its team branding beginning...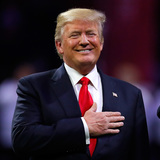 Front Five: The top stories that shaped both sports & politics this week "We want our flag respected, and we want our national anthem respected also." - Donald Trump at a rally in Nashville, Tennessee On Monday, Donald Trump attended the College Football Playoff National Championship matchup between Alabama and Georgia held in Atlanta's Mercedes-Benz Stadium. Trump isn't the...
LIKE WHAT YOU SEE?
GET THE DAILY NEWSLETTER: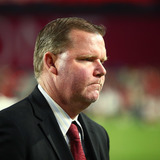 There could be big changes for the Washington Redskins after the season.ProFootballTalk's Mike Florio told Chad Dukes of 106.7 The Fan on Friday that he would not be surprised if coach Jay Gruden and team president Bruce Allen do not return for 2018. He also noted that a looming grievance hearing involving former general manager Scot McCloughan could prove publicly embarrassing for...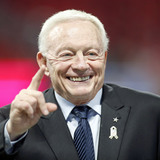 Jerry Jones' opposition to the NFL has hit a new high in recent weeks, with some owners reportedly believing Jones was even behind the Papa John's criticism of the league.Jones has been trying to block the NFL from giving commissioner Roger Goodell a contract extension, even going so far as to threaten legal action. In response, the league sent a letter to Jones' attorney Wednesday...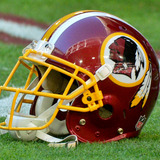 A school in Maryland has instituted a policy that will ban students and faculty from wearing Washington Redskins gear because they believe the team's nickname is offensive.Bethesda Beat's Bethany Rodgers reported on Monday that Green Acres School, a private school in Bethesda that runs up to eighth grade, implemented the policy a few days ago. The school's president sent out a letter...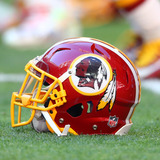 The Washington Redskins and owner Daniel Snyder will not have to change their team name. One of the most public battles surrounding professional sports trademarks has come to an abrupt conclusion.On Wednesday, the Native American Group that had been battling the Redskins in federal court dropped its case on appeal. Like clockwork, the Justice Department then declared the Redskins...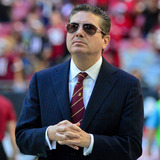 The Washington Redskins remain in utter turmoil following a disappointing 2016 season. Just as free agency was getting going earlier this month, the team fired general manager Scot McCloughan amid leaks from the organization that his drinking had become a problem.That came around the same time that Pro Bowl quarterback Kirk Cousins was apparently telling anyone who would listen that...
The Washington Redskins and Dallas Cowboys are set to square-off in what should be an epic NFC East showdown on Thanksgiving Day. In light of the longstanding rivalry — and to perhaps add a little fuel to the fire — Cowboys owner Jerry Jones trolled Redskins owner Dan Snyder over his recent comical dance routine in the owner's box. Snyder was caught on camera busting a move to...
Dan Snyder and the Washington Redskins issued a statement in which the organization expressed gratitude over the results of a recent poll that showed "overwhelming support" from Native Americans for the team's controversial name. The results of the poll, conducted by The Washington Post, reveals that nine in 10 Native Americans don't find the Redskins name offensive. Redskins...
MORE STORIES >>
Redskins News

Delivered to your inbox

You'll also receive Yardbarker's daily Top 10, featuring the best sports stories from around the web. Customize your newsletter to get articles on your favorite sports and teams. And the best part? It's free!