A perspective from an outsider to the Titans Being a Cleveland Browns fan for my entire life has allowed me to appreciate good quarterback play whenever I see it. Most of you guys probably know about my work on Marcus Mariota (It's why I'm here at Music City Miracles today), so I won't go into great detail about what you already know about how bad the 2017 Tennessee Titans offense...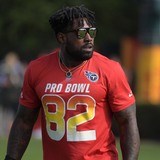 Tennessee Titans tight end Delanie Walker is taking part in Sunday's meaningless Pro Bowl game in Orlando.He's also pretty much taking his third consecutive Pro Bowl appearance in stride.Well, maybe not. Yes, that's Delanie Walker's cleats. They include more than 65 pictures of Delanie Walker. One really has to wonder if Walker needs to sit for a while after looking at himself in...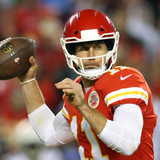 The 2017-2018 NFL season is nearing its end with only the Super Bowl left to play. Accordingly, the stamp has been put on the performances for most players, and now the debate is on: Who was the best, who was the worst, who was overlooked and who ended up being a letdown?Here's a look at 15 of the NFL's most underrated players in 2017:15. Michael Thomas, WR, New Orleans SaintsIt...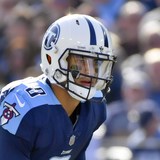 Marcus Mariota has had a disappointing season in 2017, but he has a chance to erase any memory of that if he can lead the Tennessee Titans on a deep playoff run. And if the quarterback wants to do that, one of his veteran teammates believes ignoring coaches at certain moments could be key.As the Titans prepare for their postseason game against the Kansas City Chiefs, tight end Delanie...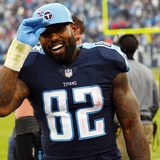 A boy named Keaton has been getting bullied at middle school, and his mother, Kimberley Jones, posted a video of him discussing the abuse. For the record, Keaton asked to do this AFTER he had he me pick him up AGAIN because he was afraid to go to lunch. My… Posted by Kimberly Jones on Friday, December 8, 2017 None of this is okay. But what's amazing is that he's gotten some tremendous...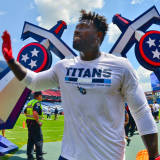 Tennessee Titans tight end Delanie Walker says he and his family have received death threats since he commented on player protests during the national anthem.Walker, 33, is in his 12th season in the NFL and fifth with the Titans. His team was one of three that remained in the locker room during the national anthem last weekend.Walker defended the team's actions and said this week...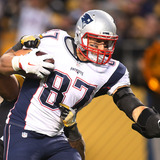 Tier 1: Rob GronkowskiTier 2: Jordan Reed, Travis Kelce, Greg OlsenTier 3: Jimmy Graham, Delanie Walker, Zach Ertz, Tyler Eifert, Kyle RudolphTier 4: Hunter Henry, Martellus Bennett, Jack Doyle, Eric Ebron, Austin HooperTier 5: OJ Howard, Cameron Brate, C.J. Fiedorowicz, Antonio Gates, Jason WittenAnalysis:The draft board for tight ends looks quite predictable, with Gronk on top...
Tennessee Titans tight end Delanie Walker just concluded a nine-day trip overseas to visit the United States military. The Pro Bowler thoughtfully documented each day of his travels beginning with Day 1 when he flew from Los Angeles, California to Kuwait. His travels took him from Kuwait to a couple of undisclosed locations in Southwest Asia. During his time in Kuwait, Walker watched...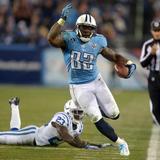 A scouting report published by Bob McGinn of the Milwaukee Journal Sentinel apparently lit a fire under Tennessee Titans tight end Delanie Walker. According to Paul Kuharsky of ESPN, Walker used the "disrespect" as fuel for his 124-yard performance during the Titans' 47-25 win over the Green Bay Packers on Sunday. "I was a little upset," Walker said. "I read an article that was out...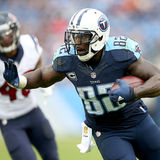 With organized team activities taking place around the NFL, many rookies are getting their first opportunities to work with the club's veterans. At Titans camp, first year players will soon learn Delanie Walker won't be the quickest to welcome them with open arms. As is the case across sports, rookies generally have to earn their way into the good graces of the veterans. For Walker...
MORE STORIES >>
Titans News

Delivered to your inbox

You'll also receive Yardbarker's daily Top 10, featuring the best sports stories from around the web. Customize your newsletter to get articles on your favorite sports and teams. And the best part? It's free!