We've updated our Privacy Policy.
By continuing to use this site, you are agreeing to the new Privacy Policy.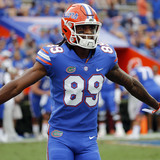 Here's a not-so-friendly reminder of how old you're getting.Florida Gators wide receiver Tyrie Cleveland caught the 63-yard Hail Mary touchdown pass from Feleipe Franks to beat Tennessee on the final play of the game. Afterwards, he was asked about Doug Flutie's famous Hail Mary for Boston College in 1984 to beat Miami. His response is surprising. Cleveland's just a sophomore, so...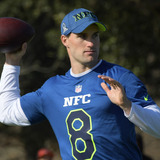 Kirk Cousins is a fiery guy when he plays football, and he may have gone a little too far during a charity game on Saturday.Cousins participated in the "Celebrity Flag Football Challenge" in Katy, Texas on Saturday. He was the quarterback for "Team Cousins," which lost to "Team Flutie," quarterbacked by Doug Flutie.Late in the game, Cousins was frustrated by a volunteer official...
Vernon Adams was traded by the B.C. Lions to the Montreal Alouettes for a first-round pick on Friday, signaling what should be the temporary end of a long journey for the former Oregon Duck quarterback. Ian Rapoport of NFL Network reported the news Friday. After failing to latch on with the Seattle Seahawks and Washington Redskins as an undrafted free agent, Adams went north...
LIKE WHAT YOU SEE?
GET THE DAILY NEWSLETTER:
Former NFL quarterback Doug Flutie shared a sad story involving his parents on Wednesday. Flutie said his father, Dick, passed away from a heart attack in a Florida hospital. And just one hour later, his mother, Joan, also died from a heart attack she suffered. The two had been married for 56 years. Rest in peace Mom and Dad. Please take a moment to read this: https://t.co/eDrv3MOoHt...
Boston College legend and former NFL quarterback Doug Flutie has lost both of his parents in the same day. Steve Burton of WBZ TV in Boston reports that both Flutie's mother and father died Wednesday. Flutie later said in a Facebook post that his father, Dick, had been ill and had a fatal heart attack, and his mother, Joan, also died of a heart attack. "My Dad had been ill and...
Like father, like daughter. Alex Flutie may no longer be a New England Patriots cheerleader, but that doesn't mean she was ready to call it a cheerleader career and hang up the pom poms. Alexa, who happens to be Doug Flutie's daughter, has moved on to warmer weather and joined the Chargers 2012 squad in San Diego. According to the Chargers website, Flutie has made the first of two...
MORE STORIES >>
NFL News

Delivered to your inbox

You'll also receive Yardbarker's daily Top 10, featuring the best sports stories from around the web. Customize your newsletter to get articles on your favorite sports and teams. And the best part? It's free!