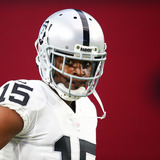 Free agent wide receiver Michael Crabtree met with the Baltimore Ravens on Friday, gaining a fan in that of Eric Weddle in the process.Not subtle at all, Weddle reached out to Crabtree through Twitter to encourage him to join the Ravens. Crabtree suddenly found himself on the free market after the Oakland Raiders released him following the signing of wideout Jordy Nelson.This was...
Last offseason, the Ravens made a splash in free agency when they signed safety Tony Jefferson. Many thought that pairing Jefferson with Eric Weddle would give Baltimore one of, if not the best safety duo in the league. Unfortunately, that was far from the case during the 2017 season.
Weddle isn't a big Bradford fan but it's not like the Ravens' safety has been living up to his contract
Ravens safety Eric Weddle is not impressed with the Cardinals' decision to sign quarterback Sam Bradford. Responding to news of Bradford being slated to make $20 million this year in Arizona, Weddle wrote on Twitter that the contract was stupid. "So dumb. Bradford has been paid more for nothing than anyone in history of NFL," [more]
Nobody has reeled in the cash like Sam Bradford. His rookie season was the last before implementing the new CBA, which shifted the pay scale from Bradford earning $50 million guaranteed as the top pick in the 2010 NFL draft, to Cam Newton receiving $22 million guaranteed as the first overall pick in the 2011 NFL Draft.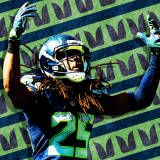 The times they are a-changin' up in the Pacific Northwest. While one Seattle team is welcoming back a beloved franchise icon, another is saying goodbye to theirs. On Wednesday, news started to trickle out that Richard Sherman was telling teammates that he would not be back with the Seahawks in 2018. A few hours later, reports indicated that Sherman would, in fact, be released in...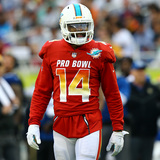 If Jarvis Landry cannot resolve his contract situation with the Miami Dolphins this offseason, an offer from a particular AFC North team may be beckoning.The three-time Pro Bowl wide receiver took to Twitter on Saturday to post a cryptic message and soon had Baltimore Ravens safeties Eric Weddle and Tony Jefferson pop up in his mentions trying to recruit him to their team. Landry...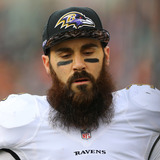 The Baltimore Ravens can clinch a playoff spot in Week 17 with a win over the Cincinnati Bengals or a loss by either Buffalo or Tennessee.Should that happen, veteran safety Eric Weddle will receive a cool $1 million bonus. Under the terms of the contract he signed with Baltimore back in 2016, Weddle will receive said bonus whenever he earns a Pro Bowl spot in the same season the...
Long before he would become his teammate, Tony Jefferson studied Eric Weddle. The 25-year-old Jefferson was a teenager in the San Diego area when Weddle began playing in the NFL for the Chargers, so he learned Weddle's habits at a young age. That could be why the safeties have worked so well together since the Ravens signed Jefferson as a free agent. "No disrespect to any of the...
Baltimore Ravens safety Eric Weddle says that when it comes to celebrating a hard-earned victory, nothing goes down better afterward than some ice cream. But Weddle doesn't just slightly indulge his sweet tooth when enjoying his favorite post-win treat. Not by a long shot. In fact, Weddle recently admitted to overindulging in epic proportions … or perhaps portions is more apropos...
MORE STORIES >>
Ravens News

Delivered to your inbox

You'll also receive Yardbarker's daily Top 10, featuring the best sports stories from around the web. Customize your newsletter to get articles on your favorite sports and teams. And the best part? It's free!