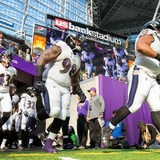 Ravens nose tackle Brandon Williams, who weighs 340 pounds, is one of the largest players on the team.And for some reason, maybe because he was bored, he decided to pick up kicker Justin Tucker during Monday night's game, and began squatting him. Tucker seemed to enjoy the free ride, whereas a lot of men would not be thrilled about what Williams did.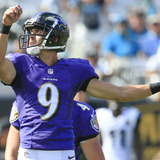 The Baltimore Ravens have a fantastic kicker in Justin Tucker. When you have talent like his, things that are impossible for most come rather easy.But that is still not going to stop us from hitting the pause button on his recent comment about 75-yard field goals and PATs."I've never attempted a 75-yarder in a game, but should the opportunity arise, not a whole lot would be different...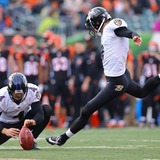 It's pretty amazing what world class kickers can do in their spare time. Justin Tucker, who recently hit a 75-yard field goal in practice, was showing off again this weekend with some trick shots, and one of them will blow your mind.From 50 yards out, the Baltimore Ravens kicker swished a football off his foot into a basketball hoop that was attached to the right upright.Be warned...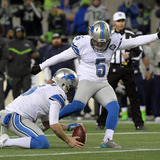 Based on the way some of the NFL's top kickers are performing in practice, it's only a matter of time before a 70-plus-yard field goal is made during a game. Baltimore Ravens kicker shocked us when he posted a 75-yard make during a practice session this week, but it didn't take long for one of his peers to one-up him.Matt Prater of the Detroit Lions posted a short video on Twitter...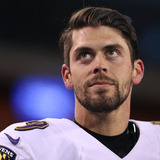 Baltimore Ravens kicker Justin Tucker is one of the best in the business at his craft, but does that mean he could shatter the NFL record for longest field goal by about 20 yards? If the conditions were perfect, Tucker believes he could pull it off. In an appearance on the NFL Network this week, Tucker was asked about Sebastian Janikowski's horribly failed attempt at a 76-yard...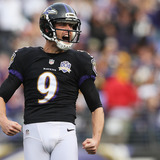 If the Baltimore Ravens are unable to reach an agreement on a long-term contract extension with Justin Tucker, the kicker says he will not re-sign with the team the next time his deal expires. Tucker's agent, Rob Roche, said Thursday that the 26-year-old is frustrated over the thought of having to play under the franchise tag this season. "Justin's disillusioned with the process...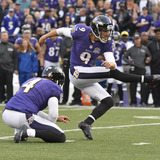 Justin Tucker is one of the best in the game at his craft, but being able to kick a football 50-plus yards through a couple of posts isn't the Baltimore Ravens kicker's only talent. On Thursday night, Tucker delivered a phenomenal performance at a Christmas concert for Catholic Charities in Baltimore. Apparently the 26-year-old can sing opera and sing it really well. You can watch...
Justin Tucker is usually terrific in clutch situations, and the Baltimore Ravens mascot seems to have given the kicker a little too much credit. The Ravens and St. Louis Rams were tied at 13-13 with only 1:18 remaining in the fourth quarter. Tucker stepped up for a 51-yard attempt, and he pushed it slightly wide right. But don't tell the mascot that. He celebrated as if Tucker...
If his interview on Monday Night Football didn't already tell you that Justin Tucker is full of personality, then this video surely will. Tucker filmed a video on the "Confessional Cam" during the Pro Bowl draft on Wednesday night and was hilarious. He cracked a George W. Bush joke, and then he did a great […]
Justin Tucker (Patrick Smith/Getty Images) When Matt Stover's reign in Charm City came to an end, the Baltimore Ravens struggled to find a reliable kicker. But all of that changed prior to last season when the Ravens picked up Justin Tucker from the University of Texas after going undrafted in 2012. Tucker out-preformed Billy Cundiff for the starting spot as kicker and has held the...
MORE STORIES >>
Ravens News

Delivered to your inbox

You'll also receive Yardbarker's daily Top 10, featuring the best sports stories from around the web. Customize your newsletter to get articles on your favorite sports and teams. And the best part? It's free!