NFL Hall of Famer Ronnie Lott isn't exactly jumping for joy about the Oakland Raiders moving to Las Vegas. In fact, the former Raiders and San Francisco 49ers star is "nervous" about the impending move, which was nearly unanimously voted in favor of occurring this past spring.So, why is Lott nervous?"What I'm nervous about is I just don't want our game to get tarnished," Lott told...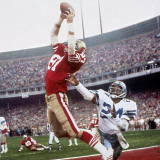 Welcome to The Rewind, where we dig through tapes, YouTube videos and streaming services and revisit some of the most interesting games in history. There is something special about revisiting a favorite movie, a favorite show no longer on the air, or even just pulling out an album and giving it a spin the whole way through for the first time in a long while. Inevitably you pick up...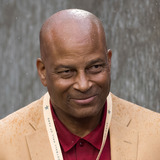 A group of investors, led by former Oakland Raiders safety Ronnie Lott, aren't conceding defeat when it comes to the team moving to Las Vegas.Despite the fact that the Raiders have already officially filed their relocation paperwork, Lott and his group remain committed to keeping the team in Oakland. In fact, from their perspective, owner Mark Davis filing said paperwork was done...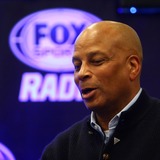 An investor group led by Ronnie Lott pulled its bid to buy the Coliseum after learning that Oakland's mayor was not recommending the plan. The San Francisco Business Times reports that the group of investors and developers, which were offering $167.3 million to buy the land on which the Coliseum sits, retracted its offer. Their decision came after Oakland's mayor said she would...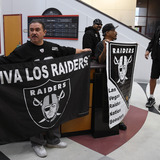 Mark Davis isn't backing down from his expressed interest in moving the Oakland Raiders to Las Vegas. If anything, he's doubling down. Speaking about a potential move on NFL Network, Davis says he's excited about the possibilities if the Raiders were to move from Oakland to Vegas. "I'm excited about it," Davis said, via Pro Football Talk. "It's a new market. It's got the potential...
Former NFL players Ronnie Lott and Rodney Peete want to keep the Raiders in Oakland. According to Matier & Ross of the San Francisco Chronicle, the two former Raiders have joined up with a group of African-American investors with the hope of financing a new stadium in Oakland. Among the group are Egbert Perry, chairman of Fannie Mae, and sports agent Bill Duffy, who counts Klay...
As an alternative to moving the Oakland Raiders to Las Vegas, Ronnie Lott and Rodney Peete are the face of a "predominantly African American" group of investors looking to build a new stadium in Oakland, as reported by Phillip Matier and Andrew Ross of the San Francisco Chronicle. "In recent weeks, ex-49er Lott and Peete, both of whom played briefly for the Raiders, have met with...
Former USC Trojans safety Ronnie Lott fell out of his chair during the post-game report on the Pac-12 Network.  This is certainly not something you see every day and it was absolutely hysterical. [@puntingwinning]
Hall of Fame safety Ronnie Lott knows a thing or two about delivering a devastating blow. The San Francisco 49ers legend is widely considered to be one of the hardest hitters to ever play in the NFL, but that doesn't mean he advocates intentionally injuring opponents. In fact, Lott has worked with the NFL recently to promote players safety, even narrating a video that was sent to...
MORE STORIES >>
NFL News

Delivered to your inbox

You'll also receive Yardbarker's daily Top 10, featuring the best sports stories from around the web. Customize your newsletter to get articles on your favorite sports and teams. And the best part? It's free!