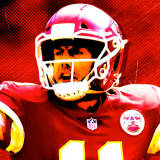 Way back in Week 1, Alex Smith and the Kansas City Chiefs shocked the reigning NFL champion New England Patriots with a 42-27 win to open what has been a wildly unpredictable season. In that win, Smith did what no other quarterback in NFL history has done: he completed 80 percent of his passes while throwing for 350+ yards, four touchdowns and zero interceptions in the first game...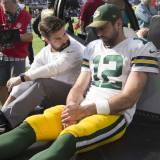 We're just six weeks into the 2017 NFL season, and a quarter of the league's teams have been forced to bring in their backup quarterbacks either due to injury or because the starter simply wasn't up to the task. In some locales, the change has been a much-welcomed breath of fresh air, while in other places, the names change but the results stay the same. On Sunday, the injury bug...
It's a defining moment for #2, and for the Atlanta Falcons. Chris Chandler had a Super Bowl berth. Steve Bartkowski had the numbers, until recently. And Michael Vick was obviously the greatest talent ever to play quarterback for the Falcons. Those are names that will remain cherished ones in team history, and particularly Vick, who just hung up his cleats the other day. There's...
While there are a few obscure quarterbacks who threw passes for the Atlanta Falcons, the QBs featured in this quiz were the 'top passer' for the team that year, according to the number of yards passing. We have identified only 16 (with some repeats), how many of them can you name? Clue: Years active  
Quarterback Steve Bartkowski became the face of the franchise and would go on to set every passing record in Falcons history. (Mike Powell/Getty Images) Marion Campbell, the only man to serve two stints as the head coach of the Atlanta Falcons, died last week in Plano, Texas, it was announced late Sunday. He was 87. Campbell was a three-time All-SEC pick at Georgia from 1949-51...
LB Tommy Nobis Nobis etched his name in the history books before he ever played a professional game, becoming the first draft pick for the expansion Atlanta Falcons in 1966 and the first linebacker to be drafted in the top spot in the NFL. He was also drafted fifth in the AFL by the Houston Oilers and his impact was expected to be so great that Gemini 7 astronaut Frank Borman reportedly...
MORE STORIES >>
NFL News

Delivered to your inbox

You'll also receive Yardbarker's daily Top 10, featuring the best sports stories from around the web. Customize your newsletter to get articles on your favorite sports and teams. And the best part? It's free!