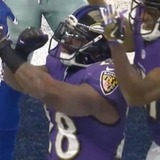 Baltimore Ravens running back Terrance West scored the first touchdown of the game in Dallas on Sunday and proceeded to taunt Dez Bryant. After getting into the end zone on a nice 18-yard run, West looked toward the stands and threw up the "X" symbol, which is Bryant's signature touchdown celebration. Ravens RB Terrance West Mocks Dez Bryant And Throws Up The X After TD Against...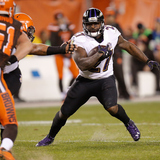 Baltimore Ravens running back Terrance West says he was robbed back in February while staying at a hotel in Miami Beach — twice in a matter of hours. West says he and a friend got to chatting with two women on Feb. 27 and parted ways without any plans to meet up again. According to court documents obtained by TMZ, West claims the two women later went to the front desk at the Metropole...
One of the hottest names going around the fantasy football world right now is newly acquired Tennessee Titans running back Terrance West. Many believe that he will win the starting job for the Titans at some point during the season, but there are others that think he will be Bishop Sankey's primary backup. Heading into Week 1 of the fantasy football season, owners need to know what...
NFL rosters were trimmed to 53 Saturday afternoon, and the Cleveland Browns' 53-man roster featured three running backs: injured rookie Duke Johnson, second-year man Isaiah Crowell, and last year's leading rusher, Terrance West. About a year-and-a-half ago, Cleveland dealt fourth and sixth round draft choices to move into the latter portion of the third round […] The post What Terrance...
When the Cleveland Browns drafted a running back in the third round out of an FCS school you might wander why. Why not go after a guy from one of the many big name FBS schools or something? At that time there were plenty left still. Maybe--but none of them scored 41 touchdowns last season like Terrance West did.With Ben Tate out with an injury the former Towson running back made...
Cleveland Browns rookie running back Terrance West should not be bored. The third-round pick out of Towson has a shot to earn a significant amount of carries this season and possibly even a starting role, so he should have his hands full with work. Apparently West's schedule isn't busy enough to keep him from hitting […]
The Cleveland Browns begin training camp on July 26th, and all eyes will be on Johnny Manziel.  He isn't the only player that everyone needs to look out for however.  Yes, Manziel has the most Twitter followers.  Yes, Manziel is best friends with Drake.  Yes, Manziel is the most marketable athlete on Cleveland's roster, but everyone needs to keep an eye out on Terrance West as well...
MORE STORIES >>
Ravens News

Delivered to your inbox

You'll also receive Yardbarker's daily Top 10, featuring the best sports stories from around the web. Customize your newsletter to get articles on your favorite sports and teams. And the best part? It's free!