The Nashville Predators say forward Calle Jarnkrok will miss the rest of the regular season with an upper-body injury.
Jarnkrok suffered the injury in Tuesday's win against Winnipeg when he endured a hard check from Jets forward Andrew Copp.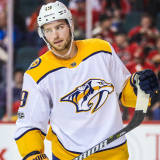 The Nashville Predators have announced that Calle Jarnkrok will be out for the rest of the regular season, after suffering an upper-body injury in Tuesday's game. The release does not include any details on a potential playoff return, or a timeline on his recovery. The Nashville Predators have announced that Calle Jarnkrok will be out for the rest of the regular season after suffering...
Calle Jarnkrok scored the winning goal in overtime and the Nashville Predators rallied to defeat the Vancouver Canucks. ---------------------------------------------- Subscribe to Sportsnet on YouTube - http://sprtsnt.ca/2paAT2L Visit Sportsnet.ca for more sports news and highlights - http://www.sportsnet.ca Follow Sportsnet on Facebook - http://sprtsnt.ca/YTFB Follow Sportsnet...
Nashville Predators' Calle Jarnkrok finishes off a great play to make it 7-1 despite losing his helmet earlier in the play.
Nashville Predators' GM David Poile decided to protect Calle Jarnkrok from the upcoming expansion draft rather than veteran winger James Neal. Jarnkrok has a great contract for the Preds to work with and Neal has begun to age. While Neal is still producing more than him, Jarnkrok is just now entering into the prime of his career and has a six year contract. The contract is paying...
The Swedish youngster had a slightly rough go of it this past season. While the defensive game was still intact and effective, the offensive flair took a slight dip in production. Much of that could be due to over the top expectations after an excellent start in a Predator's jersey.   Jarnkrok was acquired for the longest tenured Predator, David Legwand, at the trade deadline in...
Position: Center (Right-handed) Age at the start of the season: 23 (Birthday: September 25th, 1991) 2013-2014 Statistics: 12 games played – 2 goals, 7 assists, +7, 4 PIM 2013-2014 Recap: One of the brightest prospects now in the Predators system, Jarnkrok was acquired by Nashville along with Patrick Eaves in the trade that saw David Legwand shipped to the Detroit Red Wings on March...
MORE STORIES >>
Predators News

Delivered to your inbox

You'll also receive Yardbarker's daily Top 10, featuring the best sports stories from around the web. Customize your newsletter to get articles on your favorite sports and teams. And the best part? It's free!