We've updated our Privacy Policy.
By continuing to use this site, you are agreeing to the new Privacy Policy.
Looking back at the amount of chances Real Madrid created, Valencia were lucky to leave the Santiago Bernabeu with a 2-2 draw in the second weekend of the La Liga season. Zinedine Zidane noted his side's inability to finish "seven or eight" chances leading to the home crowd booing Karim Benzema, while Valencia manager Marcelino proclaimed Real Madrid midfielder Marco Asensio the...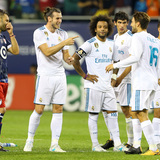 Looking at the current La Liga table, most of the names in the top half of the table are recognizable. Barcelona holds the top spot after five games, and Atletico Madrid is in third place. The second spot, however, is currently held by Sevilla FC. One would expect Real Madrid to be in one of the top two spots, but Los Galacticos are currently mired in eighth place, looking up at...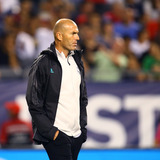 With the amount of attention paid to Real Madrid's dominance under Zinedine Zidane and Barcelona's over-reliance on their front attacking three, last season's La Liga title race wasn't officially clinched until the second to final match day weekend. Barcelona had snuck into first place as late as March, which in a recurring theme in analyzing the side this season, over flattered...
LIKE WHAT YOU SEE?
GET THE DAILY NEWSLETTER:
PARIS --A French appeals court has lifted the order preventing Karim Benzema from meeting with Mathieu Valbuena, bringing the Real Madrid striker closer to being cleared to play on France's national team.Benzema's lawyer, Sylvain Cormier, described Friday's decision as ''a first step.'' Benzema, who is currently sidelined with an injury, is facing preliminary charges of conspiracy...
PARIS -- Karim Benzema has been indefinitely suspended from the French national team over his involvement in an ongoing blackmail case, throwing a major doubt over his international career.France soccer federation president Noel Le Great says ''I have decided that he is not available for selection.''Le Graet, who had previously supported Benzema, called it a ''heart-breaking'' decision...
PARIS --Speaking publicly for the first time since becoming embroiled in a blackmail scandal, France striker Karim Benzema hit back at detractors in an emotional television interview on Wednesday, saying he has been ''dragged through the mud'' and treated ''like a scumbag'' after being held in custody.Benzema has been charged with conspiracy to blackmail, relating to an extortion...
According to Italian outlet Tuttosport, Real Madrid would be considering bringing Morata if the Karim Benzema case keeps escalating. The former Madrid man hasn't responded to Juventus' contract renewal offer, making this a plausible transfer. Benzema has put himself into ... Read More
An alleged conversation between Karim Benzema and Karim Zenati has been released relating to the sex-tape plot involving Mathieu Valbuena.An alleged copy of a telephone call involving Karim Benzema has been released, in which the Real Madrid striker reportedly tells Mathieu Valbuena "if you want the sex tape to be destroyed, come see my friend in Lyon." Benzema was charged by a court...
Real Madrid star Karim Benzema has been formally charged in France with extortion reports say. Benzema turned himself in Wednesday and was charged earlier today in an extortion case revolving around Benzema's French national team teammate Martin Valbuena. Investigators claim that Benzema played a role in trying to blackmail Valbuena in exchange for not releasing a sex tape with Valbuena...
PARIS (AP)France and Real Madrid striker Karim Benzema is facing preliminary criminal charges as part of an investigation into blackmail over a sex tape involving teammate Mathieu Valbuena.After being held overnight by police for questioning at a Versailles police station, Benzema was to be brought before a judge later Thursday, the prosecutor's office said in a statement.The judge...
MORE STORIES >>
Soccer News

Delivered to your inbox

You'll also receive Yardbarker's daily Top 10, featuring the best sports stories from around the web. Customize your newsletter to get articles on your favorite sports and teams. And the best part? It's free!