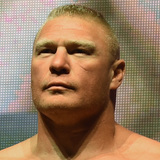 Brock Lesnar is now 40 and has not fought in the UFC in nearly two years, but the WWE superstar's promoter says Lesnar has not yet closed the book on his mixed martial arts career.In a brief chat with TMZ this week, Paul Heyman was asked if there is any truth to the rumors that Lesnar could soon make a UFC return."If Brock Lesnar wants to fight in UFC, Brock Lesnar will fight in...
The hype around the highly anticipated Bill Goldberg WWE return continues. While nothing has been announced publicly, reports continue to indicate that a WrestleMania rematch between Goldberg vs. Brock Lesnar is a done deal. Most presumed that the announcement would come on Wednesday when Bill Goldberg appeared on ESPN SportsCenter. Goldberg appeared on ESPN to promote the upcoming...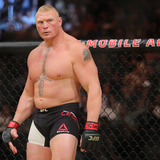 If Brock Lesnar is genuinely being disciplined by the WWE for cutting Randy Orton with some brutal elbows in the ring during their match at SummerSlam on Sunday, then the punishment has to be different from the one Stephanie McMahon stated on Tuesday. McMahon had said on RAw Monday that there will be "repercussions" for Lesnar. On Tuesday, she said Lesnar would be fined $500. Seriously...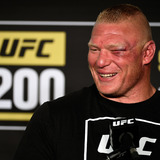 Vince McMahon is holding the keys to the kingdom, and those keys come in the form of Brock Lesnar. With a smashing win at UFC 200, Lesnar appears on his way to big things in the UFC, which presents the WWE kingpin with a very intriguing option. There were many critics who thought that the WWE got swerved going into UFC 200. Those critics believed that not only would Brock get KO...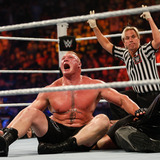 Let's set aside the contractual situation that allows for Lesnar to get into MMA again and also set aside that Mark Hunt is probably the worst matchup for "the next big thing." Well, let's touch on that — there really aren't any "bigger" guys than Lesnar. There is one with more inherent wrestling ability (Cain Velasquez) but a lot more with more training and all-around skills. On...
  News that Brock Lesnar will fight at UFC 200 left many wondering about his WWE contract and what kind of provision it has for him to fight in the UFC. While we do not know the exact terms and language of it, we do have some insight. What We Know: Lesnar signed a three-year deal with the WWE on March 23, 2015. That would put him at 14.5 months into his contract. At the time...
You can't imagine my delight when I went into my local GamStop and purchased WWE 2K15 for the XBOX One. It was like Christmas Day for me. I had little John Cena's dancing around in my head, and thought of laying the SmackDown on Rusev or Sheamus in a Hell in a Cell match.
Brock Lesnar visited with SportsNation's Michelle Beadle to announce that he will be re-signing with WWE which squashes any rumors of the former UFC champion returning to the mixed martial arts promotion. WWE Chief Executive Officer Triple H confirmed the news on twitter just moments ago. .@BrockLesnar is a global attraction. Happy to have him re-sign a multi-year contract with...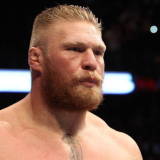 By Steve DelVecchio Either Brock Lesnar is planning to return to the UFC, or he is simply using the prospect of reviving his mixed martial arts career as leverage in contract discussions with the WWE. Lesnar has just over a month remaining on his deal with the WWE. He was scheduled to appear on Monday Night Raw this week but instead walked out of the Bridgestone Arena in Nashville...
MORE STORIES >>
WWE News

Delivered to your inbox

You'll also receive Yardbarker's daily Top 10, featuring the best sports stories from around the web. Customize your newsletter to get articles on your favorite sports and teams. And the best part? It's free!