Found February 10, 2013 on World Series Dreaming:
PLAYERS:
Tony Campana
,
Greg Maddux
,
Tyler Colvin
,
Rickey Henderson
,
Yonder Alonso
,
Joe Mather
,
Dave Sappelt
,
Josh Vitters
,
Geovany Soto
,
Chris Rusin
,
Ryan Dempster
,
Ian Stewart
TEAMS:
Chicago Cubs
,
Atlanta Braves
,
Colorado Rockies
,
San Diego Padres
,
Philadelphia Phillies
,
Texas Rangers
,
Boston Red Sox
,
Washington Nationals
,
St. Louis Cardinals
The devastating news du jour as pitchers and catchers reported today was that Cubs legend (TM) Tony Campana was designated for assignment and thus likely exposed to waivers assuming that the Cubs can't trade him.  There is actually a good chance that some random team (my guess is the Atlanta Braves) will use one of their open spots to claim Tony, and then the cycle of Cubs fan outrage will be complete.  This led many fans to freak out more than they already have, as they blasted the Cubs for repeating some of baseball history's greatest mistakes when they allowed other former Cubs legends such as Greg Maddux and Tyler Colvin go.  The most common comparison to Tony is former Cubs legend Lou Brock, who as many of you know, went on to become one of the great Cardinals and won two World Series championships while with the Redbirds. I won't get into how crazy it is to compare Tony Campana (as legendary as he is) to Greg Maddux, nor how it does look like the Cubs goofed with the Tyler Colvin trade (he certainly hit VERY well at Coors Field).  However, it is easy to see why fans would compare Tony to Lou Brock.  After all, both are great base stealers; Brock held the career stolen base record before Rickey Henderson obliterated it.  And…wait, that's about it. Minor League Records Tony Campana spent part of 2011 and 2012 playing (mostly pinch-hitting, pinch-running, and pinch-benchwarming) on the Cubs MLB team.  Before that he was mostly in the minors, having been drafted out of Cincinnati as a 13th rounder.  He didn't hit particularly well until he got to Tennessee, then was promoted to Iowa before he got his first cup of coffee…at the age of 24-going-on-25. Lou Brock…didn't spend a lot of time in the minors.  He signed with the Cubs as an amateur free agent (pre-draft), spent most of his age 22 season destroying baseballs at St. Cloud of the Northern League, and then debuted with the Cubs that September.  The destroying baseballs part is somewhat important.  Lou Brock basically stayed in the majors once he got there. Power About the destruction of baseballs.  Tony Campana finally (!) got one over the fence in Iowa in 2012.  Before that he had a very unconventional homer in 2011 with the MLB Cubs (h/t GBTS for the gif): LOOK AT HIM GO! Also, Yonder Alonso sucks at defense. Now people often blast this blog for being heartless in bashing poor gritty scrappy players like Tony, but to be honest the numbers kind of speak for themselves.  I do like Tony, he's a cool guy and all.  Took a picture with me at the Cubs Convention last year and he's probably a much better baseball player than I will ever be.  Then again he's paid a lot of money (league minimum is still a lot) to be supposedly good at baseball so that ain't saying much.  Anyway, take a look at the 2012 Cubs numbers. You can see all the guys with more than the zero homers (over the fence or otherwise) that Tony hit last season.  Joe Mather (who beat Tony Campana for spot #25) hit 5.  Dave Sappelt basically equaled Tony's entire professional homer output, but both of his cleared the fence without bouncing.  Josh Vitters, who couldn't hit his way out of a pinata factory, had two. Then you notice all the guys with more MLB triples than Tony Campana.  That's right, with all of his speed, Tony Campana has ZERO MLB triples.  I couldn't believe it myself.  But Geovany Soto, he of the slow-footedness, had a triple.  It might have been a cheap triple, I think the outfielder lost the ball in the twilight or something, but it was a triple.  PITCHERS Chris Rusin and Ryan Dempster had triples.  Ian Stewart (who everyone hates) had two triples.  For all his fleet-footedness, Tony Campana does not have the gap power or is suffering from such bad luck that he can't get that elusive triple. If you look at Lou Brock's brief and spotty minor league record (apparently the Cubs sucked not just at baseball but also at record keeping), he had a slugging percentage (SLG) of .535, something that's extremely difficult to achieve with nothing but singles and doubles.  Lou Brock also hit at least two home runs in every season except his September call-up season and his age 39 season, the year before he retired.  Brock ended his 19-year Hall of Fame career with 141 triples and 149 home runs. The Trade The transaction that Cubs fans refer to is this: June 15, 1964: Traded by the Chicago Cubs with Jack Spring and Paul Toth to the St. Louis Cardinals for Ernie Broglio, Doug Clemens and Bobby Shantz. I have no idea what happened to the dudes the Cubs got back.  But we all know what happened with Lou Brock.  The Cardinals won the World Series in 1964 and 1967.  They lost in 1968 but that's three pennants and two championships within a brief time due in part to Lou Brock going to St. Louis.  He was a very good player.  He's not the best Hall of Famer, but all you gotta do is get in, and Lou Brock did. Lou Brock had a similar slash-line to Tony Campana as a Cub.  The only difference, and a glaring one, is that Lou Brock was good enough with the bat to get those triples and homers, and played regularly whereas Tony is basically only there because most of the other MLB-ready options are terrible. The fact is that Tony Campana could be useful to the right team.  He is fast and he can disrupt defenses with his speed in terms of infield singles and stolen bases (or at least the threat of stealing). The problem is that he's a one-trick pony.  Lou Brock had speed too, but he also had the power and the offensive ability to use that speed.  He also debuted at an earlier age than Campana did. And at the end of all this, there is a possibility that Campana can pass through waivers without being claimed because despite his one-dimensional skillset, the Atlanta Braves or Washington Nationals may still think twice before they waste the roster spot for him.  It is highly unlikely that the Cubs can work out a trade with Campana as the centerpiece.  But with Lou Brock, somebody (the Cardinals) actually wanted him, and traded what were perceived to be good players for him. That is the difference here.  Someone wanted Lou Brock.  There is a strong possibility that nobody but the Cubs and their fans wants Tony Campana. Conclusion Tony Campana is not Lou Brock.  
Original Story:
http://worldseriesdreaming.com/2013/0...
THE BACKYARD
BEST OF MAXIM
RELATED ARTICLES
Just about every media outlet that matters, including Carrie Muskat, has reported that Tony Campana has been designated for assignment to make room for Scott Hairston.  The Cubs 40-man roster is now full up again, but just replace Campana's name with Hairston's.  At this point the Cubs have 10 days to waive, trade or release Campana.  But I think there's a good chance that...
The Chicago Cubs added a little depth to their roster on Sunday when the team announced they reached a two-year agreement with OF Scott Hairston. The deal is worth a reported $5 million for two years. In order to clear a roster spot for Hairston, the team made a move with OF Tony Campana, who was designated for assignment. Chicago general manager Jed Hoyer told reporters that he...
The deal between Scott Hairston and the Chicago Cubs has been formally announced. Hariston and the Cubs agreed to a two-year deal worth $5 million nearly two weeks ago. Hairston can earn another $1 million in incentives and expects to platoon with Nate Schierholtz in right field. The Cubs outfield hardly seems set in stone and it is reasonable to expect Hairston to accumulate a large...
Chicago Cubs pitcher Carlos Marmol is fighting his way through very serious accusations.  A 24-year old woman in the Dominican Republic is claiming that he abused her. The case was upsold to a higher court within the country according to the Chicago Sun Times. Please Click Here To Read This Story. The post Carlos Marmol watches his domestic abuse case go to a higher court appeared...
News out of Mesa, Arizona today on the first day that pitchers and catchers report. The Chicago Cubs and outfielder Scott Hairston agreed to terms: two-years, $5 million contract. To make room for Hairston on the 40-man roster, outfielder Tony Campana was designated for assignment. The deal was reported last month and is now finalized. Scott Hairston, who can earn an additional ...
The Cubs finalized a deal with newly-acquired outfielder Scott Hairston, who they signed as a free agent last month.   That they got Hairston, who signed a two-year deal, into the fold isn't necessarily the real story in Chicago. Yes, he hit 20 home runs with the New York Mets last season, and yes, he [...]
The Buntfest is returning! Â This time, with a twist: This spring, the Cubs will have their second bunting tournament, with a slight tweak. The front office will compete for a spot in the field of 64, and Theo Epstein was expected to square off against GM Jed Hoyer in their first round match. David DeJesus won the tourney last year. There are a number of other staffers in the new...
Outfielder Scott Hairston and the Chicago Cubs have finalized a two-year contract. The 32-year-old Hairston hit .263 with a career-high 20 homers, 57 RBIs and 25 doubles last year in his second season with the New York Mets. He also has played for Arizona (2004-07), San Diego (2007-09, 2010) and Oakland (2009) during a nine-year big league career. Hairston has a .247 career average...
One of the benefits of being a parent is being able to watch television shows that you would otherwise feel guilty about watching by yourself. My daughter has become a fan of the most recent version of the Teenage Mutant Ninja Turtles. The new version has made numerous changes to the cartoon and movies that I watched as a child, but the same basic premise of the main characters is...
All Sports News

Delivered to your inbox

You'll also receive Yardbarker's daily Top 10, featuring the best sports stories from around the web. Customize your newsletter to get articles on your favorite sports and teams. And the best part? It's free!
THE HOT 10: Who's Trending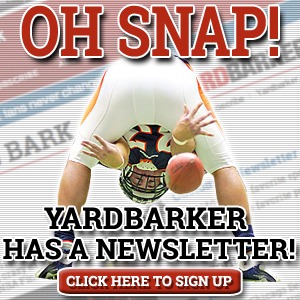 Latest Rumors
Best of Yardbarker

Today's Best Stuff

For Bloggers

Join the Yardbarker Network for more promotion, traffic, and money.

Company Info

Help

What is Yardbarker?

Yardbarker is the largest network of sports blogs and pro athlete blogs on the web. This site is the hub of the Yardbarker Network, where our editors and algorithms curate the best sports content from our network and beyond.