Found October 31, 2011 on Chicks in the Huddle:
In the tradition of great modern day love triangles like Archie, Betty and Veronica…Bella, Edward and Jacob… or Zach Morris, Kelly Kapowski and A.C. Slater…comes another tale of twisted hearts that is just as captivating…and equally make believe. Kim Kardashian, the ultimate Halloween trick, gave us all quite a fright when she announced plans to divorce her lifelong love (72 days counts for "lifelong" in Hollywood, right?) Kris Humphries. We had all heard the rumors about how things just weren't working out for the newlyweds, given the pressure of the reality TV spotlight. And we all suspected that if Kim had to choose between the E! network and the man she took vows with, well, curly haired dude didn't stand a chance. But it turns out the ghost of publicity stunts boyfriends past just may have had something to do with "Kard-umphries" demise. Kim was reportedly spotted on a "friendly date" with her old flame Reggie Bush in New York over the weekend. He was in town for the Gian
Original Story:
http://feedproxy.google.com/~r/Chicks...
THE BACKYARD
BEST OF MAXIM
RELATED ARTICLES
It's only taken Reggie Bush five seasons and 51 games, but the Miami Dolphins tailback finally produced his second-ever 100-plus rushing performance in the NFL. Bush, who has struggled for most of this season, showed off his speed and elusiveness against the New York Giants on Sunday, gaining 100 rushing yards on his first 12 carries. And that was before the fourth quarter. Coincidentally...
IT ONLY LATEST FOR 72 DAYS. Kim Kardashian will FILE FOR DIVORCE from New Jersey Nets star Kris Humphries according to TMZ. Sources are telling the website that even though the marriage lasted 72 days, she WON'T seek annulment. Kim Kardashian cites that the reason for the divorce is due to "irreconcilable difference". The date that papers are going to be filed is October...
A quick divorce after a short marriage was perhaps the most obvious ending to Kris Humpries' marriage to Kim Kardashian. And as many comment, poke fun of, and feel the entire marriage was a sham, enter those Taiwanese animators just in the nick of time to break down this failed relationship with their own brand of explanation. Just recently, they put out video animation of...
Kim Kardashian filed for divorce from her husband of just 72 days, Nets player, Kris Humphries. While you and I saw this coming eons ago, Humphries was blindsided. Kris has issued his own statement and he really wants to try to work things out with Kim "I love my wife and am devastated to learn she filed for divorce. I'm committed to this marriage and everything this covenant...
NBA free agent forward Kris Humphries is now also a free man after 72 grueling days of being married to Kim Kardashian. TMZ is reportingthat Kardashian has filed divorce papers today, October 31, leaving the world shocked as to how all of this could have gone so horribly after their whirlwind romance. We're told even though the marriage was short, she is not seeking an annulment...
I think we'll all remember today as the day the internet made the same three jokes 80,000 times. (As I write this, #ThingsLongerThanKimsMarriage and #kimkmarriagewasshorter are dueling for the top spot on Twitter's trending topics.) But it takes a certain kind of man to toss out the obvious obvious and craft a tweet so cutting, so succinct...
DATELINE: HUMOR! Word filters out that Kim Kardashian's unemployed husband has been bilked out of his trousseau. Yes, Kris Humphries found out that the man at his wedding has absconded with several hundred thousand dollars of the hard-earned money of the benched basketball star. Andrey C. Hicks sat on the groom's side of the aisle, and why not? The groom gifted the man's...
Of course we are upset at the sham that was the Kim Kardashian-Kris Humphries wedding. Of course we feel as if both of them were co-conspirators in this racket to make millions off a fake marriage. Busted Coverage has sent a letter in Kim's name to E! Entertainment requesting $29.50 or the 24″ Dove Grey napkin we purchased for Kardashian-Humphries to be returned. It's a simple...
PEYTON'S PLACE
With St. Louis winning yesterday, there are only two teams still defeated for the season. The Dolphins come in at 0-7 and the Colts at 0-8. Who will win the race for Andrew Luck? The only thing that's for sure, is that both fan bases would love to lose all of their games and get Luck with the number one pick over all. These Colts fans above already had their Andrew Luck...
All great things must come to an end.  Unfortunately for Kim Kardashian, her marriage to NBA star Kris Humphries lasted a measly 72 days.  Here are the top five streaks in sports that lasted longer than their holy union. 5. Julio César Chávez – 87 consecutive victories Gretzky's streak of 51 consecutive games with at least one point is not likely to be threatened any time...
Susan/Circle: Hey, somebody get the college board on the line, I've got a new SAT question for them...   Susan/Circle: Kim Kardashian is to success with relationships as Theo Epstein is to ________________?   Mike: And the correct answer is: "Signing free agent shortstops." ...
This week has been a real winner in terms of celebrity news. Just as Kim Kardashian becomes single and I think that the week can't get any better, child-star Justin Bieber is accused of knocking up... [[ Read More ]]
All Sports News

Delivered to your inbox

You'll also receive Yardbarker's daily Top 10, featuring the best sports stories from around the web. Customize your newsletter to get articles on your favorite sports and teams. And the best part? It's free!
THE HOT 10: Who's Trending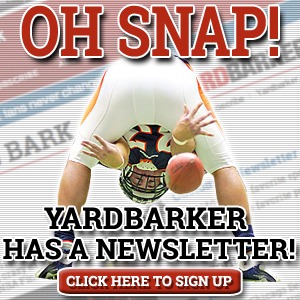 Latest Rumors
Best of Yardbarker

Today's Best Stuff

For Bloggers

Join the Yardbarker Network for more promotion, traffic, and money.

Company Info

Help

What is Yardbarker?

Yardbarker is the largest network of sports blogs and pro athlete blogs on the web. This site is the hub of the Yardbarker Network, where our editors and algorithms curate the best sports content from our network and beyond.