Found January 12, 2013 on NorthWest Sports Beat:
PLAYERS:
Pete Carroll
,
Matt Ryan
,
Marshawn Lynch
,
Robert Turbin
,
Tom Cable
,
Russell Wilson
,
John Abraham
,
Dominique Franks
,
Leon Washington
,
Roddy White
,
Julio Jones
,
Brandon Browner
,
Richard Sherman
,
Harry Douglas
,
Kam Chancellor
,
Bruce Irvin
,
Michael Robinson
,
Zach Miller
TEAMS:
Seattle Seahawks
,
Atlanta Falcons
It starts with the coach In a classic NFL birds of prey matchup, the Seattle Seahawks are set to take on the Atlanta Falcons in a win-or-go-home playoff battle. Here is how head coach Pete Carroll will keep the Falcons grounded and winless in the postseason since quarterback Matt Ryan joined the dirty birds. Marshawn Lynch should carry the ball at least 25 times against the Atlanta Falcons. (Photo: Matt Slocum/AP) 1. ) Bring Extra Skittles It's no secret that Seattle's Marshawn Lynch is the best back still running in the postseason, and that Atlanta's Defense is the worst against stopping the run.  This makes for a terrible matchup for the Falcons, and one Coach Carroll can and will prey upon. Expect Marshawn Lynch to handle the ball upwards of 25 times, as Carroll and the Seahawks try and keep the it away from the explosive Atlanta offense. Let's not forget about Robert Turbin, either. He may be called upon to provide a different dynamic for the Hawks' offense. 2.) Cable Vision If the Hawks are to have any success in the run game, it's all going to start with the big boys up front—Tom Cable's offensive line. Atlanta's D-Line is undersized, but quick. They are good at rushing the passer, but they can be man-handled when trying to stop the run. This, like the previous point, gives the advantage to Seattle, but only if the Hawks are leading.  If Atlanta gets a lead, forcing quarterback Russell Wilson to throw, the O-line will have its hands full limiting the speed of DE John Abraham and the rest of the Falcons D-Line.  3.)  Dull and Boring? I find it amusing that the Atlanta Falcons' official website is urging Georgia Dome fans to arrive early and be as loud as possible to throw Seattle off its game. Like crowd noise will hinder any success of the Seahawks. Apparently the Peach State has never heard of the 12th Man.  But it will be up to Seattle to stymie the crowd by giving them nothing to cheer for.  Coach Carroll should play the safe game and play for field position. I love the advantage Seattle has in its special teams return game. Nothing against Atlanta's Dominique Franks and Jacquizz Rogers, but Leon Washington is a game-breaker and could put this one on his back with electrifying runs made easier by playing in a domed stadium. And if Seattle's defense lives up to its reputation, Leon Washington will have many opportunities to field punts. 4. ) Secondary Strikes The production of Atlanta's two big receivers, Roddy White and Julio Jones, will be mitigated by Seattle's tremendous cornerbacks, Brandon Browner and Richard Sherman. But if these matchups are a wash, Atlanta will look to expose Seattle's other defenders, and may hold an edge by targeting secondary receivers like Harry Douglas and Tony Gonzales. It should be Kam Chancellor who gets the Gonzales responsibility, as I just don't see any of the Seahawks' linebackers being able to shut down the ageless future Hall of Fame tight end. The Hawks need to run play action against Atlanta's D. (Photo: Elaine Thompson/AP) How Coach Carroll opts to defend these additional threats is a big question mark, and may be the biggest advantage for the Falcons.  Throw in Atlanta's reliance on the screen pass and the Seattle defenders will be in tough against the short-to-mid-range pass. A "tweener" LB/DE like rookie Bruce Irvin may thrive in this type of defense. 5.)  Play Action Heroes With everyone under the dome thinking that the ball will be delivered to Lynch on most offensive plays, he could be the most valuable decoy available.  Because Seattle runs the read option so well, the play action will catch Falcons defenders by surprise. Look for Russell Wilson, Michael Robinson and Zach Miller to have effective and timely gains as everyone will be looking for No. 24. Back to back East Coast road trips may be an influence on the weariness of Seattle, and Atlanta will no doubt come out swinging. It's up to coach Carroll to get his players to weather the storm.  But if last week was any indication, being down early won't take the wind out from the Seahawks' wings. And much like the battered ship on the seas, a slow, plodding and methodical course will eventually lead to the destination: the NFC title game. Cheers, The Bartender CLICK HERE CHECK OUT THE SEAHAWKS BLOG IN OUR CLUBHOUSE AT NWSB!
Original Story:
http://www.nwsportsbeat.com/seahawks/...
THE BACKYARD
BEST OF MAXIM
RELATED ARTICLES
The first task the Atlanta Falcons have to tend to in today's match up against the Seattle Seahawks is keeping running back Marshawn Lynch from exploding. If the Seahawks can get Lynch in a groove, the rookie quarterback Russell Wilson will have many opportunities to run also, and that could cause major problems for the Falcons defense. Last week, Lynch ran for 132 yards...
Ever wonder how it might have been? There are a few "what if" questions that come to mind right off the bat when it comes to the Seattle Seahawks, and I will touch on those for sure, but I want to take a look at some other questions that have had me wondering over the years. The two big ones are Drew Bledsoe, and Super Bowl XL. Of course they are, right? Was there any other bigger...
Seattle Seahawks (12-5) at Atlanta Falcons (13-3) Game Day: Sunday 1:30 p.m. ET, FOX Line: Falcons -2 ½ Series Record: Seattle leads 8-5 Perhaps the least appreciated NFL playoff game in years, this matchup actually boasts more appeal than meets the eye. Atlanta's veteran group, in a widely discussed postseason slump, faces a primarily young group in Seattle led by an aging, but...
Grab your crotch and activate Beast Mode Juan… Take a look at this newly released Marshawn Lynch watch, right in time for his playoff run. Our Friends over at Deuce Watch Brand paired up with the Beast Mode back to create this extremely unique sports watch. To get your signature Marshawn Lynch Watch Click here.-TO Gracias to TerezOwens For The Scoop Marshawn Lynch Hits Up Chick...
Will Matt Ryan get his first ever postseason victory, or will Russell Wilson continue to steamroll the opposition on his way to his second-plus victory? Arguably the most intriguing game of the entire weekend (save SF-GB), this is finally the game we have all been waiting for though. Marshawn Lynch (foot) has been running like a man possessed all season long and he has tasted the...
ATLANTA -- Matt Bryant kicked a 49-yard field goal with 8 seconds left and the Atlanta Falcons bounced back after blowing a 20-point lead in the fourth quarter, defeating Russell Wilson and the gutty Seattle Seahawks 30-28 in an NFC divisional playoff game Sunday. The Falcons (14-3) appeared ready to allow the biggest fourth-quarter comeback in NFL playoff history when Marshawn...
My stomach hurts. I'm sure Matt Ryan's does too, after finally receiving a taste of his first playoff win since the Falcons drafted him in 2008. Regardless of the solid 20-0 Atlanta lead at the end of the first half, the game was not decided until Seattle rookie quarterback Russell Wilson's final heave to the end-zone was intercepted by WR Julio Jones with 0 seconds left on...
After blowing a twenty-point lead with less than thirty seconds remaining, the Atlanta Falcons trailed by one point against the Seattle Seahawks. The game looked to be over until quarterback Matt Ryan got the Falcons in field goal range to win the game with less than ten seconds to play. Check out kicker Matt Bryant who drained the 49-yard game winner to advance to the NFC...
Falcons tight end Tony Gonzalez mentioned that Sunday's NFC divisional playoff game against the Seattle Seahawks could be the final game of his career. Gonzalez is sticking to his pledge that he is "95 percent" certain he will retire after the season. SOURCE: D. Orlando Ledbetter, Atlanta Journal-ConstitutionFantasy Spin:"It's one and done if we don't win...
Matt Ryan threw a 1-yard touchdown pass to Tony Gonzalez as the Falcons took advantage of a fumble by Seattle's Marshawn Lynch to lead the Seahawks 10-0 after the first quarter of Sunday's NFC divisional playoff game. The Falcons overcame an interception by Ryan to stretch their lead. Ryan's pass for Gonzalez was intercepted by Seahawks middle linebacker Bobby Wagner...
All Sports News

Delivered to your inbox

You'll also receive Yardbarker's daily Top 10, featuring the best sports stories from around the web. Customize your newsletter to get articles on your favorite sports and teams. And the best part? It's free!
THE HOT 10: Who's Trending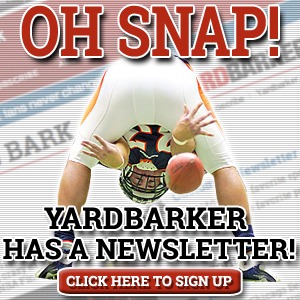 Latest Rumors
The Backyard

Today's Best Stuff

For Bloggers

Join the Yardbarker Network for more promotion, traffic, and money.

Company Info

Help

What is Yardbarker?

Yardbarker is the largest network of sports blogs and pro athlete blogs on the web. This site is the hub of the Yardbarker Network, where our editors and algorithms curate the best sports content from our network and beyond.