Found May 05, 2012 on Start 'N' Park Blog:
Jeff Gordon, driver of the #24 DuPont Chevrolet, met with media and discussed his season to-date, how the current point system affords everyone a chance, race conditions and weather conditions for this weekend's Talladega race, the Kentucky Derby, and more.
THIS IS TRULY ONE OF THE FIRST HOT RACES THAT WE HAVE HAD ALL SEASON. I KNOW THAT YOU GUYS HAD ENGINE ISSUES AT DAYTONA, WHICH WAS A PART I KNOW, BUT AS FAR AS KEEPING THAT MOTOR COOL ESPECIALLY WHEN YOU ARE PACK RACING?
"It is at the top of our priority list this weekend, knowing that temperatures in Daytona were much cooler. It was a night race. We come in here with the same opening in the grill. We all know how big of an issue it was to keep the engines cool or the water temp cool there. It's going to be a major issue here. I think that is the first thing that we are going to be working on. Really not even pushing, just being in a regular draft. Just trying to see in these temperatures how we are going to be able to manage the water and oil temperature. I think it is going to be a real challenge. I wouldn't be surprised if you actually see some concessions before this race starts."
IS THERE ANYTHING YOU CAN DO?
"There is nothing we can do other than be in just complete clean air. That is the thing, the one positive that I see out of it. We should see a lot less pushing. Which I think is a good thing for the racing, but at the same time you want to be able to get aggressive enough to where you can get up there to that rear bumper of that car in front of you and not necessarily push them, just pack air there to try to get the momentum to try to make some passes. Just do some maneuvering and be able to make a move if you are in the middle of the pack to go to the front. That right there is what concerns me. I don't know how much of that we are actually going to be able to do. I think there is a fine line between preventing the pushing and not being able to race hard at all."
IS IT GETTING HARD TO WIN RACES THAN IT WAS SIX, SEVEN, EIGHT YEARS AGO?
"Yes and no. I feel like this year we have had cars capable of winning races. I think the hardest thing is to have fast race cars. This year we have been able to really provide some fast race cars. When you provide fast race cars it makes it easier to win. Just because you have a fast race car doesn't mean you are going to win. I think these days there are just so much more depth in teams across the board than there ever has been. There's more competition just because the car itself. This car it's so hard to get an edge on the competition so everybody is very equal. There is a lot of great talent behind the wheel, pit crews are training harder than they ever have before, pit strategy, just the engineering of it all. I think it's making it harder to get an edge. I don't necessarily think that it is that much harder to win."
ARE YOU UNLUCKY THIS YEAR? OR IS THERE A BIGGER ISSUE WITH WHERE YOU STAND RIGHT NOW?
"I'm not one that is big to talk about luck. I feel like you don't luck yourself into wins. You work your way into wins. You have fast race cars, you have great pit stops, you're smart and aggressive when you need to be as a drive, pit strategy all those things play a role. We have had a lot of things that have kept us from getting that win this year. We have had some engine issues. We had that part break in Daytona. I feel like we had a great car there. At California we made a mistake on pit road.
"Last week I feel like I kind of made a mistake. I don't know if we had a winning car last week, but I feel like we had a fifth through 10th-place car when it was all said and done. I blame myself. I was trying to prevent an accident from happening and by doing that it actually gave somebody the opportunity to take advantage of the situation and wreck me. I don't know what you call that. It's just things have not been going our way. We can't let that get us down. We have to put that behind us and go focus on the next one and be very thankful of the Chase format. At this point we are not out of it we are still in it because until we don't win any races or until we are not in that top 10 when it comes to Chicago we still have a shot at it."
YOUR FANS HADN'T HEARD FROM YOU ON TWITTER SAYING THAT YOU MUST HAVE TAKEN SOME TIME OFF. THEN YOU TWEETED "HERE WE GO NOT A GOOD WEEKEND AGAIN". AFTER THE WEEKEND IN RICHMOND WERE YOU EXTREMELY FRUSTRATED OR DID YOU JUST SORT OF TAKE A BREAK?
"I was, but I was actually gone out of town with my family for three days. Something we had planned a while back. I just was really focused on them. It has been frustrating. This is the great thing about Twitter and the down side about Twitter is that with Twitter you are able to express yourself and interact with the fans. But, when you have the year that we are having you can only say so much. It's one of those things where I don't want my team to get down on the way things are going. My team guys read that Twitter too. I want to stay upbeat and I want to stay positive. What happens on Twitter is you make a comment, like a positive comment, and people are like: 'That's not the Jeff Gordon we know, he would be pissed off about the way you are finishing and the way you are running.' Your fans that are follow you take it the wrong way, but if you do say what you are really feeling, then your team might take it the wrong way.
"When it comes to this situation right now, I'm dealing directly with the team and we are staying positive and we are going to keep fighting hard. I know, I'm fortunate, I have a very loyal fan base that when we pick things back up they are going to be right there behind us. I will give you a perfect example. Texas, we qualified 34th. A lot of the fans on Twitter were saying 'what's going on, it's just awful, terrible, you guys might as well quit… etc.' Then the next day we finished fourth and the same people were saying 'you guys are the best, nobody is better, that is the Jeff Gordon and the No. 24 team we know.' I try to interact when I can and say something witty when I can and say something positive when I can, but also if there is something not positive I don't mind interacting if it's something good, but this week it just didn't work out that way. Hopefully, we have something more positive to talk about this weekend or something more interesting to talk about."
ARE YOU AND ALAN (GUSTAFSON) OKAY?
"Oh yeah, we are good. The only thing with Alan is that he is just as frustrated as I am about the way things have been going. It makes it tough each week that happens it makes it harder and harder for you to continue to motivate the people around you. That is where he and I have to be rock solid and I'm glad that we are."
IN OTHER SPORTS WE ATHLETES ALL OF A SUDDEN COME BACK FROM THE OFF-SEASON AND THEY HAVE JUST LOST IT. THEY HAVE NOTHING LEFT. CAN THAT HAPPEN IN RACING?
"I don't see it happening overnight. I think it happens over time. We don't have a very long off-season. I don't see it happening over the off-season because there really is no off-season. I think that it just really comes down to the team that you have assembled the way the race cars are running. At Hendrick I know every year I'm going to have good race cars. Then it comes down to health and motivation. When you are running well it motivates you. When you are healthy it motivates you. I came into this season feeling as good as I ever have. We have performed well enough to keep that motivation alive right now. If we had also been running terrible this year, I tell you what it would be a real struggle right now. Right now I come in here and feel like we can win this race and go to next weekend's race and I feel like we have a shot at winning that one. The reason is that this team has kept me alive in that sense because of how good our race cars have been this year."
YOU KNOW BETTER THAN ANYONE WHAT THE EARNHARDT NAME MEANS HERE AT TALLADEGA. CAN YOU DESCRIBE WHAT THAT NAME MEANS HERE AT TALLADEGA AND WHAT YOU THINK IT WILL LOOK LIKE IF DALE JR. DOES PULL OUT THE WIN THIS WEEKEND?
"(Laughs) I think we all know what that would be like. This has always been Earnhardt country here in Talladega. That was built by Earnhardt Sr. and what he did here. He just did amazing things in the race car here that would not only get the fans excited, but would boggle the minds of the competitors. It frustrates you in a lot of ways, because he was doing things you didn't think were capable by just him alone. Yet he was and Junior has been able to carry that on. He is a great drafter he has got the support behind him. When he does something great here you could be a mile away from here and you know it."
WHAT ABOUT 2004 AND 2007 WHEN YOU BROKE DEI'S STREAK AND WHEN YOU BROKE DALE SR.'S WIN RECORD HERE AT TALLADEGA WHAT WERE THOSE EXPERIENCES LIKE FOR YOU?
"Anytime someone is dominating whether it is one race track, a string of races, championships you want to be the team that can stop that. Dale Earnhardt Sr. and I had some amazing battles over the years. He taught me so much about drafting. I took some of those tools that I learned from him and applied them and got our fair share of win on these restrictor plate tracks especially here at Talladega as well."
YOU'VE FINISHED OUTSIDE THE TOP 10 ONLY ONCE SINCE YOUR ROOKIE YEAR. YOU'RE IN 17TH NOW AND IT'S GOING TO BE ONE HECK OF A CLIMB TO GET INTO THE TOP 10. DOES THAT WEIGH ON YOU? DOES THE PERCEPTION OF FINISHING OUTSIDE THE TOP 10 AT YOUR AGE, AND WHAT PEOPLE WILL THINK ABOUT THAT, WEIGH ON YOU?
"The only thing that weighs on me is I know that we're better than where we are. I know that we don't belong in the position that we're in and to me; we have not seen the results of the performance. And that's racing. That's just part of it. I mean we have been on an amazing streak of good fortune and doing things right. And this year we can't seem to do anything right. But, it's a long season. There's a lot to change and still a lot that's going to happen. I think we're very capable of winning races. And we're certainly not out of it yet. So, to me, being outside the top 10 in points right now means nothing.
"Now, if this was 1998, then that would be a whole different situation. This season would be completely done. And with the new Chase format, the season is never done until you get one or two races within the Chase."
WHEN YOU HEAR THE TERM 'PASS IN THE GRASS', WHAT COMES TO MIND?
"Oh, obviously the Charlotte All-Star race. It really wasn't a pass. But he kept from getting passed is the way I look at it. Oh, just Earnhardt going through the grass and the fact that he was even able to keep that car going straight, and then go on to win the race was pretty amazing."
IF SOMEBODY ASKS YOU ABOUT IT, DO YOU CORRECT THEM AND SAY IT REALLY WASN'T A PASS?
"I just did. So yes; I think so (laughs). Yeah, I think the 'pass in the grass' just sounds good, but obviously it wasn't a pass. But it was still an amazing move. And I think only somebody like Earnhardt could pull something like that off."
IS GOING BACK TO PASS RACING HERE LIKE RIDING A BIKE? OR DOES IT TAKE SOME SORT OF ADJUSTMENT FOR YOU TO GO BACK FROM TANDEM TO PACK RACING?
"Oh, I so prefer the pack racing and this type of drafting. The two-car tandem drafting is something you'll never get comfortable with and when you do, that's when usually something bad happens. And I'm not saying it's gone completely. I'll be anxious to see guys trying to do it out here, but it's going to be very risky because you're going to have to get so far out on the corner or that rear bumper of the car in front of you that you could very easily turn them on the straightaway. And so, that's why we're going to go do some traditional drafting and we're going to see what the temps are and speeds; and then we'll go from there. But I've never been a fan of the tandem drafting. It's not fun. It's not safe. And I'm glad the fans don't like it because I don't think anybody in here (garage) really does."
IS IT LIKE RIDING A BIKE? DOES IT JUST COME BACK TO YOU?
"Yeah, it's easier than riding a bike. It's the more natural way of going about racing with the restrictor plates."
WITH THAT BEING SAID, DO YOU HAVE MORE CONFIDENCE WITH THE RACING BEING MORE IN YOUR HANDS AS OPPOSED TO BEING HOOKED-UP WITH SOMEBODY?
"What I found at Daytona was getting back to normal drafting or I guess we could call it the old way of drafting with the pack, I feel like the things that I've learned and the things that I have been good at on the restrictor-plate races, the things I learned from Earnhardt years ago, are the tools that you can now use to win the race, which make me more comfortable and make me enjoy this type of racing more; and allows you to create opportunities yourself instead of totally relying on the car that you're pushing or the car that's pushing you. So, yeah; I definitely think this brings things back into our own hands a bit."
THE KENTUCKY DERBY IS TOMORROW. DO YOU HAVE ANY INTEREST IN THAT SPORT AT ALL?
"Oh, yeah; oh I love watching it. I actually had a chance to ride some horses this week with my family, with my daughter (who) was riding a horse, so I jumped on one as well. And it's amazing the power that those horses have. And that one wasn't a thoroughbred. And I was just amazed about the sleekness of them and the structure, their body structure, and they just look like they're built for speed. So, being that up-close, and then having the Kentucky Derby right around the corner, this is something I'm pretty excited about.
"What I love about the Kentucky Derby is that it's not just a horse that can go out there and just go by everybody and win the race. It's watching that jockey control it; and knowing the horse and knowing the track and working its way through traffic, I would call it; and maneuvering through these horses and getting the win. I'm always amazed at looking at the overhead and how they watch that horse and follow that horse and how it worked its way to the front for the win. And there's always a unique and different way to do it every year. And it's cool to watch"
DOES IT CORRELATE TO YOUR SPORT AT ALL IN ANY WAY?
"No, I can't say that it does because rarely are we sitting there with a car that we're holding back on. We're usually getting all that we can out of it at all times. There are times when we're maybe being a little bit more patient. And so I guess that part correlates but most of the time, you're wanting to get to the front and stay in the front. I'm a front-runner (laughs)."
WHERE WERE YOU WHEN YOU RODE THE HORSES?
"I was in Montana".
ON MOTHER'S DAY
"I have a far greater appreciation for all the mom's out there, but especially for mine and for my wife. She's an amazing mom. So yeah, it's a very special time around our house and with my family and my mom and my dad. We give thanks to them because they sit there and watch us with our kids and laugh at us and say, 'Yeah, see? You didn't know we went through all this, did you?' And so I appreciate my mom and just try to make it an enjoyable day for her for my wife as well, for all that she does and for all she sacrifices."
YOUR MOM IS NOT A VERY COMPETITIVE WOMAN, BUT SEEMINGLY AN EASY-GOING PERSON.
"You don't know my mom very well."
IS SHE EXTREMELY COMPETITIVE?
"Oh, yes; yes she is. You just rarely see her in a competitive environment. But she's a lot like me or I'm a lot like her, where we're calm and cool and relaxed and don't seem like that person that would just go and do whatever it takes to win. But you put us in that environment, that switch gets flipped pretty easily; and listen, she's no different (laughs)."
Original Story:
http://startnparkblog.com/?p=6035&utm...
THE BACKYARD
BEST OF MAXIM
RELATED ARTICLES
Could Sunday's Aaron's 499 be the race where Jeff Gordon finally turns his season around? Gordon is currently 21st in the Sprint Cup point standings. But the four-time NASCAR champion, who has finished outside of the top 10 just once since his rookie year in 1993, isn't concerned -- yet. "The only thing that weighs on me is, I know that we're better than where...
Sometimes, different is good. Such was the case Saturday during pole qualifying at Talladega (Ala.) Superspeedway for Sunday's Aaron's 499 NASCAR Sprint Cup Series race. Jeff Gordon opted to drive his No. 24 Hendrick Motorsports Chevrolet in a different line around the track than anyone else, and the move paid off in the form of his 71st-career series pole. "We just wanted...
The drivers are distinctly poised. The results are undeniable. Even during the worst of competitive droughts, there's still a sense of promise that the next race or the next week will bring another opportunity to knock off the competition. Call it the Hendrick Factor. While it might appear as an intangible, the assurance that comes with full sponsorship, top-of-the-line personnel...
Jeff Gordon outruns AJ Allmendinger to earn first starting spot for Aaron's 499…
It has been awhile for #24. Jeff Gordon last won a race at Atlanta in September of last year.  In 38 races (Yeah, he's old) at 'Dega, Gordon has 6 wins, 4 of which have come in the Spring race. Coincidentally, Jeff's last pole came here, April 17th, 2011 at Talledega. Gordon would go on to finish third that day, behind teammate Jimmie Johnson and Clint Bowyer. Gordon ran...
Jeff Gordon won the pole for Sunday's Aaron's 499 from Talladega with a time of 49.973seconds. AJ Allmendinger, Marcos Ambrose, Aric Almirola, and Kasey Kahneround out the top five starting positions. Other notable qualifying positions include Michael Waltrip in 9th, Kevin Harvick in 20th, Kyle Busch in 21st, Joey Loganoin 30th, and Kurt Busch in 33rd. The only driver to not...
All Sports News

Delivered to your inbox

You'll also receive Yardbarker's daily Top 10, featuring the best sports stories from around the web. Customize your newsletter to get articles on your favorite sports and teams. And the best part? It's free!
THE HOT 10: Who's Trending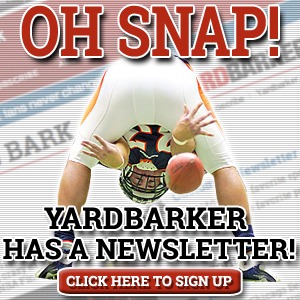 Latest Rumors
The Backyard

Today's Best Stuff

For Bloggers

Join the Yardbarker Network for more promotion, traffic, and money.

Company Info

Help

What is Yardbarker?

Yardbarker is the largest network of sports blogs and pro athlete blogs on the web. This site is the hub of the Yardbarker Network, where our editors and algorithms curate the best sports content from our network and beyond.