Found January 01, 2013 on PhilsBaseball:
It is the age old saying: Kyle Kendrick is a schizophrenic and so is he. OK, maybe not a direct quote but the scenario works here. The possibilities with Kendrick are endless. He could be the solid and consistent pitcher who jumped onto the scene in 2007. He could be the wildly inconsistent 2011 version who still managed a 3.22 ERA. He could be the Kendrick from 2008 and 2010 who barely belonged in the majors. Or he could be the Kyle Kendrick with a 3.62 ERA in 40 starts over the past two seasons and a 3.19 ERA in his final 12 starts in 2012.  Which Kyle Kendrick will emerge in 2013?
Original Story:

http://www.philsbaseball.com/Arti...
THE BACKYARD
BEST OF MAXIM
RELATED ARTICLES
The 25th spot on the Philadelphia Phillies will probably go to Darin Ruf, if a corner outfielder is not added. Are the odds in his favor?   TAL'S HANDY CAPS WELCOME, NEWCOMERS:  My articles are designed to represent a baseball man's thinking, the view from the dugout and the GM's box. Most fans do not consider the budget, prospects on the radar, the team's weaknesses, the...
Biddle is number one but Sickels says Ruf is the real deal. Photo by: Ian Riccaboni Minor League Ball released their list of the Top 20 Phillies' Prospects. For those unfamiliar with Minor League Ball, it is run by John Sickels, who was Bill James' research assistant from 1993 to 1996 and was ESPN's Minor League Baseball Analyst from 1996-2005. Sickels was among the first...
Before the 2012 season even began, Phillies fans were worried about the 2012-2013 offseason.  Cole Hamels was due to enter free agency, which raised a lot of questions about the season.  Would be traded mid-season?  Would he be locked up?  Would he become a free agent and sign with our rivals?  Ruben Amaro Jr. addressed this issue in late-July. On July 25, the Phillies and Cole...
The Philadelphia Phillies struggled last season for many reasons, one of which was injuries.  Injuries to pitchers like Roy Halladay devastated the team.  Halladay pitched in only 25 games last season and did not look like the same dominant pitcher he had been since his days with the Toronto Blue Jays.  He came back from shoulder and back problems, but there has been real concern...
Although it was a disappointing season for the Phillies, I hope you will agree it was a great year for Phillies Nation. We welcomed Ryan and Eric to the writing team, officially registered our charity, debuted Phillies Nation TV on air in Allentown and the Lehigh Valley, passed 250,000 Likes on Facebook and served up over 5 million pageviews on PhilliesNation.com. We have plenty...
With healthy discussion surrounding whether or not Domonic Brown and/or Darin Ruf can be everyday Major Leaguers and, in turn, whether the Phillies should seek more outfield help, many, including myself, have noted that the Phillies outfield picture is incredibly heavy in quantity but low on quality. The Phillies, assuming Brown and Ruf are on the 25-man roster, sit with six outfielders...
Roy Halladay has been the most dominant pitcher the Philadelphia Phillies have had since Steve Carlton. He struggled in 2012 with back and shoulder issues though and as Doc approaches 36 years of age, one has to wonder if he can return to being one of the best pitchers in baseball. Reports from the Phillies have been vague. General Ruben Amaro said, "Doc's done very well. He's...
The new calendar is up and I am welcoming in the New Year in 2013 by staring at Kyle Kendrick for 31 days. I thought about doing a "Top 10" this or a "Best of 2012" that, but all the other great blogs already had things up. So, since it...
The Philadelphia Phillies have been tied to veteran outfielders Alfonso Soriano and Vernon Wells this winter, but the best available fit may be free agent Scott Hairston, according to Todd Zolecki of MLB.com. That's a good question. If I can get any one of those guys, I probably take Hairston, although I wouldn't necessarily consider him an everyday player...
Dan Szymborski's ZiPS projections, which have typically appeared in the pages of Baseball Think Factory, will be released at FanGraphs this year. Below are the projections for the Philadelphia Phillies. Szymborski can be found on Twitter at @DSzymborski. Other 2013 Projections: Athletics / Giants / Nationals / Rangers. Batters Relative to the teams we've seen projected so far...
In what has become an annual tradition, I usually post New Year Resolutions for Phillies fans at about this time. But it seems that as a fan base, most of us do seem to have our act together. As for the 2012 Phillies team, the same cannot be said. They need some serious help. So this year, I would like to propose a set of New Year Resolutions for the team instead: Jimmy Rollins...
Phillies News

Delivered to your inbox

You'll also receive Yardbarker's daily Top 10, featuring the best sports stories from around the web. Customize your newsletter to get articles on your favorite sports and teams. And the best part? It's free!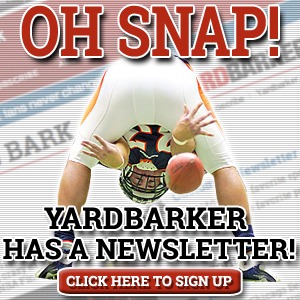 Latest Rumors
Best of Yardbarker

Today's Best Stuff

For Bloggers

Join the Yardbarker Network for more promotion, traffic, and money.

Company Info

Help

What is Yardbarker?

Yardbarker is the largest network of sports blogs and pro athlete blogs on the web. This site is the hub of the Yardbarker Network, where our editors and algorithms curate the best sports content from our network and beyond.