Found March 21, 2013 on ChadMoriyama.com:
PLAYERS:
Javy Guerra
,
Matt Kemp
,
Carl Crawford
,
Shawn Tolleson
,
Justin Sellers
,
Jesus Flores
,
Chris Withrow
,
Juan Abreu
,
Wilkin Castillo
,
Dallas McPherson
,
Ramon Castro
,
Nick Evans
,
Dashenko Ricardo
,
Kenley Jansen
,
Tim Federowicz
,
AJ Ellis
TEAMS:
Los Angeles Dodgers
Javy Guerra has been optioned to AAA after a rough Spring in which he dealt with injury and has been limited to just a couple of appearances in-game. The Dodgers have a stacked pen and with Guerra's injuries and struggles at times last year he was going to have to excel during Spring Training in order to secure a spot on the Opening Day roster. Tony Gwynn, Jr. has also been assigned to AAA Albuquerque. Gwynn is one of the few guys with the ability to back up Matt Kemp in center and the previous big league experience doing so but the move reinforces just how little Tony can swing the lumber and the fact that the Dodgers clearly have faith that Carl Crawford will be healthy enough to serve as the number two centerfielder. Shawn Tolleson and Justin Sellers were optioned to AAA as well, while Jesus Flores was reassigned to minor-league camp. Additionally, Chris Withrow was optioned to minor-league camp along with Juan Abreu, and Wilkin Castillo. The team released three players in Dallas McPherson, Ramon Castro, and Nick Evans. —– The Dodgers have signed Dashenko Ricardo of Curacao to a contract after Dashenko participated in the World Baseball Classic, according to Renè Saggiadi. Ricardo is one of the most highly-rated European players that was available, according to some, and spent the previous six years in the Orioles' and Giants' minor-league systems where he couldn't hit a lick. So that "highly rated" is probably more so in terms of name value than potential. From the Dodgers perspective, a catcher playing for Netherlands in the WBC…. Kenley Jansen, Part Deux? We can only hope he's half that good when he inevitably gets converted to the mound. Along with Ricardo came the signings of Dominican prospects Dennis Santana and Carlos Aquino – both shortstops – and lefty Cesar Romero. None carry the name value of Ricardo but all three could be more impactful signings, especially if Ricardo remains behind the dish and doesn't improve as a hitter. The Dodgers continued their quest to re-establish a presence internationally Sunday by announcing four signings, including Dashenko Ricardo, the catcher on Team Netherlands in the World Baseball Classic. While Ricardo is the best known, he also has six professional seasons in which he has languished mostly at Class A because of a .229 career batting average. There are suggestions the Dodgers might try to shift him to pitcher, as they did successfully with fellow Curacao native Kenley Jansen, once a light-hitting catcher. —– Tim Federowicz has locked up the job of backing up A.J. Ellis with the removal of Flores from major league camp. ===== Greg Zakwin is the founder of the site Plaschke Thy Sweater Is Argyle. Follow him on Twitter @ArgyledPlaschke.
Original Story:
http://feedproxy.google.com/~r/ChadMo...
THE BACKYARD
BEST OF MAXIM
RELATED ARTICLES
The legend of Yasiel Puig continues to grow, and speculation that he will start with the year with the Dodgers went from 0% just a week ago to … something non-0% recently, though the long-term question remains where he'll end up playing for the team even if he does live up to the hype. Sure, Carl Crawford is out for a week or two (or a month) and he could get injured again, but...
Hyun-Jin Ryu pitched at Camelback Ranch on Sunday -- the last day of my spring training trip. I was lucky enough to see him on that day. While it started off rough, he ended up throwing a gem (by spring training standards). Ryu gave up a run on three hits in the first inning, with little help from his defense. Luckily for Ryu, Adrian Gonzalez hit a 3-run home run in the first...
As news broke this morning of Hanley Ramirez's injury (out at least eight weeks), the reality of Juan Uribe remaining with the club became a virtual lock. Manager Don Mattingly already said Luis Cruz would take over at shortstop for Ramirez, which makes a little sense, I suppose. But I'd rather see Dee Gordon take it and have Cruz remain at third base. Gordon, who...
Dodgers designated hitter third baseman first baseman? shortstop Hanley Ramirez jammed his right thumb while diving for a groundball in the World Baseball Classic and he'll get an MRI today at the Camelback Ranch. Your browser does not support iframes. His manager and general manager give differing takes on the severity of it. "I don't think it's bad," Dominican coach Alfredo...
In the This Is My Nightmare series, we'll take a look at what the absolute worst case scenario for each team would be in 2013. Think of it as the negative complement to our You May Say I'm A Dreamer series that we'll be running during our preview series. The nightmare has already begun for the Dodgers with the news that Hanley Ramirez will miss eight weeks after...
The Los Angeles Dodgers have a new injury concern. Hanley Ramirez, slated to be their Opening Day shortstop, left Tuesday's World Baseball Classic after five innings, apparently because of a jammed right thumb. Ramirez, as the Dominican Republic's third baseman, sustained the injury while diving for a ball. Veteran Miguel Tejada replaced him to begin the top of the sixth...
It's really tough for a player with five years and more than $100 million remaining on his contract to be labeled as an x-factor. But when that player is just two seasons removed from a seven win season and has amassed less than one win over the last two seasons...yeah, he's got a chance to make a bit of an impact going forward. My x-factor for the Los Angeles Dodgers...
Shortstop Hanley Ramirez of the Los Angeles Dodgers suffered a torn ligament in his thumb and will miss the next two months of action. His blow not only impacts the Dodgers, but fantasy owners as well at a position that is often times hard to find top tier talent at. For his fantasy baseball ranking, I knocked him down from the second ranked shortstop to number 11 and he now has...
TUCSON, AZ The Los Angeles Dodgers and Chicago Cubs wore their traditional blue and white uniforms as they played an exhibition game, won by Los Angeles, 5-4, with a crowd of over 11,000 in attendance. The mood, however, was colored Green and the real winners were the memory of a little girl who had her life taken away in a most brutal and senseless fashion, and the city of Tucson...
On this episode of "Dugout Blues," Jared Massey (Dodger Diamond) and talk about the recent injury issues and one prospect who's dominating. This is another abbreviated episode. We'll return to a full show for episode 30. Hanley Ramirez is out for at least eight weeks with a torn ligament in his thumb. That's going to hurt the offense, but could improve...
With a rebuilt roster and a payroll soaring well beyond the $200 million mark, the Dodgers are loaded up to either make a World Series run or become one of the biggest high payroll busts in history. Which will it be? Dodgers on TOC End of Season Postmortem 2013 Season Preview You May Say I'm a Dreamer (12:00 PM) 2013 Burning Question (1:30 PM) This Is My Nightmare...
I find it fascinating that few bring up the 1941 Brooklyn Dodgers when talking about the series of Dodgers teams that lost to the New York Yankees in the World Series. The Dodgers won the NL Pennant in 1947, 1949, 1952, 1953, 1955 and 1956, losing to the Yankees in 5 of the 6 World Series. When those Dodgers teams are talked about, much is said about Gil Hodges, Jackie Robinson,...
Dodgers News

Delivered to your inbox

You'll also receive Yardbarker's daily Top 10, featuring the best sports stories from around the web. Customize your newsletter to get articles on your favorite sports and teams. And the best part? It's free!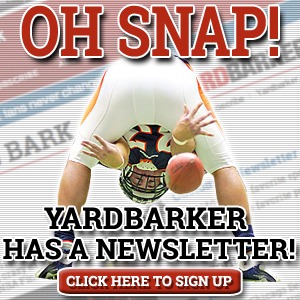 Latest Rumors
Best of Yardbarker

Today's Best Stuff

For Bloggers

Join the Yardbarker Network for more promotion, traffic, and money.

Company Info

Help

What is Yardbarker?

Yardbarker is the largest network of sports blogs and pro athlete blogs on the web. This site is the hub of the Yardbarker Network, where our editors and algorithms curate the best sports content from our network and beyond.