Found June 12, 2012 on Dodgers Rumors:
The Dodgers and All-Star right fielder
Andre Ethier
have agreed to a five-year $85MM extension, according to
Jon Heyman
. The new extension is also said to have a vesting sixth year option according to Heyman. Dylan Hernandez added that the
sixth year option
would take the deal to $100MM.
The deal should be finalized sometime today. The contract
will pay Ethier
$13.5MM in 2013, $15MM in 2014, $18MM in 2015, $18MM in 2016, and $17.5MM in 2017. The option year in 2018 would be for $17.5MM and carries a $2.5MM buyout.
There has been talk of an Ethier extension for several months now, talks really gained some momentum after Guggenheim Baseball took over, here we are about two months later, and the Dodgers secured the other half of the dynamic offensive duo of Kemp and Ethier. Andre has been pretty open about remaining with the Dodgers, he even went as far to keep negotiations in full swing during the season, and never put a deadline on the negotiations.
Ethier has been with the Dodgers for his entire MLB career. 'Dre was traded by the Oakland A's in exchange for
Milton Bradley
and
Antonio Perez
. The brightest part of
Ned Colletti's wheeling and dealings
, also his first major move as general manager of the Dodgers. Ethier has gone on to hit a solid .291/.363/.482 slash line in Dodger blue, a Silver Slugger in 2009, a Gold Glove in 2011, and he has been selected as an All-Star for the past two seasons, seemingly destined for his third straight in 2012. The big question with Ethier lies in his durability, he's spent time on the disabled list in each of the past two seasons, playing hurt for a decent amount of time as well.
So was this the right move for the Dodgers? Well it certainly seems like it on the surface, though I know a lot of folks are concerned about 'Dre being injury prone, I tend to disagree. I think except for 2011, Ethier has been one of the more stable and consistent players for the Dodgers over the last several years. 2011 was pretty much a fluke injury, I have no problem discarding it as such. Ethier has been an offensive juggernaut for the Dodgers for years now, he's a much better base runner than most give him credit for, and defensively well he doesn't have a Gold Glove because he's just mediocre. I will agree that there are better defenders out there, but Ethier's defense is constantly improving. Not many have a stronger or more accurate arm than Andre, his range is average at best, but this guy takes some of the best routes in the game.
I do have my concerns as history shows handing out long-term deals to 30-year-old players doesn't usually work out so well. Look at Andre's
most comparable
list, quite frightening isn't it?
According to
Baseball-Reference
similarity scores, here are the 10 most comparable players to Andre Ethier through age 29:
1.
Dmitri Young
2. Richie Zisk
3.
Rondell White
4.
Jacque Jones
5.
Aubrey Huff
6. Bobby Higginson
7.
Corey Hart
8. Ellis Valentine
9.
Jim Edmonds
10. Tony Oliva
Stats and facts baby, they never lie, though in this case I sure wish they did. While it's not impossible Ethier could be the exception, it's just hard to argue that when history and stats tell us he won't. The four most similar players to Ethier averaged a total of 53 homers and 204 RBI in their careers from age 31. White was the most successful of the bunch, and he averaged 13 homers and 53 RBI per season in his final five years, but he was also the most injury-prone of the bunch.
That's the risk. I definitely think Ethier can be better than what the above it telling us. I think I am really confident about Ethier and this deal as a whole. I believe this was a necessary signing by the Dodgers, not just because he's the Dodgers second best hitter, but because of what it stands for. This move shows the commitment to the franchise for the first time in over a decade, heck practically two decades.
The Dodgers are committed to winning, not just by going out and spending money frivolously, but building from the ground-up, building around those players, and extending those players during their prime years. There is always risk in every long-term deal that is handed out, but I gotta say I like what I see so far in this new era of the Dodgers. I will agree that the Dodgers will more than likely not get their full value out of this contract, therefore overpaying a bit, but I love that the direction of this team is going towards building a serious championship contender for years to come, rather than patching holes year after year, and having a roster of "when did we get this guy" all over it. The deal gets my seal of approval, with some reservations, but I think this was a good business decision. The best part is Magic and Kasten are just getting started ladies and gentlemen.
Original Story:
http://feedproxy.google.com/~r/dodger...
THE BACKYARD
BEST OF MAXIM
RELATED ARTICLES
Andre Ethier had leverage and he knew it. The Dodgers had new owners who were under pressure to sign him. He was one of the Dodgers' most popular players and one of only two dependable hitters in an uneven lineup. He was less than five months away from entering a thin free agent market. Ethier could have sparked a bidding war among teams reluctant to pursue Josh Hamilton, a...
The Dodgers' new ownership has sprung into action. The team on Monday night agreed with right fielder Andre Ethier on a five-year, $85 million extension, according to a major-league source. The contract also includes a $17.5 million vesting option or $2.5 million buyout for a sixth season, the source said. The value of the deal will increase to six years, $100 million if Ethier...
The Los Angeles Dodgers have called a 1PM (PDT) press conference to announce the signing of All-Star outfielder Andre Ethier to a contract extension.  Ethier, batting .287 with 10 home runs and a National League leading 53 RBI, would have become a much sought after free agent this winter. Fans will soon find out how much longer Andre Ethier will be swinging for the Dodgers. Speculation...
Word broke during Monday night's game the Dodgers and Andre Ethier had reportedly agreed to a 5-year, $85 million contract extension. The deal also includes a vesting sixth-year option. Here's the year-by-year breakdown: 2013: $13.5 million 2014: $15.5 million 2015: $18 million 2016: $18 million 2017: $17.5 million 2018: $17.5 million ($2.5 million buyout) ...
LOS ANGELES -- It looks like Andre Ethier is the first beneficiary of the new Dodger ownership group which replaced Frank McCourt earlier this season. Ethier leads the National League with 53 RBI and will soon be the leader in another category: highest paid right fielder in Dodger history. The Dodgers and their 30-year old outfielder have apparently agreed to a five-year, 85 million...
It doesn't look like Andre Ethier is coming to the East Coast any time soon. ESPN.com reports that the Dodgers outfielder has agreed to a five-year contract extension worth $85 million that would keep him in Los Angeles through the 2017 season. There's also reportedly a club option for an additional year that would be worth $17.5 million. "I have been instructed that...
Andre Ethier had a lot on his mind Monday night. He was 0-for-4 with three strikeouts in a 3-2 loss to the Angels, extending his slump to 5-for-43 (.116) since Matt Kemp was put on the disabled list on May 31. There was also the matter of his five-year, $85 million contract extension, which became official on Tuesday. "It's been a long day," Ethier said after Tuesday...
The Los Angeles Dodgers have locked up the other half of their dynamic outfield duo. Right fielder Andre Ethier has agreed to terms on a five-year, $85 million contract extension, according to multiple media reports. The deal would keep him in Dodger blue through 2017, and there is a $17.5 million vesting option for 2018. In November, center fielder Matt Kemp signed an eight...
Mike Scioscia's Tragic Illness: Mike Petriello once feared the exact deal that Andre Ethier signed, and while he holds some concerns, he finds it hard to argue against the deal. What interests me more right now is trying to figure out just how much a big 2012 could enhance Ethier's value on the market, because
$85 million The new Los Angeles Dodgers owners, led by Mark Walter, Stan Kasten and Magic Johnson, are close to inking their first major deal. As reported by CBSSports.com, the Dodgers and Andre Ethier are close to signing a $85-million, five-year contract extension. The deal is reported to include a sixth-year vesting option. This is good news for Dodgers fans, as not only will...
Andre Ethier was fixated on having a good at-bat rather than the pressure of the moment when he came to the plate with the Los Angeles Dodgers trailing by a run in the eighth inning. Former Angel Juan Rivera hit a three-run home run and Ethier added his 500th career RBI, helping the Dodgers rally to beat the Angels 5-2 Tuesday night and end their 10-game road winning streak. &...
What a day.  What a series.  For Dodger fans up in the Pacific Northwest, this weekend road trip was a rare chance for LA fans to see their favorite team in action.  Remember, the next closest city that LA plays in regularly is San Francisco, and that's nearly a two hour plane flight from Seattle. Today's game had a totally different feel to it than yesterday's game.  Perhaps...
Dodgers News

Delivered to your inbox

You'll also receive Yardbarker's daily Top 10, featuring the best sports stories from around the web. Customize your newsletter to get articles on your favorite sports and teams. And the best part? It's free!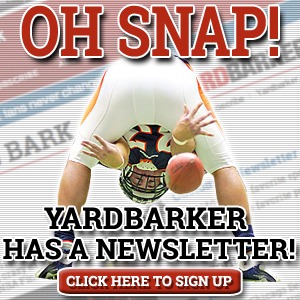 Latest Rumors
Best of Yardbarker

Today's Best Stuff

For Bloggers

Join the Yardbarker Network for more promotion, traffic, and money.

Company Info

Help

What is Yardbarker?

Yardbarker is the largest network of sports blogs and pro athlete blogs on the web. This site is the hub of the Yardbarker Network, where our editors and algorithms curate the best sports content from our network and beyond.