Posted July 29, 2012 on AP on Fox
Aly Raisman tried to be OK with it, tried to smile, say all the right things and be the good teammate that's made her easily the most reliable American gymnast over the last three years. The 18-year-old U.S. Olympic team captain never complained when the cameras focused on world champion and good friend Jordyn Wieber. She didn't pout when Gabby Douglas' electric smile made the shadow Raisman spent so much time in even bigger. Instead, Raisman did what she's always done. She kept working. More importantly, she kept believing. And with one typically steady floor routine during Olympic team qualifying on Sunday, the sidekick became the star. Raisman's score of 15.325 on floor gave her a total of 60.391, slipping past Douglas for the top performance by an American and making best friend Wieber the odd girl out of Thursday's individual all-around final. ''Aly's success today just proves that hard work pays off,'' U.S. coach Martha Karolyi ...
Original Story:
http://msn.foxsports.com/olympics/sto...
THE BACKYARD
BEST OF MAXIM
RELATED ARTICLES
Being an Olympic athlete is hard -- imagine how hard it is to be an athlete's parent? America was introduced to the parents of U.S. gymnast Aly Raisman on Sunday night, and their wild reactions to their daughter's routine won over the hearts of millions across the land. It also had the side effect, according to NESN Nation's Dan Duquette, of imploring athletes everywhere...
EDGE OF THEIR SEATS
USA gymnast Aly Raisman's parents look intense they are on a roller coaster ride watching daughter perform. This is one of the most intense parent reactions I have ever seen and much more interesting then the actual routine! Alexandra Rose "Aly" Raisman (born May 25, 1994) is an American artistic gymnast and is a member of the team representing the USA at the 2012 Summer...
Any parents watching their children perform may feel nervous, but the Raismans took that to all new levels on Sunday. Lynn and Ricky Raisman, parents of U.S. Women's Gymnastics team captain Aly Raisman, were full of emotions as they watched their daughter during the qualification round in London. Their reaction was almost as entertaining as Raisman's actual routine. Check...
Aly Raisman is a member of the USA women's gymnastics team and is a little more well known today for making it into the all around finals and for her parents reaction to her routine on the un-even bars last night.  Aly's parents look like they are in the middle of being on a roller coaster and watching the 2 girls one cup video.  Check them out in the video below for...
A lot of moms get carried away watching their son or daughter in a youth soccer game for the local recreation league, so we can imagine what watching your child compete in the Olympics must be like. This is no doubt as stressful a time for the parents of athletes in London as it is for the actual competitors. Fortunately for us, some parents handle the stress in hilarious fashion...
USA gymnast Aly Raisman's parents are going through their own gymnastics routine while watching their daughter compete during the Olympics, a gymnastics routine of emotions. Check out the reactions that the parents express throughout the routine, it will make you want to grab a Makers on the rocks and a couple Xanax. via The Daily What Article found on: Cosby Sweaters
Best gymnast in the world in 2012 just got outclutch'd by a teammate. If only Raisman could have released Walter White's "I Won" at the end of the NBC interview. [Follow me @TravisHouser] PS - Have to believe the judges based their points on looks in the end.
Aly Raisman can almost feel the eyes on her as she and her U.S. gymnastics teammates finish their training session. Sure enough, she'll look up and see a couple of heads in the doorway. Russians, usually. Sometimes the Romanians. ''We always try and do a little better,'' Raisman said with the hint of a smirk, ''maybe intimidate them a bit.''...
The U.S. women's gymnastics team recaptured Olympic glory Tuesday after winning its first gold medal since the Magnificent Seven's reign at the 1996 Atlanta Games. Team USA's Jordyn Wieber, Kyla Ross, Gabby Douglas, Aly Raisman and McKayla Maroney earned a combined score of 183.596 over second-place Russia, which earned 178.530. Romania came in third with 176.414 points and...
American gymnast Aly Raisman earned a gold medal for her athletic prowess in London. It's her mom who's gone viral. NBC's video of Lynn Raisman watching her daughter perform on the uneven bars Sunday, with her nervous murmurs and face and body contortions, was the single most replayed moment on Tivo digital video recorders that night. It has even inspired a YouTube spoof...
For the first time since Kerri Strug nailed her final vault attempt on one good ankle in 1996, the U.S. Women's Gymnastic's team are the best in the world once again. Gabby Douglas, Jordyn Wieber, Aly Raisman, McKayla Maroney and Kyla Ross easily captured the team gold medal Tuesday from the London Summer Olympics holding off Russia who ended up taking the silver. After Douglas...
Bruins News

Delivered to your inbox

You'll also receive Yardbarker's daily Top 10, featuring the best sports stories from around the web. Customize your newsletter to get articles on your favorite sports and teams. And the best part? It's free!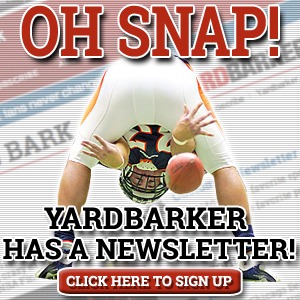 Latest Rumors
Best of Yardbarker

Today's Best Stuff

For Bloggers

Join the Yardbarker Network for more promotion, traffic, and money.

Company Info

Help

What is Yardbarker?

Yardbarker is the largest network of sports blogs and pro athlete blogs on the web. This site is the hub of the Yardbarker Network, where our editors and algorithms curate the best sports content from our network and beyond.