Found August 13, 2012 on Start 'N' Park Blog:
Team Chevy drivers had very drastically different days. Jimmie Johnson led the way with a third place finish, the next Team Chevy driver was Regan Smith, who set a career high finish at Watkins Glen, coming home in ninth place. Ryan Newman, Paul Menard, and Kasey Kahne came home 11th, 12th, and 13th respectfully. A race that had such promise went off course for Jamie McMurray, finished 39th due to an accident, pole sitter Juan Pablo Montoya, finished 33rd with problems from an accident, and Kurt Busch, finished 31st after problems with his suspension. Below are quotes from Team Chevy drivers on their days.
JAIME MCMURRAY, NO. 1 MCDONALD'S CHEVROLET – SIDELINED WITH FLAT TIRE ON LAP 25
WHAT HAPPENED? "We're still trying to figure it out. We don't know if a tire went down or what; it just happened all of a sudden. The tire blew out and we hit the guardrail pretty hard.
"We started a long ways off this weekend. But we qualified 10th, and we were running 10th or 11th there. So, we didn't have a car we could contend to win with, but we had a competitive car. It's a lot of fun to come to the road races. I love carting and I love road course racing."
CAN YOU GET BACK OUT THERE? "No, it actually knocked all the motor mounts out of the car. They're just trying to figure out now what happened. I got to the top of the esses and shifted into fourth gear and then I don't know if we blew a tire out of if something broke, but I went into the fence."
YOU HAVE EXTENDED YOUR CONTRACT WITH EGR? "It's been since May when that all went down. I haven't really talked about it. Nobody asked me and I didn't really volunteer it.  You watch guys the way they handle that. Some like to make it very public and then there are others that just kind of go about their business."
ARE YOU LOOKING FORWARD TO MICHIGAN? "I am. We have a big test on Tuesday doing some development parts for Michigan. So hopefully we find something there."
KURT BUSCH, NO. 51 PHOENIX RACING CONSTRUCTION SERVICES INC. CHEVROLET
A GOOD ROAD RACER LIKE YOU OUT WAY TOO EARLY. WHAT DO YOU THINK HAPPENED? "We are still trying to understand.  The axle shucked out it's on the track.  It felt like a broken track bar again like we had at Sonoma, but it's not.  They are just working hard to find out what it is and I want to get back on track just to make sure that we diagnosis the problem the best we can.
"These guys work way too hard for these mechanical things to happen.  Sometimes these things just add up and we are just on the wrong side of the eight-ball.  I've just got to thank (James) Finch and Phoenix Racing, this Chevy. We were coming to the front, we were catching those guys to be on that strategy and just to pit twice today similar to Sonoma, but it didn't turn out."
JUAN PABLO MONTOYA, NO. 42 TARGET CHEVROLET – SIDELINED WITH CONTROL ARM ISSUE
WHAT WAS THE ISSUE? "I think it was the lower control arm. Everybody on this Target Chevy has been doing an amazing job.  We got the last two poles and I did think we had a car to win today.  I rode behind Kyle (Busch) we kind of bogged down at the start and Kyle got us.  But, I ran behind him all the run and we got a good pit stop and got ahead of him.  It was looking really good; everything like it was going according to plan.  The car started getting really tight and all of a sudden I hit a curb and the car went completely left on me."
ARE YOU GOING TO TRY TO GET BACK OUT? "I think so we are going to try to fix to score a little bit of points.  It's been, I think it's been like my fifth DNF (did not finish) if we wouldn't finish it's been a tough year."
ON HIS RACE (FINISHED 33RD):  "Everybody on this Target Chevy has been doing and amazing job.  I thought we had a car that could win today.  The car started getting really tight and all of a sudden I hit a curb and the car went completely left on me.  We made the repairs and got back out to score a little bit of points."
JIMMIE JOHNSON, NO. 48 LOWE'S CORTEZ SILVER CHEVROLET – FINISHED THIRD
WHAT KIND OF DAY DID YOU HAVE TODAY WAS IT AS GOOD AS IT SEEMS AT THE END? "The first segment we were pretty far off.  We came in on our first stop and made some adjustments and really got the car back in the condition I needed it in.  Ran kind of third all day so real happy to finish where we did.
"Those last two laps were just out of control with the oil down.  You are studying the road trying to see if you can see an oil trail and there really wasn't a large visible one to dodge. But you could feel the oil on your tires and slipping and sliding and then guys are spinning all over.  It was chaos, but I'm glad we got back to the finish line, finished third very solid day for this Lowe's team.  I just can't thank everybody at Hendrick Motorsports enough for their hard work. The commitment from Lowe's, hopefully there are a lot of Lowe's employee owners happy right now."
REGAN SMITH, NO. 78 FURNITURE ROW/FARM AMERICAN CHEVROLET – FINISHED 9TH: NOTE: Second straight top-10 and first career top-10 on road course
"I am happy to come away with a top-10. We had to fight hard all day and that's what we did. I wasn't overly happy with the car on a couple of spots on the track and they were pretty crucial spots.  Nonetheless, the guys worked hard in the pits with a strategy to get us up there. That's the kind of thing you need to do when you're not perfect on the track. In order for that to happen everyone has to pull together and work hard.
"And that's exactly what we did. I am very proud of this team and very excited about what we've been able to accomplish recently. You need to get top-10s before you get top-fives, and top-fives will eventually turn into wins.  We're on the right track and that's encouraging. Watkins Glen is my home track and to cap off the weekend with a solid result is pretty special. I am real excited about going to Michigan next weekend."
RYAN NEWMAN, NO. 39 U.S. ARMY CHEVROLET – FINISHED 11th
ON HIS RACE: "We got misfortune with the tire that got cut, but the U.S. Army Chevrolet team had good and we were fortunate to work our way back up toward the front.  We had a car that was a little better than where we finished but in the end it was a good day for us in the points."
JEFF GORDON, NO. 24 DRIVE TO END HUNGER CHEVROLET – FINISHED 21ST
YOU HAD DRIVEN IT BACK TO WITHIN A TOP 10 FINISH AND YOU WENT AROUND. WHAT HAPPENED? "Oil all over the race track, it's pretty ridiculous they don't want to end a race under caution and put that many cars in jeopardy.  I had no idea that there was oil out there.  I knew there was all kinds of havoc happening all around, but it was a great effort by our Drive To End Hunger Chevrolet.  I'm pretty bummed out right now because we didn't have the day that I thought we were going to have. I thought our car was a lot better than that.  We started pretty good, but I knew something wasn't right.  Then we tried to make an adjustment it didn't go the right way, went backwards. Yet Alan (Gustafson, crew chief) and the guys made some adjustments there on that last stop and we weren't good on the restart, but man did it come on.  We were just passing cars left and right.  I was having a blast.  To work that hard all day long, come all the way from way back all the way up into the top 10 and have it taken away because they don't want to throw a caution it's pretty disappointing.  I jumped out there to the outside of (Matt) Kenseth and I think he could see the oil because he just gave it to me.  I went out there and there was just no grip just completely came around.
"I went to the outside and hit it (oil on the track) and just spun right out. I'm just really disappointed because we fought hard today to come back to get what was going to be a pretty nice finish. The thing is, I'm just disappointed at how hard we had to fight for the position. The points are going to be what the points are going to be. We can't control what other people do. We can only control what we do. And today, we took back control when we got off, and we were coming. It's just unfortunate that that gets taken away from you because NASCAR doesn't want to end the race under yellow (caution). I understand. You want to keep it entertaining and give the winner a shot at it but there are a lot of other things going on our there too. I think they completely disregarded that and hey, it's over now. We'll move on."
YOUR FACE JUST SAYS IT ALL "It was a rough day, you know? We started off pretty good and from that point on; it didn't go the way that I had hoped. I thought we were going to be a lot better than that. Whatever the guys did there on that last pit stop, it really brought the car back to life. It didn't take off very good on the restarts, but man, it was really strong. I mean we passed a lot of cars there at the end of that race. And it's all for nothing. It just stinks."
DO YOU TAKE SOLACE THAT KYLE BUSCH DIDN'T GET THE WIN BECAUSE THAT OBVIOUSLY WOULD HAVE IMPACTED YOUR CHASE HOPES? "Yeah, that would have impacted it in a big way. Again, we can't control what other people do. We can only control what we do. And we're not wishing bad luck on anybody. We're trying to go out there and race as hard as we can and get the best finishes that we can get."
DALE EARNHARDT JR., NO. 88 NATIONAL GUARD/DIET MOUNTAIN DEW CHEVROLET – FINISHED 28TH
YOU WERE GOING TO HAVE A TOP-10 FINISH. WHAT HAPPENED OVER THERE WITH THE SPIN? "I just got in the corner and made a mistake and that was pretty much all there was to it. I was just overdriving the car."
AFTER YOU SPUN, WAS THERE OTHER DAMAGE TO THE CAR? IT LOOKED LIKE YOU STRUGGLED GETTING THE CAR TO TURN "No, all my tires were flat-spotted and I got back on the track and there was just oil everywhere from somebody. It was everywhere. You couldn't see it, but it was everywhere. So you didn't know where to run and I saw the leaders were coming and I was just trying to get out of the way and they were in oil and I was in oil and then I watched everything that happened in front of me. It was a bad deal, I think. The track shouldn't have oil on it. It's a tough deal I guess. But it finished out with all that oil on the track. I don't really like that. It was a bad ugly finish at the end."
Original Story:
http://startnparkblog.com/?p=9802&utm...
THE BACKYARD
BEST OF MAXIM
RELATED ARTICLES
WATKINS GLEN, N.Y.  – Regan Smith capped off his homecoming weekend with a solid ninth-place finish in Sunday's Sprint Cup road race at Watkins Glen International. The result was Smith's first career top-10 in eight starts on a road course and it was also his second straight top-10 of the season — he finished 9th at Pocono (Pa.) Raceway last weekend. Smith, a native of Cato...
As part of the Start 'N' Park Blog coverage of the NASCAR weekend at Watkins Glen International, Michael makes best use of the rain delay to talk to Furniture Row Racing driver Regan Smith. They talk about Regan's roots in New York, Watkins Glen International, possibility of a 2nd team, his new crew chief, his take on AJ Allmendinger's situation, and we talk some hockey.
It was a good day Saturday afternoon for the Team Chevy drivers. Juan Pablo Montoya led the way by winning the pole, his second pole in a row after winning last weekend at Pocono, then Jimmie Johnson was 3rd, Ryan Newman was 6th, Tony Stewart was 7th, and Jamie McMurray was 10th. Below is quotes from those drivers and Regan Smith, who qualified 13th. JAMIE MCMURRAY, NO. 1 MCDONALDS...
All Sports News

Delivered to your inbox

You'll also receive Yardbarker's daily Top 10, featuring the best sports stories from around the web. Customize your newsletter to get articles on your favorite sports and teams. And the best part? It's free!
THE HOT 10: Who's Trending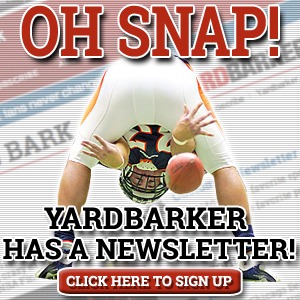 Latest Rumors
The Backyard

Today's Best Stuff

For Bloggers

Join the Yardbarker Network for more promotion, traffic, and money.

Company Info

Help

What is Yardbarker?

Yardbarker is the largest network of sports blogs and pro athlete blogs on the web. This site is the hub of the Yardbarker Network, where our editors and algorithms curate the best sports content from our network and beyond.