Found February 02, 2013 on NBA 24/7 365:
PLAYERS:
Rudy Gay
,
Landry Fields
,
Kyle Lowry
,
DeMar DeRozan
,
Terrence Ross
,
Amir Johnson
,
Caron Butler
,
Jonas Valanciunas
,
Hilton Armstrong
,
Pau Gasol
,
Antawn Jamison
,
Michael Beasley
,
Lindsey Hunter
,
Carmelo Anthony
,
Tyson Chandler
,
Amare Stoudemire
,
David West
,
Andrew Bynum
,
Jeff Green
,
Brandon Knight
,
Kyle Singler
,
Greg Monroe
,
Al Jefferson
,
Derrick Williams
,
Paul George
,
Mario Chalmers
TEAMS:
Toronto Raptors
,
Los Angeles Clippers
,
Atlanta Hawks
,
Los Angeles Lakers
,
Phoenix Suns
,
Milwaukee Bucks
,
New York Knicks
,
Miami Heat
,
Indiana Pacers
,
Philadelphia 76ers
,
Boston Celtics
,
Orlando Magic
,
Detroit Pistons
,
Portland Trail Blazers
,
Utah Jazz
,
Minnesota Timberwolves
On Friday morning, Rudy Gay was still in Memphis. Physically, I mean.  Though he's been a Toronto Raptor since Wednesday, Gay didn't actually arrive in Canada until this afternoon, when he passed his physical examination and a crash course in Dwayne Casey's playbook.  Hours later, he was showered with cheers from his new faithful when he got up off the bench to replace Landry Fields six minutes and 51 seconds into the first quarter.  Fittingly, the hectic pace of Gay's frenetic day carried over into Toronto's blowout victory over the Clippers.  It took him less than two minutes to get to the foul line, where he scored his first points, and not much longer to throw down his first alley-oop jam.  This type of transition play would become a theme for the Raptors — in racking up 23 points off turnovers and 14 on the break (seemed like more) they beat the Clippers at their own game.  Coincidentally, Gay's final jump shot gave the Raptors their biggest lead of the night — 31 points — before they went on to win by 25.  Rudy led the way with 20 points on 8-16, and he looked damn good doing it; note the Carmine VIs. One game certainly doesn't change my negative opinion of the trade, but the Rudy Gay era is certainly off to a storybook start.  Based on what I saw tonight, this Toronto team has the potential to become a League Pass sensation.  Turns out Kyle Lowry, DeMaR DeRoZaN, Terrence Ross, Rudy Gay, and Amir Johnson (guy was a beast today; 19 points, 16 boards) run a mean break.  Who'da thunk it? In other joyous Raptor news, Landry Fields made his first three-pointer since joining the team (he'd been 0-8 on the season).  The long-range score cost Colangelo and company a mere $3,506,097.56.  What a bargain! Moral victory! The Clippers got their asses kicked, but 19,800 Canadians went home hungry after the Raptors fell two points short of the century mark, which is the free pizza threshold at the Air Canada Center.  Caron Butler assured that Jonas Valanciunas wouldn't get a final shot off by executing a classic heel turn. Congratulations, Caron; you've reduced yourself to the level of Hilton Armstrong.  For real though, faking a handshake and stealing the ball from an opponent who has respectfully opted to dribble the clock out has got to be one of the most outrageously unsportsmanlike actions that one can possibly perform.  Valanciunas would've been completely within his rights to commit a very hard foul. For the third game in a row the Lakers built a huge early lead against a lottery team… and for the third game in a row they became involved in a tight contest down the stretch.  Though the Wolves never were able to recover completely from what had been a 29-point deficit, they did slice the Lakers' advantage to just four about midway through the fourth quarter.  Fortunately for Los Angeles, Minnesota defends just as poorly as they do; with Pau Gasol (22/12) and Antawn Jamison (18/7) able to come up with a variety of easy scores on the interior, the Wolves simply couldn't get over the hump. Based on the past few games and their season as a whole, I believe the Lakers will continue to play improved basketball but will struggle to beat playoff-caliber competition.  The Lakers' fatal flaw is their inability to defend, even when they try.  Don't get me wrong, they defend better when they try, but they still don't defend well enough.  Teams like the Hornets, Suns, and Wolves will miss (and, during this little five-game stretch, have missed) open shots.  As far as I can see, nothing the Lakers are doing is causing their opponents to suffer through multiple scoring droughts of two or three minutes; it's simply something that happens to bad teams.  For what it's worth, their offense has looked much better.  The free-flowing ball movement continued on Friday as the Lakers recorded 27 assists on 39 buckets.  For the fifth game in a row, Kobe had eight of them (this stretch remains unprecedented in his career). Welp, Michael Beasley's resurgence appears to have been short lived.  In a 109-99 come-from-ahead loss to the Mavericks, Super Cool was super cold as he misfired on 11 of 13 attempts from the floor.  Additionally, he committed a team-leading trio of turnovers (one of which was of the silly variety).  Beasley is definitely cut from a different cloth, but I'm pretty sure this isn't what he meant when he said he'd be getting "back to Beast."  In all seriousness, though, the timing of this dud is rather discouraging.  Beasley was coming off one of the best games of his life and had even been showing a bit of consistency under Lindsey Hunter (one more good outing and his points finally would've eclipsed his shot attempts).  Hopefully he can bounce back, but he'll have to do so against some formidable competition.  Beginning tomorrow, the Suns play their next four on the road.  They'll meet the Warriors, Grizzlies, Thunder, and Hornets, then return home to face the Thunder again. In yet another come-from-ahead loss, the Milwaukee Bucks brought shame upon their epic throwbacks by getting progressively worse until they finally fell to the Knicks by a final score of 96-86.  The Bucks got off to a great start at The Garden, racking up 28 first-quarter points, but consistent regression ensued.  In the second, third, and fourth periods, the Bucks scored 25, 20, and 13 points respectively.  Meanwhile, the Knicks located easy baskets down the stretch as they scored 10 of their 22 fourth-quarter points in the paint.  Carmelo Anthony's 25 led all scorers and extended his 20-point game streak to 31.  Tyson Chandler ripped 20 rebounds for the first time since the Mavericks' championship run and Amare Stoudemire contributed 17 off the bench.  STAT, who exercised his physical prowess against Milwaukee's lightweight frontcourt, has scored 14 or more in seven consecutive games. The Miami Heat did not avenge their January 8th loss to the Pacers. As a matter of fact, they got smacked even harder; 102-89, to be precise.  It's been apparent all year long that the regular season bores the reigning champs, but I thought this was a game they'd be able to get up for what with the recent history between these clubs.  I suppose it means nothing to the Heat unless it's the playoffs.  Fortunately for them, I sincerely believe this is a rare instance in which the switch can truly be flipped at moment's notice. How 'bout David West? 30/7/5 is nice, but peep the FG column — D-West went 12-15 from the floor (!!!).  Indiana's old reliable was able to achieve such efficiency by putting in yeoman's work in the painted area, where two thirds of his shots were taken.  Miami actually started their "big" lineup (Haslem at the four, Battier off the pine) to combat Indiana's great size, but West still had no trouble in exploiting their lack of muscle. As the Sixers beat the Kings 89-80, this was Andrew Bynum's hair: Another distinct style from the Iverson collection, this is essentially a gangsta twist (pun intended) on his french braids from back in December.  This has been your Andrew Bynum follicle update. Box Score Observations: Thad Young had an incredible line — 23/15/2/2 STL — in the aforementioned Sixer victory.  Jeff Green led the Boston Celtics past the Orlando Magic with 17 points (his fourth straight game in double figures).  Tristan Thompson and Marreese Speights combined for 36 points, but the Pistons still ran away from the Cavs 117-99.  Brandon Knight and Kyle Singler dropped 20 apiece whilst Greg Monroe recorded an 18/16 double-double.  The Trail Blazers fell behind early but failed to make a comeback on the Jazz, who got 21 and 10 from Big Al Jefferson in an 86-77 victory. Highlight Recap, Minnesota Timberwolves Edition: So good of you to actually make this dunk, Derrick Williams… Highlight Recap, Everyone Else Edition: From Russia with lob. The Clippers did manage a highlight. JaVale McGee celebrates his teammates' alley-oop conversion. Dion Waiters gets owned at both ends. Stacey King probably had an orgasm, but this is the Nets broadcast. One hell of a spectacular layup. Bird watching. Paul George dupes Mario Chalmers with his Euro step. ***THIS POST IS A WORK IN PROGRESS — CHECK BACK THROUGHOUT THE MORNING***
Original Story:
http://nba247365.com/?p=10103
THE BACKYARD
BEST OF MAXIM
RELATED ARTICLES
Mark and McNeill are back to break down the trade that saw Rudy Gay land in Toronto. We talked about why Toronto was a huge winner in this deal, McNeill felt sorry for Jose Calderon landing in Detroit, and what other moves Bryan Colangelo might have in store.
Rudy Gay's first start for the Toronto Raptors produced a big line: 29 points, a three, four rebounds, two assists, three steals and a bock. Toronto lost to the Miami Heat, 100-85, but Air Canada is back with Gay and DeMar DeRozan. DeRozan scored 27 points (including making all 14 of his free throws) to go with a three, three rebounds and three assists. The fourth-year...
Raptors fans rejoice: Rudy Gay will make his Toronto debut Friday night against the Los Angeles Clippers. Raptors play-by-play guy Matt Devlin made the announcement on Twitter. Get Gay in your lineup. Meanwhile, the Clippers will be without Matt Barnes, who is suspended one game for a flagrant-2 foul for shoving Minnesota center Greg Stiemsma in the neck. #RudyGay will play...
The Memphis Grizzlies traded away arguably their best player and leading scorer Rudy Gay for spare parts to save a little money on their salary cap next year and it showed tonight in a game against the NBA's 2nd best record Oklahoma City Thunder. The Thunder led 58-34 at the half and never looked back. Kevin Durant dropped in 27 as the Thunder took a 106-89 victory over the Grizzlies...
TORONTO -- It did not take long for Rudy Gay to feel at home with the Toronto Raptors after they acquired him in a trade with the Memphis Grizzlies. He arrived in Toronto on Friday morning and gave a press conference in the afternoon, then took the court in the evening and came off the bench to score 20 points as the Raptors defeated the Los Angeles Clippers 98-73. It didn'...
         On January 30th, the Grizzlies shipped kind of-sort of-star forward Rudy Gay, along with Hamed Haddadi, to the Toronto Raptors in exchange for Jose Calderon and Ed Davis, and later Tayshaun Prince and Austin Daye in exchange for Calderon. The immediate reaction to this deal from Philadelphia fans, as expected, was that this was just a terrible thing for the Sixers...
I think it's safe to assume Lionel Hollins won't be poppin' bubbly for the Grizzlies new aquisitons and the departure of Rudy Gay.  After last night's blowout loss to OKC, Hollins used the analogy of having a 'champagne taste' on 'a beer budget' to describe the recent moves. According to The Oklahoman: "When you have champagne taste, you can't be on a beer budget...
Every morning, we will give you five things from the night before in the NBA to start your day. 1: Brand new Gay The Raptors have lost their fair share of games this season. There was still some palpable excitement entering Friday's game at Air Canada Centre. It probably helped that Blake Griffin and the Clippers were in town. But the excitement grew as a bona fide star...
The Memphis Grizzlies, playing for the first time after trading away Rudy Gay, get set to face the Thunder in Oklahoma City tonight. While the Gay swap for Ed Davis, Tayshaun Prince, and Austin Daye saves the tea money and improves depth in the long-run, they'll be fairly depleted in tonight's match-up. AccuScore has the Thunder as heavy favorites with 87.3 percent chance at...
With Rudy Gay now off the trade market, NBA trade rumors will latch onto a new player. That player appears to be Josh Smith. And it did not take long for something to coalesce in the rumor mill. Alex Kennedy of HoopsWorld reports the Suns have initiated preliminary discussions with the Hawks for Josh Smith. And, he reports, if Phoenix does not get Smith they would plan on pursuing...
The Grizzlies' new owner is defending the trade of his team's leading scorer and other moves to dump salary, saying he believes they can do some ''serious damage'' in the playoffs with the changes. Robert Pera took part in a web chat Friday with Memphis' season ticket holders along with chief executive officer Jason Levien, and Pera's first question...
All Sports News

Delivered to your inbox

You'll also receive Yardbarker's daily Top 10, featuring the best sports stories from around the web. Customize your newsletter to get articles on your favorite sports and teams. And the best part? It's free!
THE HOT 10: Who's Trending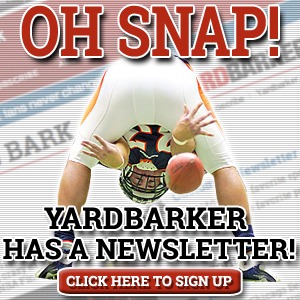 Latest Rumors
Best of Yardbarker

Today's Best Stuff

For Bloggers

Join the Yardbarker Network for more promotion, traffic, and money.

Company Info

Help

What is Yardbarker?

Yardbarker is the largest network of sports blogs and pro athlete blogs on the web. This site is the hub of the Yardbarker Network, where our editors and algorithms curate the best sports content from our network and beyond.