Found August 20, 2013 on My Sports Rumors:
A few members of the Los Angeles Dodgers went partying at a Miami nightclub with LeBron James on Sunday night and of course there was a big deal made about it. Well Monday they were shut out by the Miami Marlins 5-0 and now people are even making a bigger deal about their partying. I'm sorry but I find that to be a bunch of ******** and part owner Magic Johnson agrees. TMZ Sports caught up with him and he answered questions about the partying. "We just gotta come back and win tomorrow," Johnson said … "They're grown men. They can hang out. They can party. I mean … they're grown." He added, "We're having a great season … so, one game is not gonna hurt us." Johnson said there will absolutely be NO disciplinary action taken against the players — who dropped more than $20k at LIV nightclub early Monday morning while partying with LeBron James. (TMZ Sports) I'm glad to hear an owner talk like this as he knows his players need to relax and unwind once in a while. Magic as a former professional athlete himself knows this. What I don't understand is why fans and media make a big deal out of this. Don't we all get days off and do our best to enjoy them? Some of us wind up going out to the bar and enjoying a great night or two here or there. Most of us get two days off a week, these guys play 15-20 days in a row without a day off. They may get paid well for it but just like us all they deserve that chance to unwind even if it does hurt their play once in a while. Remember NFL season is coming up and most of us will be out enjoying the town on Monday's watching the Monday Night Football game and we all know our work is affected by it the next day. So who are we to judge? Unfortunately your browser does not support IFrames. Magic Johnson — Dodgers Get Party Pass … Even If They Sucked Last Night – Watch More Celebrity Videos or Subscribe The post VIDEO: Dodgers earned party pass appeared first on My Sports Rumors.
Original Story:
http://mysportsrumors.com/blog/2013/0...
THE BACKYARD
BEST OF MAXIM
RELATED ARTICLES
LeBron James currently is in the Philippines to take part in Nike's "Witness History Tour," and a photograph snapped of him reveals that the Miami Heat superstar apparently has ended his state of denial regarding his rapidly retreating hairline. James showed up at an event with a freshly shorn scalp, evidently accepting his fate as […]The post LeBron James accepts cruel fate...
If you are not a fan of the Heat or LeBron James, you have one less thing to make fun of this year. LeBron has finally shaved his head. That is all we literally have to report on this breaking news piece of hard hitting journalism. [Business Insider] Article found on: Next Impulse Sports
Lebron James is such a dunk contest tease. According to CBS Sports, King James and Nike have started a new ad campaign encouraging people to challenge themselves.   Since the whole focus of the campaign is to challenge oneself, we're hoping this means that Lebron is going to take the leap in the 2014 dunk contest, but that's just wishful thinking. In the meantime, stop teasing...
GROOVY SHORTS, MAN
Continuing our summertime chronicle of "The Life and Times of LeBron James and His Instagram Account," on Wednesday, Mr. LeBron James — perhaps inspired by the "Frasier" episode "Room Full of Heroes" (although probably not), played a little dress-up in order to emulate NBA icon Dr. J. Bearing the message, "Breaking news. DR.J is making […]The post Who wears short...
When asked where he might play following next season, LeBron James gave an understandable answer. Im a winner; I want to win, James said in an exclusive interview with FOX Sports Lives Bill Reiter on Tuesday night. Im in a position right now where thats all I think about. Im very comfortable in my surroundings. I love my teammates, I love the organization in Miami. So I like where...
LeBron James posted a photo to his Instagram in which he is not bald, including a fantastic hashtag: #ButIThoughtHeWasBaldThough
In a traffic jam, LeBron James called on police last Friday night to assist him in getting to the Jay Z  / Justin Timberlake  concert.  James caused a stir on social media after posting an Instagram video of his car following a police escort driving on the wrong side of the road against traffic.  The other cars shifted to the other lanes to for LBJ to get to the show and police...
In a 1-on-1 interview with Fox Sports' Bill Reiter Tuesday, LeBron James was asked to name his top 3 players in NBA history. After giving it some thought, James named Michael Jordan, Dr. J and Larry Bird, but later asked to extend the list to four to add Magic Johnson.
The Miami-Dade Police Department says it will discipline the officer who provided a police escort to Miami Heat star LeBron James to the Justin Timberlake/Jay Z concert. In a statement released Thursday, the department says it has chosen to give the officer ''informal counseling'' after investigating the escort involving the athlete. The statement says no further...
LeBron James was asked in an interview with Fox Sports 1 to name his best three basketball players of all-time. James quickly responded with Michael Jordan and hesitated for several seconds before including Julius Erving and Larry Bird. Many historians of the game put several of basketball's best big men in the top-3, but James clearly was leaning toward all-around players with his list.
The Los Angeles Dodgers are baseball darlings. The Big Blue had won 10 games in a row before losing to the Phillies on Sunday. No big deal though, because following the lost, the team headed off to Miami to face off against the Marlins this afternoon. However, Sunday night's in Miami means one thing, "Club Liv." Yasiel Puig, Matt Kemp and Carl Crawford hit up LIV Nightclub...
NFL on FOX sideline reporter Pam Oliver took a football to the face on Sunday and stood her ground. The moment was captured on camera and will stand as a testament to her toughness. A couple of thoughts before we move on: 1. Getting hit by just about anything you don't see coming is a jarring experience. 2. Footballs are hard, man! That said, she's just the latest of...
All Sports News

Delivered to your inbox

You'll also receive Yardbarker's daily Top 10, featuring the best sports stories from around the web. Customize your newsletter to get articles on your favorite sports and teams. And the best part? It's free!
THE HOT 10: Who's Trending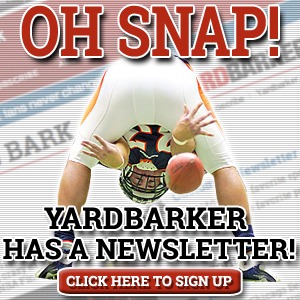 Latest Rumors
Best of Yardbarker

Today's Best Stuff

For Bloggers

Join the Yardbarker Network for more promotion, traffic, and money.

Company Info

Help

What is Yardbarker?

Yardbarker is the largest network of sports blogs and pro athlete blogs on the web. This site is the hub of the Yardbarker Network, where our editors and algorithms curate the best sports content from our network and beyond.