Found December 12, 2012 on Fox Sports Southwest:
The attorney for Dallas Cowboys player Josh Brent, charged with intoxication manslaughter in the death of a teammate, reportedly vehemently denied claims by a witness that Brent had to be begged to pull his friend out of the burning vehicle. Meanwhile, another witness surfaced Tuesday to confirm some of the details of Stacee McWilliams' story about the accident scene. Brent, a nose tackle, was arrested and charged early Saturday morning after a one-vehicle accident on State Highway 114 in Irving, Texas. His teammate, practice squad linebacker Jerry Brown, died as a result of injuries in the crash. McWilliams told The Dallas Morning News and its website, dallasnews.com, that she had to plead repeatedly with Brent to get a screaming Brown out of the overturned vehicle as it began to burn. Brent's attorney, George Milner, said in the report that McWilliams has continued to "spread lies about Josh." "This woman, while present in the area of the accident, could not have seen or heard any of the things she said about Josh," Milner said. "It took me two phone calls to the Irving Police Department to determine half a dozen facts within her reported story were incorrect." Milner, a well-known criminal defense attorney in Dallas, said he has confirmed inconsistencies in McWilliams' statement after contacting investigators. "She has now admitted she was not that close to the actual scene," Milner said in the Morning News report. "She admitted she had been drinking that evening. Her statement regarding the placement of Mr. Brown's body is inconsistent with a dash-cam video." Milner also said McWilliams described Irving police officers as using a medical device on Brown that they do not carry. "It is believed Mr. Brown was already deceased and could not possibly have uttered the calls for help claimed by Ms. McWilliams," Milner told the Morning News. He later added: "She has still not signed her statement to the police." Police spokesman John Argumaniz told the Morning News via email that he could not comment about Milner's claims or those of the witnesses. Another witness to the accident scene, Pam Johnson, said Tuesday she heard Brown "moaning." Johnson, however, refuted McWilliams' claim that Brent was reluctant to assist Brown. While she agreed that Brown was still alive at the scene, Johnson told the Morning News that McWilliams only spoke to Brent once, and her only words to him were, "Well, pull him out." "She McWilliams did him an injustice by talking about him," Johnson said in the report. "I don't even like the Cowboys. But I don't think it was right to talk about somebody like that. Just from looking at him Brent you could tell he was walking around trying to figure out what to do." Follow Keith Whitmire on Twitter: @Keith_Whitmire
Original Story:
http://www.foxsportssouthwest.com/12/...
THE BACKYARD
BEST OF MAXIM
RELATED ARTICLES
The Dallas Cowboys will place Josh Brent on the reserved non-football injury list. Brent and the team attended a memorial service for Jerry Brown who died following a one-car accident in which Brent was driving. Brent has been charged with intoxication manslaughter. The move will allow the Cowboys to clear a roster spot and will allow Brent access to the teams facility at Valley...
More so than usual, the Twitter reactions to the Josh Brent intoxication manslaughter were extremely mixed. Most people were completely unsympathetic and were bashing Brent for the horrible decision he made. Take @TallAsIWanna_B for example: Damn Cowboys NT Josh Brent you let dat alcohol f*ck yo life away…. killed yo teammate bru smdh. Others didn't put it so nicely, like @nsenatore22...
IRVING, Texas Although Josh Brent won't play for the Dallas Cowboys again this season, he remains part of a franchise that continues to support him. The 24-year-old nose tackle was placed on the reservenon-football illness list Wednesday, four days after getting into a car accident that killed Cowboys linebacker Jerry Brown, Brent's good friend and passenger in the vehicle...
According to Calvin Watkins of  ESPN Dallas, the Cowboys have placed NT Josh Brent on the non-football injury/illness list. Brent is currently "emotionally unable to play after being charged with intoxication manslaughter," so this move will allow Dallas to sign a potential replacement while allowing Brent to stay close to the organization that has publicly said that they'll...
A judge has ordered Dallas Cowboys nose tackle Josh Brent to wear an electronic monitor while free on an intoxication manslaughter charge in a car crash that killed a teammate. A judge modified conditions for his continued release and lowered bond from $500,000 to $100,000 during Brent's Tuesday court appearance. Prosecutors asked that Brent wear an electronic ankle bracelet...
((HT: WFAA-TV)) The attorney for Dallas Cowboys Josh Brent is saying the early statements made by an apparent witness after the wreck that took the life of linebacker Jerry Brown is claiming their nature is "defamatory." George Milner is claiming Stacee McWilliams' statements have what he's calling "inconsistencies" already and that McWilliams admitted...
Dallas Cowboys lineman Josh Brent, charged with intoxication manslaughter in the automobile accident that killed teammate Jerry Brown, had a blood alcohol level of more than twice the legal limit at the time of the crash last week, the Dallas Morning News reported Thursday. Brent, 25, had a blood alcohol level of 0.18, the paper reported, citing an unnamed law enforcement source...
IRVING, Texas (AP) -- Josh Brent has been placed on the reservenon-football illness list by the Dallas Cowboys, a move that ends his season but allows the defensive tackle to remain with the team. The move Wednesday came a day after a memorial service for practice squad player Jerry Brown, Brent's close friend who was killed in a car accident when police say Brent was driving...
DALLAS (AP) -- Dallas Cowboys defensive tackle Josh Brent is attending the memorial for teammate Jerry Brown, who died in a car accident that led to intoxication manslaughter charges against Brent. Brent and team owner Jerry Jones were among those arriving at the service for Brown on a chilly Tuesday at Oak Cliff Bible Fellowship in Dallas. Cowboys coach Jason Garrett says the...
Police in the Dallas suburb where a Cowboys player was killed in a car accident have released audiotapes of two 911 calls reporting the crash. Defensive tackle Josh Brent faces an intoxicated manslaughter charge in Saturday morning's accident that killed teammate Jerry Brown. Brent is free on bond. Police and prosecutors met Thursday to discuss the case. Irving police on Thursday...
On the night Jerry Brown was killed in a car crash, he and teammate Josh Brent were among several Dallas Cowboys at the club Privae, according to a USA Today report. The Texas Alcoholic Beverage Commission and Irving police are investigating the club to see if alcohol was "served to somebody who was intoxicated, which is illegal in Texas," TABC spokeswoman Carolyn Beck...
Jay Ratliff had surgery for a groin injury Thursday in Philly. His season is over and he'll likely go to IR this week. — Nick Eatman (@nickeatman) December 13, 2012   —————– According to Ian Rapoport of NFL.com, Cowboys NT Jay Ratliff is expected to miss 3-6 weeks following a sports hernia surgery that he underwent on Thursday morning. Rapoport adds that it's...
Cowboys News

Delivered to your inbox

You'll also receive Yardbarker's daily Top 10, featuring the best sports stories from around the web. Customize your newsletter to get articles on your favorite sports and teams. And the best part? It's free!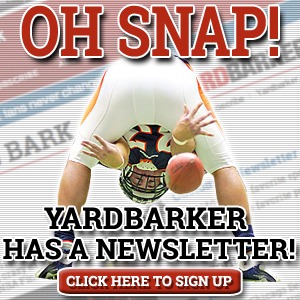 Latest Rumors
The Backyard

Today's Best Stuff

For Bloggers

Join the Yardbarker Network for more promotion, traffic, and money.

Company Info

Help

What is Yardbarker?

Yardbarker is the largest network of sports blogs and pro athlete blogs on the web. This site is the hub of the Yardbarker Network, where our editors and algorithms curate the best sports content from our network and beyond.