Found March 17, 2012 on SCACC Hoops:
PLAYERS:
Austin Rivers
,
Alex Murphy
,
Marshall Plumlee
,
Quinn Cook
,
Kyrie Irving
,
Nolan Smith
,
Kyle Singler
,
Seth Curry
,
Mason Plumlee
,
Miles Plumlee
,
Ryan Kelly
,
Tyler Thornton
,
Andre Dawkins
,
Josh Hairston
,
Michael Gbinije
TEAMS:
Duke Blue Devils
,
Ohio State Buckeyes
,
Florida State Seminoles
It is hard to put into words how frustrating this Duke Basketball team was to watch as a fan.  Coming into the season with so much uncertainty and so much hype around Austin Rivers, the excitement was almost palpable. It was assisted in great part to the Blue Devils trip to China and Dubai which gave the world and Duke fans a glimpse of the team that was to come. In retrospect, I'm not sure if you could really glean too much out of that trip. At the time there was no certain sign that either Alex Murphy or Marshall Plumlee would redshirt the season, and Quinn Cook was the only player who didn't participate as he recovered from a lingering knee injury.
The excitement was high but there were doubts in my mind. I wondered how Rivers would jell with the team.
I wondered who would play point guard. In 2010-2011 it was Kyrie Irving and then Nolan Smith. Both those guys were gone and so was do everything guy Kyle Singler. This year's team missed those kind of guy that could help the team bond, not just perform on the court.
I was fortunate enough to get to see Duke's first game of the season and I did not come away all that impressed. I saw glaring errors that would come to plague the team all year.
At the time part of me felt it was just the first game, but when the 10th, 15th and 20th games rolled by and you still saw the same issues, it became obvious to me that there was something missing from this team.
I made a lot of predictions prior to the season but how did I do?
I said Duke wouldn't win a championship including the Maui Invitation. Perhaps I should get partial credit as they surprisingly won the Maui, but didn't capture any other titles this season.
I said that Duke wouldn't beat North Carolina. Again I was only partially right, though it took a last second buzzer-beater from Austin Rivers to get the win in Chapel Hill.
I said this team would lose more games than in the past two and would struggle and lose some games it probably shouldn't. I alluded to the 2007 team that lost 11 games and while I didn't think this team would be that bad I knew they'd lose. On this one, I was right on the money.
This team lost three conference games at home, lost to Temple, and got drilled by Ohio State in Columbus. Add a second loss to Florida State in the ACC Tournament and the season ending loss to Lehigh and you have to see the similarities to 2007.
This was a young team, maybe not as young as 2007, but inexperienced. Not so much in guys who had played but guys who were expected to step up their roles.
Seth Curry never became the player I figured he would. He wasn't bad, and he played hard, but he never developed into that fearless on court leader whose tenacity lifted Duke in times of need.
Mason Plumlee started out strong but floundered mid season only to pick it up late when everyone else around him seemed to flounder.
Miles Plumlee ended his career on a sour note, but again had an inconsistent season, something that plagued his entire career.
Ryan Kelly may have been the most consistent player for Duke but even he had his limitations, especially against teams with quicker more athletic guys.
Tyler Thornton and Quinn Cook would together would have made a pretty good point guard. Both showed flashed but never anything consistently. Thornton was the better defender but became foul prone and at times seemed over aggressive.
Cook had more of the offensive inclination but struggled with his knee and sickness and was up and down. Both are small and bigger guards made it hard for them to enitiate the offense.
Andre Dawkins was as inconsistent as ever. Started strong and then slumped, but this time, he didn't bounce back at the end of the season like in the previous two years. He has one more year to try to put together a full, consistent season.
Josh Hairston ended up playing more than I thought with the redshirting of Murphy and Marshall Plumlee. He at times showed the makings of a glue guy and leader. But more times than not he tried to do too much. He took too many ill-timed shots and is undersized to play the four and not versatile enough to play the three.
Michael Gbinije was a guy I figured might step into the regular roation at some point and be a defensive stopper and a slasher, but that never transpired. He maybe averaged a minute a game but more times than not he was at the end of the bench, and when he did come in early he wasn't in long.
And that brings me to Austin Rivers. It has been a while, and perhaps never, since Duke has had a player that seemed so divisive. As some of you that I know who read this blog regularly have shared with me you didn't much care for him.
That is fair. I had my doubts about his attitude and his demonstrative behavior. I did feel he matured as the season progressed. He plays with a lot of swagger and cockiness which can be a big turn off for some. The one and done prospect of him though is a factor as well.
Most feel he is gone, but I'm not so sure he should leave. He still has skills he needs to work on but that is a topic for another post. This year he provided a guy who could create, but not always finish. He was a guy who was fearless and would take the big shot, but wouldn't always make it.
He was in many respects Duke's most talented player, but one very talented player and four other parts a championship team does not make. Rivers still has a lot to learn about the team concept and I honestly believe he wants to learn that, but he won't in the NBA.
His decision as well as that of Mason Plumlee's remain a mystery for now.
As for the season it is a wrap. No more previews, no more post games, no more prognostications are in store. It is now a time for reflection.
This was never a great Duke team as much as some tried to portray it. It was a team that maximized its ability thanks large in part to its hall of fame coach.
A 27-7 record and an NCAA Tournament appearance is not awful, many teams would love to have that, but Duke isn't many teams. They are an institution and programs like that don't settle for NCAA Tournament appearances and first round loses.
There is work to be done and rest assured that the coaching staff will be working to get better during the offseason and to be ready to be a contender in 2012-2013.
Stay tuned for more analysis and break downs of the season that was and what is in store for next year including recruiting updates and the future of Rivers and Mason Plumlee.
Be sure to follow us on Twitter@DukeSportsMKline and visit our Facebook page- Duke Sports Blog. Questions e-mail us at dukesportsblogmkline@gmail.com This article was originally published at http://DukeSportsBlog.com. If you are interested in sharing your website's content with SCACCHoops.com, Contact Us.  
Original Story:
http://www.scacchoops.com/tt_NewsBrea...
THE BACKYARD
BEST OF MAXIM
RELATED ARTICLES
Austin Rivers was in shock after his Blue Devils lost Friday in the NCAA Tournament to No. 15 seed Lehigh.
Duke won at rival North Carolina and played for the Atlantic Coast Conference regular-season championship. But a shocking NCAA tournament loss to Lehigh proved these Blue Devils were never quite like past teams in the storied program. Duke (27-7) earned a No. 2 seed in the South Regional after losing to Florida State in the ACC tournament semifinals. But the Blue Devils struggled...
Mason Plumlee says there is no excuse for the Blue Devils loss Friday against Lehigh in the NCAA Tournament second round.
Seth Curry says the Blue Devils, even without Ryan Kelly, should have had the talent to beat Lehigh
Duke Basketball had their first open practice session of the NCAA Tournament earlier today and beforehand, Coach Mike Krzyzewski and various players met with the media. Among the questions asked were those wondering about the health of Ryan Kelly. According to Coach K's comments, it's looking unlikely that the junior forward will be able to suit up for many, if any, minutes tomorrow...
When Pete Gillen is right, he's right, but in this case he's wrong. I just looked and sure enough, Leave It To Beaver reruns are on way more than Duke this week. YDUNK74THMD
Thanks to an unexpected 75-70 loss to the Lehigh Mountain Hawks, the Duke Blue Devils are already a sad punchline to a really bad March Madness joke as captions like the following are making their way onto many a Facebook page and Twitter timeline: Get it...Serious(Le) High? Come on...you have to admit, it's pretty funny. (h/t @theMTbrain) Read more...
Duke is out of the NCAA tournament. They were out before the tournament's first weekend even started. After Friday's embarrassing loss to Lehigh, you have to wonder is Duke basketball slipping? This seems like a strange to question for a team went 27-7 that is only 2 years removed from National Title, but since 2004-2005 season the Blue Devils have advanced past the sweet 16 just...
Austin Rivers wants Duke to play with a no-tomorrow mentality.
Blue Devils News

Delivered to your inbox

You'll also receive Yardbarker's daily Top 10, featuring the best sports stories from around the web. Customize your newsletter to get articles on your favorite sports and teams. And the best part? It's free!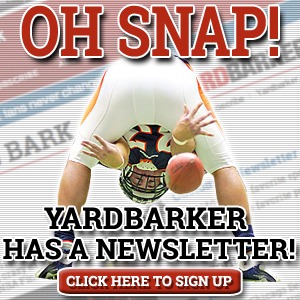 Latest Rumors
Best of Yardbarker

Today's Best Stuff

For Bloggers

Join the Yardbarker Network for more promotion, traffic, and money.

Company Info

Help

What is Yardbarker?

Yardbarker is the largest network of sports blogs and pro athlete blogs on the web. This site is the hub of the Yardbarker Network, where our editors and algorithms curate the best sports content from our network and beyond.