DAYTON, Ohio - Go back eight or nine months, do a little conference realignment research and you'll see that Memphis and Temple were both pretty easy to peg as both potential members and smart choices to eventually help uphold the Big East's basketball tradition. Fast forward to Friday in Nashville, and you'll get a future Big East preview when fifth-seeded Temple plays South Florida, a blowout winner over Cal in the First Four Wednesday night. The recognizable 64-team NCAA Tournament bracket is complete, and the Big East no longer has a member that's never won an NCAA Tournament game. Yes, America, the University of South Florida has a basketball team. The Bulls have uniforms and everything. They have some pretty good players, too. "I think we can beat anybody," freshman point guard Anthony Collins said. The New Kids on the Tournament Block prefer substance to sizzle and points in the paint to letting jumpshots fly, but USF's rout of Cal showed that the athletic and relentless Bulls should not be dismissed based on past seasons or any preconceived notions, including their putrid offensive numbers and being one of the final at-large teams to make the NCAA Tournament field. Well, those who subscribed to the notion that the Pac-12 was as bad as any major college basketball conference has ever been this season are probably right. Those who think USF got 20 wins by playing a favorable Big East schedule aren't totally wrong, either, but USF did enough this season to make the rest of the Big East take notice. It's earned a shot -- and won't be any kind of underdog -- Friday night against a future Big East opponent. Even though Temple was already in Nashville by the time the Bulls played here Wednesday night, Temple had to notice, too, that USF's defense was as relentless as advertised and -- for at least one night -- the offense was pretty good, too. The Bulls led Cal, 57-25, with nine minutes left before letting up, leading to as misleading a final score (65-54) as you'll ever see. Sometimes, numbers lie. Wednesday night's domination did not. "We didn't want to come here just for one game," USF coach Stan Heath said. "We wanted to prove that we deserve and belong and we're legit. I think the kids took that to heart." Heath said his team has felt like "we were playing for our lives" since mid-January, and while that's been a big part of a defense that allowed a Big East record 56.9 points per game, it's led to an offense that's played tight and fired up more than its share of bricks. Wednesday's game was the first time in nine games, since Feb. 15, that the Bulls scored more than 58 points. USF doesn't have a single player who averages double figures in scoring. At 59.2 points per game in the regular season, the Bulls had the nation's 328th-best scoring offense. They shot 16-of-24 in the first half Wednesday, made four 3-pointers and led by 23, at 36-13. "They made pretty much every open shot they took," Cal forward Harper Kamp said. "Maybe it's our fault for underestimating them at times. Maybe they got that reputation as a mediocre offensive team because they played against great defenses." Surviving the Big East from January-early March has its privileges, and USF wants to keep taking advantage of them. "We're having a great time," said Victor Rudd Jr., who led the Bulls with 15 points Wednesday night. "It feels good to win on this stage. People didn't expect us to be here, so we just want to keep proving that we deserve to be here and keep going." After going 10-23 last year, most experts had USF pegged for another 14th or 15th place finish in the 16-team Big East. Heath insists that that his team's 20-13 mark in 2009-10 was more indicative of where the program was headed, even if that's still miles from where the Big East powers reside. Several players from that team are still around, freshman point guard Anthony Collins is now here, and even at 6-1 and a few dinners short of his listed weight of 180 pounds, he might be USF's most valuable player. Collins, a quiet freshman from Houston, Texas, chose South Florida partly because his brother, J.D. had played in the Big East at West Virginia. He's been the spark previous Bulls teams were missing, delivering not only a calm leadership presence but double-digit scoring in seven of the last eight games. Collins had 12 points on 6-of-9 shooting and was one of four Bulls in double figures Wednesday night. "Their little guard really hurt us," Cal coach Mike Montgomery said. "We worked as hard as we could on not letting him split the double and he split it almost at will. He got in the paint and made shots. "That little guard is good. He's not fazed late in the shot clock. They looked like they belonged tonight, I will say that." At the Big East Tournament last week, Louisville coach Rick Pitino compared preparing for South Florida's defensive prowess and preferred pace to preparing for a root canal. Here, the Bulls took that as the highest of the compliments. "That's what we want to do -- we want to disrupt you, we want to smell your breath, we want to get underneath your skin," Heath said. "We want to make life miserable for you, and we want to do it the right way. We want to do it with moving feet and active hands and helping and talking and all those different things, and closing it with rebounds." Mission accomplished. Cal's 13-point first half included 5-of-24 shooting and getting outscored 20-2 in the paint. "We hate when the other team scores at all," Rudd said. Much like last year's second night of the First Four when a Pac-12 (it was the Pac-10 then) team that didn't belong got run off the court by a relative unknown as VCU pounded USC, South Florida wasted little time in taking over Wednesday night's game. That's not to say South Florida's tournament run from here is going to go anything like VCU's went. In fact, South Florida's run, wherever it goes, is going to be more like a crawl. Or a trip to the dentist -- for future opponents.
Original Story:
http://www.foxsportsohio.com/03/15/12...
MORE FROM YARDBARKER
College Basketball News

Delivered to your inbox

You'll also receive Yardbarker's daily Top 10, featuring the best sports stories from around the web. Customize your newsletter to get articles on your favorite sports and teams. And the best part? It's free!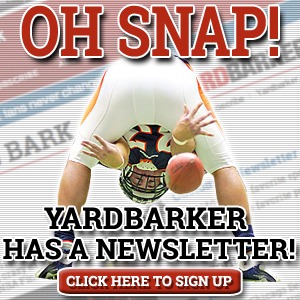 Latest Rumors
Best of Yardbarker

Today's Best Stuff

For Bloggers

Join the Yardbarker Network for more promotion, traffic, and money.

Company Info

Help

What is Yardbarker?

Yardbarker is the largest network of sports blogs and pro athlete blogs on the web. This site is the hub of the Yardbarker Network, where our editors and algorithms curate the best sports content from our network and beyond.