Mark Few may not be a household name, but he is a name known to any true basketball fan. Few is starting his fifteenth season as the Gonzaga basketball head coach. He is a celebrity around Spokane, Washington, and he has a true right to be, because of his ability to recruit, schedule, and win often. Players Mark Few and his staff have recruited from everywhere. The team's roster...
This upcoming season is looking to rock for Gonzaga basketball fans, and for many reasons. The incoming players are great, but what is equally great is the non-conference schedule that head coach Mark Few and his staff have organized. The schedule is tougher than usual which will make or break Gonzaga's RPI. Out of the four games listed below, three are revenge games. If Gonzaga...
This past basketball season was a tough one, which all Gonzaga fans can attest to, we lost Elias Harris, Mike Hart and Kelly Olynyk, had multiple injuries, and a weak non-conference schedule. We did make it to the tournament, and we did win one more game than most sports analysts thought we would, but it wasn't our greatest year. Next year has the possibility of being our time...
Today, all is sunny in the Gonzaga constellation. The Zags are in their accustomed spot in the NCAA tournament, about to play Oklahoma State on Friday for the right to keep suiting up in San Diego. Soon, though, their run will end, and perhaps then it will be more piercing — how much better it could have all been with a healthy Kevin Pangos. As the team bus idled last week outside...
Sam Dower Jr. (Photo credit:AP Photo/Greg Wahl-Stephens) The Zags went into Portland looking to add to their 4 game winning streak to start West Coast Conference play. After beating their first four opponents easily, the Zags were beaten down against the Portland Pilots. Full player grades ahead. Gonzaga Starters: Kevin Pangos- C+ Kevin Pangos has been battling with turf toe for...
Freshman Kevin Pangos scored 27 points and Gonzaga beat No. 16 Saint Mary's 73-59 on Thursday night to avenge an earlier loss to the West Coast Conference leader. The win kept alive the hopes of Gonzaga (19-4, 9-2) to win its 12th consecutive regular season title, the second-longest streak in Division 1 history after UCLA's 13 straight. But the Zags will need somebody to...
MORE STORIES >>
College Basketball News

Delivered to your inbox

You'll also receive Yardbarker's daily Top 10, featuring the best sports stories from around the web. Customize your newsletter to get articles on your favorite sports and teams. And the best part? It's free!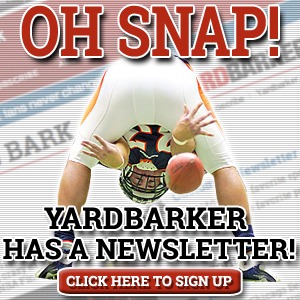 THE COLLEGE BASKETBALL HOT 10