Deonte Burton has taken posterizing to another level. On Wednesday night, the Nevada guard unleashed the dunk of the century during a Mountain West tilt. After receiving a bounce pass on the right side, Burton soared sky-high toward the rim, drawing Boise State's Ryan Watkins in for a block attempt. Watkins, even at 6-foot-9, didn't stand a chance as Burton slammed the rock home...
Nevada guard Deonte Burton threw down a dunk on Wednesday that everyone will still be talking about this summer. The 6-foot-1 senior showed off incredible strength and leaping ability when he went right at Boise State's Ryan Watkins, a 6-foot-9 forward, and posterized the crap out of him. Watkins tried to challenge the shot but […]
Instagram Nevada's Deonte Burton saw your other Dunk of the Year candidates and went all-in Wednesday night against Boise State.  This isn't even fair.  Science was defied on this dunk.  Everything was defied on this dunk, especially Boise State defender Ryan Watkins.
Nevada played Boise State a tough double overtime thriller before Nevada won 83-81. The play of the night and the year, was this soul snatching dunk Deonte Burton threw down over Boise State's 6'9″, 227-pound forward Ryan Watkins. Burton made a beautiful cut to the basket, and it was over from there.  
Nevada's Deonte Burton may have captured the Dunk of the Season after his posterization of Boise State's 6-foot-9 Ryan Watkins on Wednesday night. Burton was also given a foul on the play. Boise State got the better of Nevada in the end, winning 83-81 in double overtime. However, this dunk by Burton will be the thing to remember from the game. Last season Burton had this massive...
Ryan Watkins recorded his ninth double-double of the season, and Boise State made nine 3-point shots in dominating San Jose State 76-55 on Saturday. Watkins finished with 18 points and 16 rebounds for the Broncos (14-6, 4-3 Mountain West). He made 7-of-12 shots from the field and blocked three shots. Watkins was joined in double figures by Derrick Marks (19), Mikey Thompson (11...
Ryan Watkins scored 15 points and grabbed a season-high 17 rebounds as Boise State posted an 86-79 victory over Fresno State in Mountain West play on Saturday night. Anthony Drmic scored 19 points for the Broncos (11-3, 1-0), who built a big lead with a 20-0 first-half run. Tyler Johnson scored 22 points, Marvelle Harris added 19 and Cezar Guerrero had 16 for Fresno State (7-8...
Ryan Watkins had a career-high 24 points and grabbed 11 rebounds as Boise State rolled to a 106-39 victory over Walla Walla on Saturday night for its sixth consecutive victory. Anthony Drmic scored 22 points, and Jeff Elorriaga and Thomas Bropleh added 14 apiece as the Broncos (12-2) set a school record with a 67-point margin of victory. Tristan Greenidge scored 13 points for NAIA...
Ryan Watkins had 18 points and a career-best 11 rebounds for his first double-double to lead Boise State to a 70-63 victory over Fresno State on Monday night. Anthony Drmic added 14 points and made four 3-pointers for the Broncos (9-3), who snapped a two-game slide. Kevin Olekaibe scored a season-high 28 points for the Bulldogs (4-8), who dropped their fourth consecutive game....
MORE STORIES >>
College Basketball News

Delivered to your inbox

You'll also receive Yardbarker's daily Top 10, featuring the best sports stories from around the web. Customize your newsletter to get articles on your favorite sports and teams. And the best part? It's free!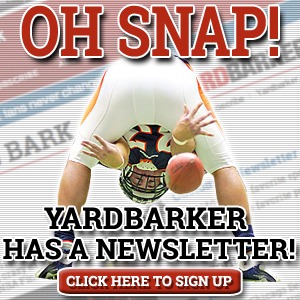 THE COLLEGE BASKETBALL HOT 10