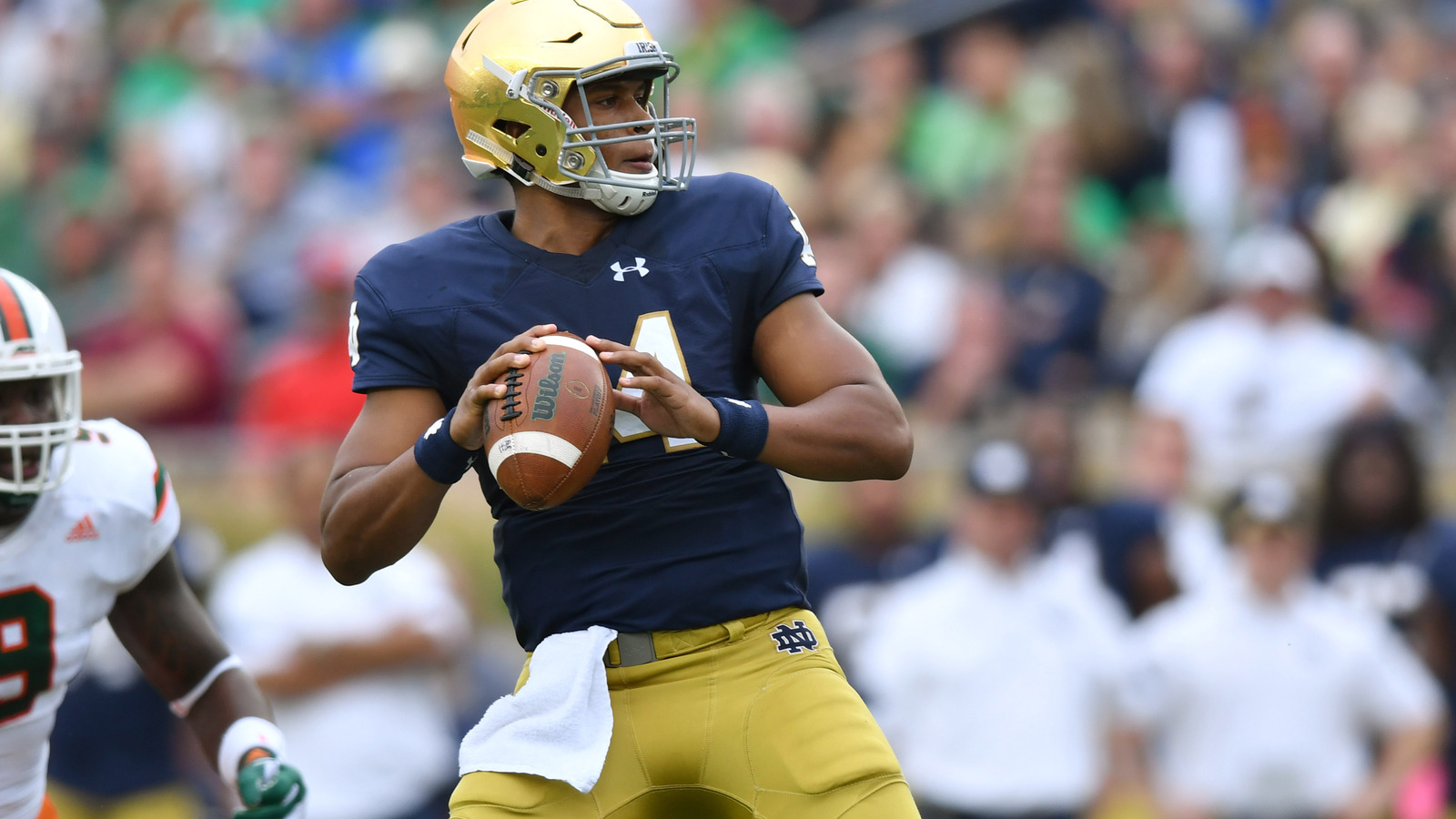 Notre Dame Fighting Irish quarterback DeShone Kizer could dramatically increase his draft stock with a standout performance at the NFL Combine.
Matt Cashore-USA TODAY Sports
The combine is not the end-all, be-all when it comes to NFL Draft stock, but it does play a big role in a how organizations feel about the players they're scouting.
Ultimately, a prospect's draft stock is going to come down to what he can do on the field and what he's shown on tape. But sometimes a great showing at the combine can provide an extra boost to take a prospect from an A grade to an A+.
Consequently, a bad combine can do the opposite.
With that in mind, these 10 players could use the draft stock boost provided by a good NFL Combine.
Corey Davis, wide receiver, Western Michigan
Western's Corey Davis could ultimately be the best wide receiver in this draft class. Checking in at 6-foot-3, 213 pounds, he's a big-bodied receiver who put up some big numbers in Kalamazoo. In four seasons, he caught an incredible 331 balls for 5,278 yards and 52 touchdowns. He put up three 1,000-plus yard seasons in a row and notched 941 his freshman year, so it was almost four.
The one thing hurting Davis in this draft is the players around him. Clemson's Mike Williams is another big, productive receiver, and he has national championship-winning experience. Washington's John Ross is smaller and quicker, but equally as productive. Even Ohio State's Curtis Samuel and USC's JuJu Smith-Schuster are in the conversation at the top of the wideout board.
Davis could use a nice showing at the combine to prove to the NFL world that his talent and athleticism is superior to the Power Five wideouts around him. He dominated the MAC while they stood out in the ACC, Pac-12 and Big Ten, respectively.
That shouldn't matter much to scouts, but eye-opening numbers at the combine will guarantee it won't matter.
DeShone Kizer, quarterback, Notre Dame
At 6-foot-2, 220 pounds, DeShone Kizer is a tremendous dual-threat quarterback and athlete. Furthermore, he did some great things for the Fighting Irish while at Notre Dame. He threw for 5,805 yards and 47 touchdowns in just two seasons.
The problem: He also threw 19 interceptions in those two seasons.
Ultimately, Kizer will have to prove his accuracy against NFL opponents. But coming out and having a strong showing in the throwing portion of the NFL Combine will be important for him when it comes to giving NFL scouts confidence in his ability to consistently hit his targets.
He'll also have the opportunity to impress during interviews as teams evaluate his knowledge of the game.
Jourdan Lewis, cornerback, Michigan
Wolverine cornerback Jourdan Lewis had a very productive four seasons at Michigan, and he was easily one of the best cornerbacks in the Big Ten. From the 2013 season to 2016, he notched 135 total tackles (97 solos), 8.5 tackles for loss, 37 passes defended, one forced fumble, six interceptions and one defensive touchdown.
Lewis was a leader for the Wolverines and has tremendous NFL potential. The problem is this: He's only 5-foot-10, 188 pounds. So, NFL scouts are certainly wondering how he'll be able to stick with the bigger, stronger wideouts of professional football.
The big thing Lewis can prove is his strength. If he shows up in the weight room at the combine, size concerns should dwindle. If he can show off his athleticism and speed in drills as well, that's even better.
If there's one thing that can negate size in the NFL, it's those two qualities in a cornerback.
Ryan Ramczyk, offensive tackle, Wisconsin
Ramczyk has the size and 2016 experience to challenge Cam Robinson for the title of best offensive tackle in this draft. He's 6-foot-6, 314 pounds. He started every game at left tackle for Wisconsin this past season and was awarded first-team All-Big Ten honors as a result.
The big thing Ramczyk needs to prove at the combine is his health. He had to have surgery for a hip injury at the end of 2016 that kept him out of Wisconsin's bowl game.
Showing up to the combine and proving that he's fully healthy would really solidify his draft position, and it could even help it.
Left tackles need to be as nimble as they are strong. Hip flexibility is vital, so that's something scouts will be looking for when evaluating the Wisconsin tackle in the combine, not to mention how he moves laterally against the outside rush.
Tim Williams, linebacker, Alabama
Alabama linebacker Tim Williams is undoubtedly talented. He's a great athlete and was productive for the Crimson Tide. Checking in at 6-foot-4, 252 pounds, he snagged 57 tackles, 30 tackles for loss, two forced fumbles and a fumble recovery during his four-season Tide career.
He's the type of player who could be a force on the edge in a 3-4 system in the NFL. But he's probably big and strong enough to play inside linebacker as well, depending on the team fit and scheme.
The big issue for Williams heading into the combine is off-the-field concerns. He was arrested in late September for carrying a pistol without a permit, and he reportedly has a history of failing drug tests.
Williams' biggest challenge at the combine won't be proving his athleticism, but rather his character. Teams have one-on-one interviews with players, and for Williams, coming across as put together while being able to explain his past mistakes and looking ahead to the future will be vital.
Carl Lawson, EDGE, Auburn
Carl Lawson is a tremendous athlete who will likely fit best as a 3-4 outside linebacker in the NFL. He's 6-foot-2, 253 pounds and notched 30 tackles (16 solo), 14 tackles for loss, 9.5 sacks and a forced fumble in 2016.
The 2016 season was a great year for Lawson with the Tigers. The problem for him, as far as NFL teams are concerned, is 2013 through 2015.
Lawson tore his ACL after his freshman season and missed all of the 2014 season. In the 2015 season, he dealt with a cracked hip. Because of that injury, he was only able to play in seven games for the Tigers.
Durability is a big question mark with Lawson. Though he can't necessarily prove his durability at the combine, putting up some monster numbers in drills and in the weight room could make taking a chance on him make a bit more sense for NFL teams.
K.D. Cannon, wide receiver, Baylor
K.D. Cannon had a really nice career at Baylor, and he'll intrigue many NFL scouts because of his speed and big-play ability. In three seasons, he caught 195 passes for 3,113 yards and 27 touchdowns, including 13 touchdowns in 2016.
This NFL draft class is extremely deep at wideout, though, which has pushed Cannon way down the big board. He also has a few things to prove to scouts, the biggest being that he's more than just a system player.
Baylor's offensive system is known for putting up yards and points. Was Cannon just a product of that system? He'll need to convince scouts that his athleticism, speed and ability to catch big passes can translate to the NFL.
Greg Ward Jr., wide receiver, Houston
Greg Ward Jr. was expected to be a Heisman contender in 2016, and the Cougars were expected to be a potential CFP team. Neither of those things happened. Houston largely disappointed, but that doesn't take away from Ward's production for the Cougars. Neither does it take away from his potential.
Ward Jr. was a tremendous dual-threat quarterback for Houston, and he showed off the ability to make huge plays thanks to his great athleticism.
Here's the catch for Ward, though: He was invited to the combine as a wideout, so he has an incredible amount to prove to NFL scouts.
Sure, he's athletic, but will that translate to being a full-time wide receiver at the highest level of football? That's a tough hill to climb. A good start would be going out in wide receiver drills and flashing that athleticism and agility that made him a star for Houston.
Malachi Dupre, wide receiver, LSU
At 6-foot-4, 195 pounds, Malachi Dupre is a typical, big LSU wide receiver. And much like typical LSU wide receivers before him, he didn't get a ton of chances to show off his production with the Tigers.
Thanks to scheme and lack of consistent quarterback play, Dupre was able to notch only 98 total catches for LSU. He turned those catches into 1,609 yards and 14 touchdowns in three seasons, but he was only able to find the end zone three times in 2016.
Dupre has all the talent in the world to follow in the footsteps of Odell Beckham Jr.
He'll get his first chance to prove his big-play potential at the NFL Combine.
D'Onta Foreman, running back, Texas
With names like Leonard Fournette, Dalvin Cook and Christian McCaffrey likely ahead of him on NFL big boards, D'Onta Foreman is going to have to do everything he can to stand out at the combine.
Here's the good news for him: He's a big, bruising running back at 6-foot-1, 249 pounds. So if he can flash some speed, agility and athleticism at the combine, then scouts are sure to notice him.
The 2016 season was huge for Foreman, so the combine is just one more opportunity for him to continue making a name for himself. He rushed 323 times for Texas in 2016, notching 2,028 yards and 15 touchdowns.
MORE FROM YARDBARKER
College Football News

Delivered to your inbox

You'll also receive Yardbarker's daily Top 10, featuring the best sports stories from around the web. Customize your newsletter to get articles on your favorite sports and teams. And the best part? It's free!