Found August 23, 2012 on NorthWest Sports Beat:
PLAYERS:
Mike Leach
,
Jeff Tuel
,
Connor Halliday
,
Teondray Caldwell
,
Marcus Mason
,
Leon Brooks
,
Carl Winston
,
Rickey Galvin
,
Marquess Wilson
,
Gabe Marks
,
Andrei Lintz
,
Bobby Ratliff
,
Brett Bartolone
,
Kristoff Williams
,
Rico Forbes
,
John Fullington
,
Matt Goetz
,
Elliott Bosch
,
Wade Jacobson
,
Jake Rodgers
,
Dan Spitz
,
Taylor Meighen
,
Anthony Laurenzi
,
Xavier Cooper
,
Ioane Gauta
,
Matthew Bock
,
Steven Hoffart
,
Travis Long
,
C.J. Mizell
,
Sekope Kaufusi
,
Chester Su'a
,
Darryl Monroe
,
Eric Oertel
,
Jeremiah Allison
,
Justin Sagote
,
Damante Horton
,
Nolan Washington
,
Daniel Simmons
,
Taylor Taliulu
,
Anthony Carpenter
,
Tyree Toomer
,
Andrew Furney
,
Mike Bowlin
TEAMS:
Arizona Cardinals
,
Washington State Cougars
,
Texas Tech Red Raiders
,
Arizona State Sun Devils
Ready, set, go! College Football is back
Come next Thursday, August 30th against Brigham Young, it will have been 278 days since the Washington State Cougars walked down the CenturyLink hallways to the locker room following a 38-21 ousting in the Apple Cup.
With the end of every season comes transition, questions, and eventually, answers.  Those questions have been answered, a new season is among us, and the acquisition of a high-profile head coach has resulted in elevated expectations.
Overall, the expectation is clear: this Cougars football team needs to reach a bowl game.
That mission begins with a road test in Provo against the other Cougars of BYU — Mike Leach's alma mater — during college football's opening night, which will go a long way towards setting the tone for the rest of the season.
Following the season opener, WSU faces favorable contests against Eastern Washington at home, at UNLV, and then opening up Pac-12 play at home against Colorado.
No Brainer! Under Leach, the Cougars will improve (photo seattlepi.com)
Realistically, the Cougars should emerge from the first third of their 2012 schedule with at least three wins — possibly four, if they can upset BYU — leading into a matchup of offensive genius against Oregon in Seattle.
The rest of the schedule will be examined further as we prevail further into the season but, for now, we take a look at the Cougars' 2012 personnel.
Coaching
The head coaching position has been well documented throughout the offseason with the addition of Leach — who took the Red Raiders to 10 bowl games in his 10 seasons at Texas Tech.
In 2011, the Cougars finished 33rd in total offense (422.42 YPG) and 9th in passing offense (322.25 YPG).  Under Leach, the Cougars will, most likely, improve upon those numbers and find themselves somewhere near the top-10 in the nation in both categories.
The offense was great. The defense, however, was bad. Really bad.
WSU's defense finished last season ranked 82nd in total defense (409.58 YPG) and were scorched through the air and the ground giving up an average of 31.75 PPG, good for just the 92nd scoring defense in the country.  The noticeable deficiency on the defensive side of the ball prompted Leach to hire a defensive coordinator that has had a proven record of doing more with less.
Mike Breske, the former defensive coordinator at Wyoming and Montana, was brought in to bring a toughness to a Cougars defense that has been lacking for years.
Both quarterbacks have looked good in the Air Raid thus far
Breske, who orchestrates a 3-4 formation, brings with him a proven record of success and a defensive philosophy focused around pressuring the quarterback allowing the secondary to poach altered pass attempts.
The defense is going to take some time to acclimate to the switch from a 4-3 to a 3-4 but should improve upon last seasons' statistics — most notably in the secondary, where Breske excels.
Quarterback
Throughout spring and fall camp, the majority of the intrigue has focused around the quarterback battle between senior Jeff Tuel and redshirt sophomore Connor Halliday.  Throughout the spring, however, Halliday was limited due to a lacerated liver suffered against Utah last November.
Both quarterbacks have looked good in the Air Raid thus far, but it has been readily apparent that Tuel has benefited from the extra reps he inherited during spring camp.  Tuel has cemented himself as the leader of this offense and the senior, despite a record of 2-19 in his career, looks to be the favorite to get the starting nod against BYU.
Should Tuel get injured, Halliday is more than suitable to fill in at quarterback as he proved last season with his record-setting 494-yard, four touchdown performance against Arizona State in his first career start.
Running Back
The Cougars field an array of small and speedy backs including junior college transfer Theron West, freshman Teondray Caldwell, sophomore Marcus Mason, redshirt junior Leon Brooks, and senior Carl Winston.
Last season's leading rusher Rickey Galvin has been working in the slot-receiver spot recently although he will mostly likely split time lined up as a receiver and in the back field.
Leach wants to get as many playmakers on the field as possible and will be looking to utilize Galvin's speed and versatility in a variety of ways this season.
As of right now, there hasn't been any word regarding a starter for the season opener but either of these names could emerge from the huddle come next Thursday and be productive.
Most likely, WSU will be a running-back-by-committee effort for the majority of the season with Winston receiving the majority of the short yardage and goal line carries.
Receivers
Arguably the deepest and most talented position in recent Cougars' football history is this seasons receiving core.  Led by All-American candidate Marquess Wilson, this group could easily go 8 to 10 receivers deep and not suffer a dramatic loss in production — especially in this offense.
The WSU offense will be led by All-American Marquess Wilson
Surprisingly, the standout throughout camp this fall has been freshman wide receiver Gabe Marks whose playmaking ability has marveled the coaching staff.
Marks has leaped up the depth chart this fall with his speed, precise route running, and overall knack for the offense and, so far, looks to be in line to start at the Z-receiver opposite Wilson.
Since the Air Raid doesn't use the traditional tight end, Andrei Lintz, a former blocking tight end, has moved over to the slot (Y-receiver) and the Cougars expect big things from the 6-7 senior.
Redshirt sophomore Bobby Ratliff (Y), freshman Brett Bartolone (H), and Galvin (H) all look to get numerous looks at the inside slot receiver positions to compliment Wilson, who plays the X-receiver.
Kristoff Williams, who has been hampered by injury throughout the fall, will also see plenty of action at the Z-receiver once healthy.
Leach has yet to name a starters but has clearly stated he wants a set amount of yardage distribution among each position.
Offensive Line
The offensive line suffered a huge blow when it lost starting right tackle Rico Forbes to a leg injury during fall camp causing a series of shuffling among the big boys up front.  As with many other positions, the starting offensive line has yet to be established but the picture is getting clearer as we inch closer to the season opener.
Junior John Fullington will anchor the line at left tackle with Matt Goetz, last year's center, playing left guard. Junior Elliott Bosch looks like the starting center and sixth-year senior Wade Jacobson, Jake Rodgers, and Dan Spitz will likely compete to fill the right side of the line up until the last few days of camp.
Depth on the offensive line looks iffy.
Freshman Niu Sale was recently moved across the trenches to the defensive line leaving a serious lack of experience behind the starters with just senior Taylor Meighen and Gunnar Ecklund as capable backups across the line.  The Cougars won't be able to afford any more injuries based on how thin the offensive line already is.
Defensive Line
The Cougars immediately found themselves in serious need of depth on the defensive line due to starting defensive tackle Anthony Laurenzi's dismissal for violating team rules along with a multitude of injuries suffered in fall camp.
Promising redshirt freshman Xavier Cooper, and Toni Pole have been hampered by injuries the majority of camp, leaving several question marks heading into the season.
Junior college transfer, Ioane Gauta has seen a lot of work with the first team at nose tackle and WSU may have to rely on his 6-3, 305 pound frame to anchor a defensive line that very little experience.
All the more concerning, Guata has never played in the Pac-12 and his durability will be an issue.
Redshirt junior Matthew Bock and redshirt senior Steven Hoffart have seen extensive action with the first team unit and have been rather impressed at both tackle positions.
The Cougars leader on defense will once again be senior Travis Long
Time will tell whether the newest addition the the defensive line, Sale, will have any impact, but his switch from an already thin O-line to the D-line is a telling sign about the concerns directed at the health and depth of the defensive line as a whole.
Linebackers
Talent and inexperience dominate are the headliners of WSU's linebacking core.  With the exception of the Cougars' leader on the defense, senior Travis Long, the position group, as a whole, is extremely raw.
The dismissals of would-be junior C.J. Mizell and would-be sophomore Sekope Kaufusi left the new coaching staff searching for answers but the diagnosis has been solid so far.
Long will serve as the BUCK linebacker while sophomore Chester Sua will man the "Will" linebacker, redshirt freshman Darryl Monroe at the "Mike," and former running back Eric Oertel will man the "Sam" linebacker position.
Freshman Jeremiah Allison and junior college transfer Justin Sagote will provide solid depth at the outside linebacker positions.
Overall, the unit is young but their speed and ability to pick up the defense earlier this spring and throughout the fall has eased the concerns after the dismissals of Mizell and Kaufusi, who both started last season.
Secondary
The secondary boasts the most experience, returning all four starters from 2011.  The group, led by junior safety Deone Bucannon, who led the team in tackles last season, will have plenty of pressure on their backs in Breske's attacking defense.
The cornerbacks are going to be left on "islands," as many have dubbed it, meaning they will be left in one-on-one coverage on many occasions.
Though, the overall scheme will be multiple — in other words, alternating zone and man coverage.
The cornerback position will feature Damante Horton starting on one side while Nolan Washington and Daniel Simmons will battle for the other starting spot.  Freshman Raymond Ford, who recently joined the Cougars after failing to qualify academically at Cal, injured his arm last week but figures to see a sizable amount of playing time.
Bucannon will handle one safety position while freshman Taylor Taliulu, Anthony Carpenter, and senior Tyree Toomer are still fighting for the other safety position, though, Taliulu looks to have inside track at this point.
Special Teams
Place kicker Andrew Furney will look to continue his record setting pace this season.  The junior was solid in 2011 and, despite former Oregon kicker Mike Bowlin transferring from junior college, Furney should once again be among the top kickers in the country.
Bowlin will be taking over kickoff duties while pulling double-duty as the team's punter.  
As early enrollee this winter, Bowlin has showcased his massive boot in both areas shoring up a special teams unit that was a glaring weakness in 2011.
Brooks and Caldwell look like the frontrunners to be returning punts and kickoffs this season, respectively.
CLICK HERE CHECK OUT THE COUGARS BLOG IN OUR CLUBHOUSE TODAY AT NWSB!
© Britton Ransford for North West Sports Beat, 2012. | Permalink | No comment |
Follow NWSB on Twitter or join US on Facebook for real-time updates OR... | Share This on Twitter | Share NWSportsBeat.com on Facebook
Post tags:
Andrew Furney
,
C.J. Mizell
,
Chester Sua
,
Connor Halliday
,
Go Cougs
,
Jeff Tuel
,
Justin Sagote
,
Marquess Wilson
,
Mike Breske
,
Mike Leach
,
Rickey Galvin
,
Washington State Cougars
,
Washington State football blog
,
WSU Season Preview
Original Story:
http://www.nwsportsbeat.com/wp-conten...
THE BACKYARD
BEST OF MAXIM
College Football News

Delivered to your inbox

You'll also receive Yardbarker's daily Top 10, featuring the best sports stories from around the web. Customize your newsletter to get articles on your favorite sports and teams. And the best part? It's free!
THE COLLEGE FOOTBALL HOT 10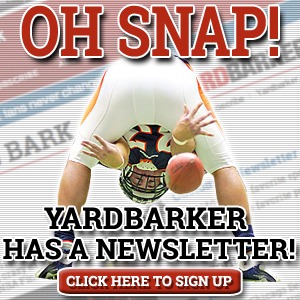 Latest Rumors
Best of Yardbarker

Today's Best Stuff

For Bloggers

Join the Yardbarker Network for more promotion, traffic, and money.

Company Info

Help

What is Yardbarker?

Yardbarker is the largest network of sports blogs and pro athlete blogs on the web. This site is the hub of the Yardbarker Network, where our editors and algorithms curate the best sports content from our network and beyond.