Player Name: Landry Jones Position: Quarterback School: Oklahoma Queen City Sports Ranking: 7th Overview: Landry Jones leaves Oklahoma as one of the most prolific quarterbacks in school history. Jones owns 15 school records during his time as quarterback. He finished the 2012 season as the Big 12′s all-time leader in passing yards with 16,646 and first in total offense with 16,271 yards. Jones earned Big 12 Offensive Player of the Week honors after completing 38 of 51 passes for a school-record 554 yards at West Virginia. He also tied a school record with six touchdown passes in the game. He finished the 2012 season with six of his final eight games throwing for more than 300 yards each game. Jones played in all 53 games at Oklahoma during his four years at Oklahoma. He finished with a solid 2012 season as he threw for 4,267 yards, 30 touchdowns and 11 interceptions.  In 2011, Jones finished the year with 4,463 passing yards, 29 touchdowns and 15 interceptions. He had his best year in completion percentage (66.1%) and interceptions (11) in the 2012 season, which is good for his draft stock. He showed that he can fight through any type of hardship as he lost three wide receivers to suspension last year. Jones is one of the better leaders at the quarterback position this year. He is a very high character athlete mainly because of his faith.   Analysis: Jones has the physical build to play quarterback at the next level coming in at 6'4″, 225 pounds. He does a great job running a spread offense like the one that was run at Oklahoma over the last few years. His play-fakes are very sharp which helps keep the defense off balance. He can run a no-huddle offense quickly and effectively and snaps the ball before the defense can be ready. His arm strength is very good especially with throws downfield. He shows good accuracy on some throws and can fit balls into the smallest windows a few times a game. His athleticism allows him to keep plays alive and his ability to throw with velocity and accuracy while on the run is decent. On the other hand, Jones doesn't seem to play with a chip on his shoulder. He struggles mightily in the messy pocket, especially when the pocket collapses. His throws lack the zip, strength and accuracy to succeed at the next level. He tends to sense pressure when it isn't there and doesn't seem to trust his lineman enough when to pickup the blitz. While under pressure, Jones seems to lack the ability to step up in the pocket and make a throw downfield. He prefers to get the ball out of his hands quickly with a fast release. He seems to make questionable decisions when under pressure, which lead to higher risk for interceptions. Strengths: Good size and frame Decent arm strength Good play-fake Effective use of spread offense  Character Weaknesses: Consistent accuracy Pocket presence Struggles under pressure Doesn't trust offensive lineman Struggles with progressions downfield Opinion: Landry Jones is ranked as our 7th quarterback in this draft class. Currently, he's 7th on my draft board as well. He's a fourth round quarterback to me but I could see him going as early as the third round to a team that wants depth at the quarterback position. He has a good arm and good size for the quarterback position. His play-fakes are very impressive to me but when looking at the total array of skills for a quarterback, he has many weaknesses. The biggest question for me is if he'll begin to trust his offensive lineman at the next level and if he can learn to work around the pocket. Another issue I have with Jones is the inconsistent accuracy with his passes. He can make some very difficult throws look easy but then he can struggle with simple throws. If he has a clean pocket or can escape and roll to his right he can be dangerous extending plays. Jones can locate receivers down the field and due to his strong velocity on his throws he can make the big play look easy. On the other hand, when faced with a messy pocket or a blitz, Jones seems to fall apart and rush throws which lead to a higher risk of interceptions. In addition, Jones loses velocity and accuracy when in a crowded pocket because he doesn't step into his throws which can be an issue on the next level. Jones will fit well in a spread offense that gets the ball out quickly. It will help him greatly if they have a strong offensive line that can protect him. It will allow him to trust his offensive lineman and gain more confidence when stepping up and making throws. It will benefit him to sit behind a veteran quarterback for a year or two in order to learn what it takes to be a starter in the NFL. Where he likely goes: Landry Jones will be a third to fourth round pick for me. He has good qualities but his weaknesses outweigh them. A team with a solid veteran starting quarterback looking for a young backup would be a perfect spot for Jones. The Bills will look to draft a quarterback in the first few rounds who can start right away. I don't see Jones being a fit for the team since they have Kolb as a backup.   The post 2013 NFL Draft: Landry Jones Scouting Report appeared first on Queen City Sports.
Original Story:
http://queencitysports.net/top-storie...
MORE FROM YARDBARKER
Sooners News

Delivered to your inbox

You'll also receive Yardbarker's daily Top 10, featuring the best sports stories from around the web. Customize your newsletter to get articles on your favorite sports and teams. And the best part? It's free!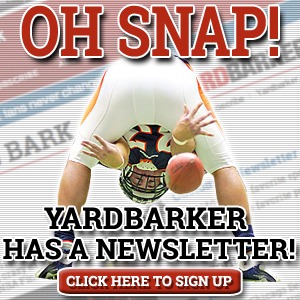 Latest Rumors
Best of Yardbarker

Today's Best Stuff

For Bloggers

Join the Yardbarker Network for more promotion, traffic, and money.

Company Info

Help

What is Yardbarker?

Yardbarker is the largest network of sports blogs and pro athlete blogs on the web. This site is the hub of the Yardbarker Network, where our editors and algorithms curate the best sports content from our network and beyond.