Found November 04, 2012 on Fox Sports South:
BATON ROUGE, LA No one could call this one boring. That, of course, was the knock on the last two meetings between Alabama and LSU, the first being settled solely on the feet of the field goal kickers and the second, the BCS Championship Game, being another defensive slugfest that put many on the east coast asleep before halftime. Not this one. Unlike the other two, this year's matchup was not hyped ad nauseam as the "Game of the Century," but it was, undoubtedly, the best show of the year in college football. Not only did both Alabama and LSU find the respective end zones in Death Valley on Saturday night, the game went down to the wire, a heavyweight slugfest with the combatants swinging away til the final bell. Alabama won 21-17 after executing a 72-yard drive in 49 seconds, capping it with a 28-yard screen pass from A.J. McCarron to T.J. Yeldon for the game-winning touchdown. This game had everything fake field goals, blistering defense; there was a late and seemingly tragic fumble by Yeldon on the 10 yard line when Alabama appeared ready to regain the lead; and a critical missed field goal by Drew Alleman with 1:34 left in the game. Then there were the quarterback: one, Zach Mettenberger, who finally lived up to his potential, and another, McCarron, who came through in the clutch after going 1 for 7 for zero yards in the second half before the final, game-winning drive. "We really knew this was going to be a tough game," Nick Saban said. "I don't think we played our best. LSU played outstanding. There was a stretch in the second half where they converted seven straight third-down-and-fives-or-longer. But we told our players that they would have to overcome a lot of adversity to win a game here. When things went bad and the momentum of the game changed, that's what we kept talking to them about. They kept their poise, and they kept playing. "I've never been prouder of a bunch of guys to overcome adversity the way they did." It didn't happen by accident. As if anticipating the troubles that lay ahead, Saban assembled the team earlier in the week for a sneak preview of the movie "Zero Dark Thirty," the soon-to-be-released blockbuster on the killing of Osama Bin Laden. "We showed the players this week the SEAL Team going in to get Bin Laden, and the adaptability they had to have when the helicopter landed on the fence instead of the porch," Saban said. Actually one of the Chinook helicopters crash landed outside Bin Laden's compound in Abbottabad, but the coach can be forgiven a few historical liberties. That wasn't his point. "(The SEALs) had been trained to be adaptable in case something like that happened, so they were still successful," Saban said, getting to the meat of the matter. "I think there was a lot of that out there from us." Adversity was not something Alabama had faced. Every diehard fan knew the numbers: No.1 defense in the nation allowing only eight points and 57 rushing yards per game, a quarterback who hadn't thrown an interception since Herman Cain led in the Republican polls, and a team that had only trailed one time for 15 seconds all year, and hadn't trailed in the second half since November of 2010. Those stats were thrown out the window early in this one. Mettenberger found his rhythm early, and in the first 10 minutes of the game LSU ran 22 offensive plays. Alabama ran three. When the final numbers were tallied, LSU led in total offense by 104 yard, and Mettenberger had the best game of his career, going 25 of 36 for 298 yards. The Tigers held the ball 19 minutes longer than the Tide, and they converted 10 out of 20 times on third down. Alabama was only 1 of nine in third-down conversions. The only number where the Tide came out on top was the final score, the only one that really matters. No one in the stadium who wasn't wearing a crimson uniform thought they could do it. McCarron still hadn't thrown an interception, but he hadn't thrown many completions either. Prior to the final drive he was 10 of 22 for the night, nine of those coming in the first half. Then, with 1:34 left, he went to another place. "A.J. was locked in," Eddie Lacy said of the final drive. "He's always locked in, but it was something different this time. He knew he had to make plays. He came out and made the right reads and the right passes. It's like he just took over. We knew we couldn't run the ball, so it was all on his shoulders. And he didn't pause; he didn't hesitate. He knew exactly what he had to do and he did it." That, too, was not an accident. "We always sit on Friday night with the quarterbacks and look at the other teams two minute (defense)," Saban said, revealing an astonishing coaching detail. This is a team that hasn't trailed at the end of a half in two years. And still the coach runs through every opponent's two-minute defense with his quarterbacks. On Friday nights. When they want to be out eating pizza or playing Call of Duty. The players had to have rolled their r eyes at times. They were studying film that they believed they would never use. But when they needed it, they had it. They knew that LSU had a tendency to blitz inside of two minutes. When the call came in for the screen pass to Yeldon, everyone wearing a headset said, "I hope they come." The LSU defense did, indeed, blitz, leaving the freshman wide open for a 28-yard scamper and the win. It was McCarron's longest completion of the night, and the most important of his career. "That last drive was something I'll never forget," Saban said. "There was a lot of tough football played out there. This was a very physical game. Our games are going to be about as sore as they've ever been." Questions continue to swirl about whether this Alabama team is better than last year's national champions. It is unanswerable at this point, although they are still undefeated, a feat that last year's team could not boast. There is no doubt that they are different. Where last year's Tide defense stuffed opponents on every down, this year the defense has bended at times, but never fully broken. And while other teams will look at this game and take heart that Alabama might not be as invincible as they once appeared, they do appear to be resilient. Every great team overcomes at least one challenge on the road to a championship. If the wins keep piling up, this game will become the stuff of legends in the lore of Alabama football.
Original Story:
http://www.foxsportssouth.com/11/04/1...
THE BACKYARD
BEST OF MAXIM
RELATED ARTICLES
Alabama quarterback A.J. McCarron was so overcome by emotion after leading the Crimson Tide to a go-ahead score against LSU on Saturday night that he began crying on the sidelines. McCarron and Bama's offense were quiet in the second half of the game in Baton Rouge. They lost their lead and failed to score until the final minute of the game, when they went 72 yards over five plays...
I didn't think the Alabama Crimson Tide football team would lose a game this season, but they came oh so close to losing on Saturday night to the No. 5 LSU Tigers in Baton Rouge. In fact, with just a minute and a half left in the game, it certainly appeared the No.1-ranked team in the BCS was going to lose. That was until Heisman Trophy candidate A.J. McCarron led a five-play...
Although Crimson Tide quarterback AJ McCarron has had an excellent season, he has yet to be put in a position where his team has needed him to pull its fat from the fire. That's what I wrote this past Thursday in my preview of this weekend's Heisman matchups. And, as it turned out, it was McCarron's [...]
Between Alabama Crimson Tide RBs Eddie Lacy and TJ Yeldon, Blake Sims hasn't gotten as much playing time as he would probably like, but that did not stop him from sharing his feelings with the LSU Tiger fans behind the Crimson Tide bench.  It looks as though he yells "Suck it B****" as he makes the classic motion towards his crotch.Crimson Tide Head Coach Nick Saban will not...
By now you've seen almost every possible view of the A.J. McCarron screen pass that T.J. Yeldon took 28 yards to the house to beat LSU Saturday night, but you haven't seen one as cool as this. This video from Buffalo Wild Wings in Tuscaloosa captures the nail biting excitement and explosive jubilation of Alabama's game winning TD in Baton Rouge. You're gonna want...
With Alabama's hopes of a second straight national title hanging by a thread, A.J. McCarron shook off a dismal second half and guided the Crimson Tide right down the field. Talk about a Saturday night stunner in Death Valley. McCarron read an LSU blitz and flipped a swing pass to T.J. Yeldon, who did the rest on a 28-yard touchdown with 51 seconds remaining that gave the top...
As T.J. Yeldon ran into the Tiger Stadium end zone, his arms outstretched as he screamed into the Baton Rouge night, the consensus was resoundly confirmed. Alabama is the nations No. 1 team. The only question is, who should be No. 2? Its Oregon that is second in the AP Top 25 and the Coaches Poll, while Kansas State holds that spot in the BCS Standings and Notre Dame is close behind...
As I was returning from the Coliseum where I'd just Kenjon Barner vault himself into the Heisman conversation I peaked into a bar to watch the last drive for Alabama against LSU. AJ McCarron looked amazing and watching that game winning drive made me think the Heisman race had been shaken up. Barner tore up [...]
On Paper #1 Alabama vs #5 LSU 8PM CBS A rematch of last years championship game is what is expected for tonight's battle in Death Valley. The Crimson Tide come in with everything working on all cylinders. The defense is at it's usual self, giving up only 8.1 pts per game, which leads the nation. Their offense is much improved over last year as AJ McCarron is sneaking into the...
No surprises here. By virtue of its memorable 21-17 win over LSU, undefeated Alabama remains at the top of the conferences heap. Where does the remainder of the leagues premier teams five of which are in the BCS top 10 this week fall? Here are this weeks SEC Power Rankings: 1. Alabama (9-0, 6-0) LSU put a scare into Alabama, but the Crimson Tide and quarterback AJ McCarron...
Colts Head Coach Chuck Pagano with Offensive Coordinator and Interim Head Coach Bruce Arians I thought I saw an inspiring and heartful performance on Saturday night.  Watching an emotional AJ McCarron bring the Alabama Crimson Tide back to beat the LSU Tigers in "Death Valley."  And it was.  A strong, coming of age performance by a young quarterback and his team. Then I watched...
College Football News

Delivered to your inbox

You'll also receive Yardbarker's daily Top 10, featuring the best sports stories from around the web. Customize your newsletter to get articles on your favorite sports and teams. And the best part? It's free!
THE COLLEGE FOOTBALL HOT 10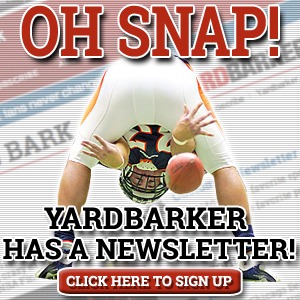 Latest Rumors
The Backyard

Today's Best Stuff

For Bloggers

Join the Yardbarker Network for more promotion, traffic, and money.

Company Info

Help

What is Yardbarker?

Yardbarker is the largest network of sports blogs and pro athlete blogs on the web. This site is the hub of the Yardbarker Network, where our editors and algorithms curate the best sports content from our network and beyond.