Arkansas Coach Petrino May be Guilty of Sexual Harassment Against Dorrell We reported yesterday that Arkansas head coach Bobby Petrino has been placed on paid administrative leave according to the school's AD Jeff Long. If you didn't know already, Bobby Petrino was in a motorcycle accident. At first Petrino claimed he was alone in the accident. As the week progressed information came out that Petrino was not alone, and a young woman was with him in that accident. On Thursday evening Petrino admitted that he wasn't by himself as he initially said in a public press conference. The young woman who was with the Arkansas head coach was Jessica Dorrell and she's a 25 year old alum of Arkansas where she lettered in volleyball. She was recently named to the football staff. image credit:news.lalate.com Now, we are learning Petrino "could be in violation of the University of Arkansas' policy on sexual assault," according to Chris Bahn of Arkansas360sports.com. Here's what the UA handbook says on consensual sexual relationships:
Consensual sexual relationships between faculty and their students or between supervisors and their employees in some instances may result in charges of sexual harassment. Consensual relationships may lead other faculty and students or supervisors and coworkers to question the validity of grades, evaluations, and other interactions between the people involved in such a relationship. The integrity of the work of both people in the relationship may be compromised. University faculty, administrators, and other supervisory staff should be aware that any sexual involvement with their students or employees could subject them to formal action if a sexual harassment complaint is subsequently made and substantiated, and that they bear the greater burden of responsibility should it be proven that the power differential between them made the relationship other than fully consensual. Even when both parties have consented to a relationship, it is the faculty member, administrator, or supervisor who may be held accountable for unprofessional behavior. Other students or employees may allege that the relationship creates a hostile or abusive environment affecting them. Graduate assistants, residence hall staff, tutors, and undergraduate course assistants who are professionally responsible for students will be held to the same standards of accountability as faculty in their relationships with students whom they instruct or evaluate. When a consensual relationship exists between a student and a faculty member who has control over the student's academic work or status or between an employee and his or her supervisor, the resulting conflict of interest should be addressed in accordance with university policies concerning conflict of interest.
It is important to note Petrino has yet to admit to anything concerning an intimate relationship with Jessica Dorrell who by the way has yet to make any public comments. The findings of AD Jeff Long will ultimately dictate whether or not Petrino gets to keep his job, but based on last night's statement by the Razorbacks coach it would be hard to believe that there was no previous "inappropriate relationship" prior to the accident. image credit:AP.org It is becoming abundantly clear Petrino likely violated his the school's handbook and therefore his contract, so don't think the university will take this matter lightly. Ohio State crucified Jim Tressell for lying and we know what happened to the beloved Joe Paterno for his involvement in the Sandusky scandal. The fact of the matter is if Petrino had a sexual affair with an employee he supervises, then he'll be most likely be saying Bye Bye to the Hogs. We'll keep you posted on this breaking story. BeyondU Sports BeyondU Sports - Best College Sports Blog Site
Original Story:
http://feedproxy.google.com/~r/Beyond...
MORE FROM YARDBARKER
College Football News

Delivered to your inbox

You'll also receive Yardbarker's daily Top 10, featuring the best sports stories from around the web. Customize your newsletter to get articles on your favorite sports and teams. And the best part? It's free!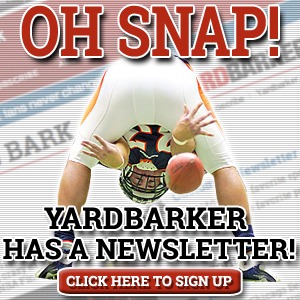 Latest Rumors
Best of Yardbarker

Today's Best Stuff

For Bloggers

Join the Yardbarker Network for more promotion, traffic, and money.

Company Info

Help

What is Yardbarker?

Yardbarker is the largest network of sports blogs and pro athlete blogs on the web. This site is the hub of the Yardbarker Network, where our editors and algorithms curate the best sports content from our network and beyond.