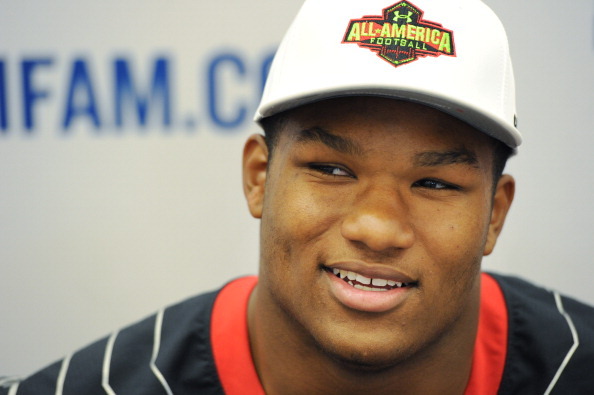 Alabama, not Michigan, gets Da'Shawn Hand. Michigan football looks pretty awful right now, but with their recruiting classes they have on the way, they're going to be really solid. No. 1 ranked college football recruit Da'Shawn Hand would have really been the jewel of those recruiting classes. Bummer! Because Michigan was the favorite to land him. He really was. Brady Hoke was unable to snatch Da'Shawn Hand away from Nick Saban, the master of this domain. Although until today, Saban has never landed the top overall recruit ever. Da' Shawn Hand is considered to be the nation's best high school football player in the 2014 class of college football prospects. Da'Shawn Hand made the announcement live from his school's gymnasium at Woodbridge High School in Woodbridge, Virgina. Da'Shawn Hand has received more than 90 offers. He delayed the announcement by 40 minutes, then delayed it another 10 minutes. #DIVA #PLEASELOOKATME So good job Yahoo! Rivals and NBC SN for dragging this thing ou...
Read the rest of this story...
MORE FROM YARDBARKER
College Football News

Delivered to your inbox

You'll also receive Yardbarker's daily Top 10, featuring the best sports stories from around the web. Customize your newsletter to get articles on your favorite sports and teams. And the best part? It's free!