Found December 05, 2012 on Waiting For Next Year:
PLAYERS:
Braxton Miller
,
Carlos Hyde
,
Jordan Hall
,
John Simon
,
Nathan Williams
,
Zach Boren
,
Etienne Sabino
,
Orhian Johnson
,
Travis Howard
,
Johnathan Hankins
,
Bradley Roby
TEAMS:
Ohio State Buckeyes
Well, the undefeated season for the Ohio State Buckeyes is officially over. All we are left to deal with are articles about what could have been, what should have been and what the NCAA or Ohio State could have done differently to avoid this debacle. Somewhere along the line you will find articles tying all of those pieces together in an effort to claim to know what would have been best for each situation. Put me in the camp where I think the Buckeyes got what they deserved. It is extremely unfortunate considering what came out later for other schools, but it is the bed they made regardless of the seasons' outcome. Given all of that, somehow the season does not really feel like it's over to me. I get that there are no more games to be played by the Buckeyes this year, but finishing the season the way they did with two huge wins, it feels as though the ending was more of a springboard for this team than a true conclusion. The Buckeyes were not supposed to go undefeated this soon. Urban Meyer was supposed to come into this season to assess players that he largely had no hand in recruiting prior to, realize the talent and start building a winning program with his guys that fit his system under his coaching style. Instead, he came right in and led this team to an undefeated, 12-0 season in his very first year. What the heck? How do you build on that?! With confidence and an influx of top tier recruits, that's how. It's never been a secret about how good of a recruiter Urban Meyer is and he certainly made a big splash in the B1G in just under one year. Across the entire NCAA, people obviously take notice as was proven by the amount of recruits that attended The Game. That has to be one of the greatest feelings in the world as a coach, but at some point all of that is put on the back-burner only to be left with the team and task at hand. So what did we learn from this season? A fair amount actually, and not all of it is great: Braxton Miller I'm at an impasse here with really being able to identify the player that Braxton Miller is, versus what he may become. As he is only a sophomore, maybe it is too early to be trying to really figure that out. I've stated several times in the past that I believe Braxton has the tools and the potential to be a pocket passer to the likes of a Troy Smith. The omnipresent variables in his career are Urban Meyer, Tom Herman and their developmental desires. They have proven that this team can win in a variety of ways and at this point, I will never doubt that they can continue to create any winning opportunities for this team. The point that remains to be seen is putting the game on Braxton's shoulders in primarily a pocket passer situation and really finding out what talent may be there. I would have to assume that the coaching staff knows at this point, but there is no evidence of attempting this in a real game. Maybe that's our answer. Did you know that Braxton ended up with over 1,200 yards rushing this season? We all knew that the amount of his rushing attempts per game was soaring and topped out at 227, but I honestly was not aware that he was well over 1,000 yards on the season with 13 TDs on the ground nearing 6 yards per carry. Miller also racked up over 2,000 through the air with 15 TDs, which shaped up to be a very solid season though not Heisman worthy. Not too shabby, huh? Carlos Hyde From Urban Meyer, to Braxton Miller, to the evolving defense, I feel that Carlos Hyde's name has gotten lost in all of this great chaos. With Jordan Hall getting hurt early in the season, it took away one of Miller and Meyer's greatest weapons to open up the offense like they wanted to. Hall can give the offense several different looks and create havoc for defense's, but that scenario was never realized because of his injury. Welcome Carlos Hyde. Hyde was not exactly a stranger to this team having carried the ball 106 times for 566 yards last season, but he was never the intricate piece that he became in 2012. Many feared the worst (including me) that with Jordan Hall out, it forced the team to be much more one-dimensional. Hyde proved any doubter wrong falling just shy of a 1,000 yard season on 185 carries which translated to a very nice 5.2 yards per carry. What makes this really great is that he truly does not fit Meyer's offense. He is a big, bruiser back that almost never catches the ball out of the backfield and is not nearly as versatile as Meyer's offense typically calls for. But when he was called upon, he obviously stepped up and stepped up big time. With Jordan Hall red-shirting and the new-found depth at running-back, this offense will be that much more interesting to watch this upcoming season. Defense Not to kill your buzz, but we have to talk about the other side of the ball, known as the Silver Bullets. John Simon (DE), Nathan Williams (DE), Zach Boren (MLB), Etienne Sabino (OLB), Orhian Johnson (CB) and Travis Howard (CB) are all graduating. Yeah, I just had a mini anxiety attack too. Factor in the potential for junior Johnathan Hankins (DT) and sophomore Bradley Roby (CB) departing early for the draft and we could have a very real situation on our hands. Many of these guys are irreplaceable just from a pure leadership and knowledge standpoint let alone the gaping hole they will leave in the actual position. I'm nervous, I really am. This team better learn to score a lot of points with sustaining drives to help take some pressure off the defense. The good news is that there is depth. There are some highly touted recruits that are very eager to fill those voids and should have no problem doing so with time the right development. The thing that I really believe that has been overlooked throughout the season is team chemistry. Yes, it sounds like a hokey high-school tactic that acts as some sort of facade to mask a talentless team, but this team would not have achieved an undefeated season without it. Urban Meyer has set the bar somehow even higher than when he originally accepted the head coaching role at OSU, but I believe that we all feel very confident in what he has so quickly built, and even more-so in what he continues to build. While many may think that this season should have continued to go on before it seemed to end so abruptly, I believe that a "to be continued…" tag is much more fitting. (photo courtesy of USAToday.com and msn.foxsports.com)
Original Story:
http://www.waitingfornextyear.com/201...
THE BACKYARD
BEST OF MAXIM
RELATED ARTICLES
The Ohio State Buckeyes were a 12-0 football team, are currently ranked #3 in the AP Poll, and are one of only two undefeated teams in the country. None of these things, however, thanks to the postseason ban, seem to mean anything to anyone. I am one of the first and foremost people to say that Ohio State deserved the sanctions they were given and needed to clean up their act a bit...
Ohio State University says Heisman Trophy winner and former Tennessee Titans star running back Eddie George is returning to his alma mater as assistant vice president for business advancement. His new duties at Ohio State include promoting health and wellness initiatives, helping with fundraising and alumni relations, and mentoring student-athletes about professional development...
Fresh off its perfect 12-0 season in head coach Urban Meyer's first year guiding the program, the Ohio State football team visited the Ohio Statehouse Wednesday to be congratulated by Ohio Gov. John R. Kasich. For the full story on Ohio State's experience and comments from Kasich, Meyer and cornerback Bradley Roby, go inside.
Having just completed an undefeated season in Urban Meyer's first year guiding the program, the Ohio State football team will likely enter 2013 as one of the country's favorites to win the national title. The program's odds of accomplishing that feat will likely be impacted by looming NFL decisions from Bradley Roby and Johnathan Hankins.
There's nothing quite like a probation party. All available ticket vouchers (free) for the Ohio State football celebration Friday at St. John Arena have been issued, the Ohio State Ticket Office announced today. The free event for the bowl ineligible but 12-0 Buckeyes is "sold out." I guess Columbus lacks entertainment options. A crowd of more than 13,000 is expected to attend...
You see it a lot…football players get in each other's faces to get pumped up, and often engage in some friendly headbutts to get the blood flowing. This custom is generally  harmless because both parties are usually wearing a helmet. Usually. Well, former Patriots linebacker and current Ohio State assistant coach Mike Vrabel must have forgot his playing days are over while getting...
Could Illini power forward Tyler Griffey be the new Mark Titus? You know Titus, the former walk-on for the Ohio State Buckeyes who blogged about his basketball-related experiences at his site 'Club Trillion'. Learn more about him here Today, Titus writes for ESPN's new site, Grantland.com Unlike Titus, Griffey is a starter, and key contributor for his team. And he has different...
Even though former Ohio State coach Jim Tressel and former Penn State defensive coordinator Jerry Sandusky are no longer tied to the Big 10, the two will still have an impact during the 2012 Bowl Season. The Big Ten is sending seven of its twelve teams to bowl games this season. That number could have been nine, but both Penn State and Ohio State are ineligible for bowl play this...
The Ohio State basketball team boasts one of the most prolific scorers in college basketball in junior forward Deshaun Thomas. However, the Buckeyes understand that they'll be hard-pressed to assert themselves as one of the best teams in the nation without identifying consistent secondary scoring options.
Junior Michigan commit Denzel Ward just picked up an offer from Ohio State. FOX Sports NEXT's Simone Scott caught up with the tackle to discuss where he stands in his recruitment.
Buckeyes News

Delivered to your inbox

You'll also receive Yardbarker's daily Top 10, featuring the best sports stories from around the web. Customize your newsletter to get articles on your favorite sports and teams. And the best part? It's free!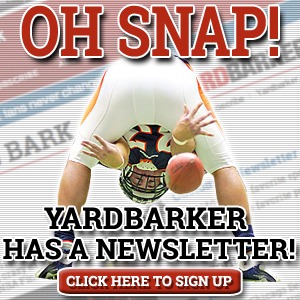 Latest Rumors
Best of Yardbarker

Today's Best Stuff

For Bloggers

Join the Yardbarker Network for more promotion, traffic, and money.

Company Info

Help

What is Yardbarker?

Yardbarker is the largest network of sports blogs and pro athlete blogs on the web. This site is the hub of the Yardbarker Network, where our editors and algorithms curate the best sports content from our network and beyond.