Found January 12, 2013 on College Football Zealots:
On Monday, the college football season ended with a statement. That statement was made by Nick Saban and the Alabama Crimson Tide as they simply destroyed their previously undefeated opponents. Alabama broke the Notre Dame Fighting Irish down in every facet of the game and the game was over just seconds into the second quarter. Alabama has now won three of the last four National Championships. In an era where the "cool kids" are running spread offenses and playing around with the read option, the Tide just lines up and puts their best players against yours and wins with a more traditional style of football. The Tide hasn't quite created a dynasty inside the SEC (winning two of the last four SEC titles) but they have created a National dynasty. So where does Nick Saban go from here? After winning three of four National titles, the road to the National Title looks to get tougher with the addition of a four team playoff. What the four team playoff will do is eliminate teams that don't belong before the National Championship Game. For Alabama, they will continue to reload no matter their losses. This past season they had four first round draft picks but they just reloaded. They lost workhorse Trent Richardson to the NFL and Eddie Lacy and TJ Yeldon stepped up in his place. Because of the success Alabama has had under Saban, he can walk into just about any living room in Amercia and hand pick the players he wants for his system. Saban has created a machine that will keep running smoothly until he's no longer the captain. Notre Dame made the National Championship Game because they did what they were supposed to do to play in the game, they beat every team put in front of them. Did they play a stinker of a game or were they simply not as good as their record? The Irish and it's fans have to be scratching their heads. They came into the season thinking their ceiling was around 10-3 and left with just one loss but feeling bummed out. When I looked at the Irish's schedule at the beginning of the season it looked really tough but in the end it ended up not being as challenging as it originally looked (Michigan St, Miami and USC had down years and they caught Stanford before their QB switch) and it helped the Irish go undefeated. Even if the schedule was easier than it was supposed to be and even if they caught a break or two, going undefeated in college football is still a remarkable accomplishment and Brian Kelly has this team ahead of schedule. This was only Kelly's third season at the helm of the Irish so that's just two full recruiting classes (and one he inherited in December of 2009 and saw to completion) of players that fit his scheme and what he wants to do. Going undefeated in just his third regular season is a huge accomplishment. The fear now is that, as of this article, Kelly is showing a lot of interest in the NFL and it's not just a passing interest. If Kelly stays at Notre Dame, he can rebuild them into a consistent winner and a consistent player in the upper tier of college football. If he leaves, it could be a major blow to the school. With this win for Alabama, it gives the SEC seven straight BCS National Championships. Every non-SEC school and non-SEC fan already had a big anti-SEC backlash coming into this game and after Alabama's destruction of their opponent I think we will only see more negativity towards the conference. Despite the backlash, I also think that by winning in such a dominant fashion it will be very hard to keep two SEC teams out of the four team playoff next season so the road to the eighth straight National Title might be just a little bit easier next season for the SEC but it might be a bit tougher for the Tide.
Original Story:
http://www.collegefootballzealots.com...
THE BACKYARD
BEST OF MAXIM
RELATED ARTICLES
THANK YOU BRENT
Nobody on Earth had a better week than Katherine Webb and she capped it off with the news that she'll be featured in the S.I. Swimsuit issue.
Building a BCS championship team was hard enough for the Alabama Crimson Tide. Maintaining the gold standard is proving to be the hard part as each year the NFL Draft annually carves up their roster. According to Al.com Crimson Tide coach Nick Saban supports the decisions of Dee Milliner, Eddie Lacy, D.J. Fluker, all of whom are entering the draft. Please Click Here To Read This...
Three Alabama juniors (in football eligibility) made what Crimson Tide Coach Nick Saban called "a business decision" Friday. And although it means Bama loses three good players who might have returned to try for a third consecutive national championship, Saban said he supported the decisions of the three to enter this year's National Football League draft.
  When you're a winner, just about everything is better. Even the pay. Per Al.com, Alabama shelved out $1.46 million in total to Nick Saban and his staff for winning the South Eastern Conference and the BCS Title. Saban received $525,000 in bonuses alone for the teams success. Even if Alabam had lost to Notre Dame, Saban would have still pulled in a cool $200,000. Not to be forgotten...
President Obama has received a petition from college football fans to get rid of Alabama's QB A.J. McCarron, which would allow college football broadcaster Brent Musburger to steal McCarron's girlfriend (Katherine Webb) away from him.The following petition, which is posted on the White House site, "Deport A.J. McCarron so Brent Musberger can steal his girlfriend&quot...
Alabama tailback Eddie Lacy, cornerback Dee Milliner and right tackle D.J. Fluker are entering the NFL Draft. Lacy and Milliner announced their plans to skip their senior seasons Friday at a news conference. Coach Nick Saban says Fluker couldn't be there but made the same decision. Milliner is considered a potentially early first-round pick. He had two interceptions and 22...
After Alabama's impressive showing against Notre Dame in the National Championshp game, three players have decided to strike while the iron is hot and enter the 2013 NFL Draft. Alabama tailback Eddie Lacy, cornerback Dee Milliner and right tackle D.J. Fluker will all enter the draft, which begins April 25th. On Friday, Lacy and Milliner announced that they're foregoing...
Don't you think those White House petitions have done gone out of hand? If not here's the proof they have - A petition to deport Alabama starting quarterback A.J. McCarron so ABC dirty old man announcer Brent Musbuger can have his chance to romance McCarron's girlfriend, Katherine Webb. I try not to get too political here, but these White House petitions...
Though Eddie Lacy is forgoing his senior season to enter the NFL draft, Alabama's backfield won't see much--if any--drop off in 2013 with all the rising talent it has at the running back position.
Another college football season has come and gone. And with another season in the books, schools are hiring and firing coaches based on their team's performance. Here, we are taking the highest paid coaches in college football and comparing their performance to their annual salary. Nick Saban, Alabama, SEC, $5,476,738 Nick Saban has 63 wins in six seasons at Alabama. He has just...
Following the Crimson Tide's 1992 national championship, the Alabama football team was honored with a parade. Following the 2009 and 2011 national championships, there was a celebration in Bryant-Denny Stadium. This year, after Bama won the 2012 national championship with a 42-14 trouncing of Notre Dame, it was announced that there will be another parade...and another stadium event.
Covering Dixie Like Mildew - SEC news.     And I'm done, done, and I'm on to the next one. Alabama head football coach is already preparing to defend the Crimson Tide's BCS title for the 2013 college football season. (BamaMag.com) Yes, Prime Minister.  Alabama senior nose guard Jesse Williams gets to talk to the prime minister of his native Australia...
Crimson Tide News

Delivered to your inbox

You'll also receive Yardbarker's daily Top 10, featuring the best sports stories from around the web. Customize your newsletter to get articles on your favorite sports and teams. And the best part? It's free!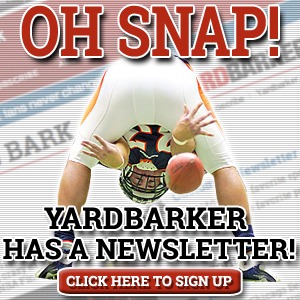 Latest Rumors
Best of Yardbarker

Today's Best Stuff

For Bloggers

Join the Yardbarker Network for more promotion, traffic, and money.

Company Info

Help

What is Yardbarker?

Yardbarker is the largest network of sports blogs and pro athlete blogs on the web. This site is the hub of the Yardbarker Network, where our editors and algorithms curate the best sports content from our network and beyond.